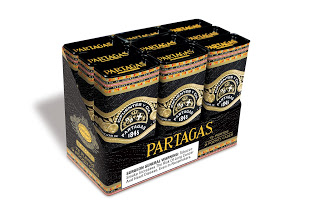 At the 2013 IPCPR Trade Show in Las Vegas, mini Cigars were definitely an emerging trend. General Cigar's Partagas Black Label announced a line extension that would add a mini/cigarillo offering. The Partagas Black Label Purito, due for release in September will be the thinnest ring gauge offering of the line to date.
The Partagas Black Label Puritos will be sold in tins – each tin will contain 8 cigars.
The Partagas Black Label line is a long-time legacy line in the General Cigar's Partagas portfolio. It was introduced in 2001 and it contains a very dark proprietary U.S. grown Connecticut medio tiempo wrapper.
The Puritos joins offerings by
Punch
and
Dunhill
in General Cigar's offering that can be classified as mini/cigarillo.
Blend Profile
The following is the blend profile for the Partagas Black Label:
Wrapper: Medio Tiempo (Connecticut)
Binder: La Vega Especial (Dominican Republic)
Filler: Nicaraguan Ligero and Piloto Cubano Ligero
Vitolas Available
For reference, we list the vitolas that have been produced for Partagas Black Label:
Puritos 4.19 x 32
Gigante: 6 x 60
Piramide: 6 x 60
Magnifico: 6 x 54
Maximo: 6 x 50
Celebramos: 5 3/4 x 45 (Holiday Package)
Crystal Tubo: 5 1/2 x 50
Corona: 5 1/2 x 45
Clasico: 5 1/4 x 54
Colossal: 5 x 60
Bravo: 4 1/2 x 54
Pronto: 4 1/8 x 36
The following sizes were produced for Santa Clara Inc:
Cabinet de Cincuenta 748: 7 x 48
Art of the Cigar: 7 x 48
Cabinet de Cincuenta 652: 6 1/2 x 52
Toro Cask Aged: 6 1/8 x 50
Decadent Dozen: 6 x 50
Amatista: 5 1/2 x 45 (Plastic Jar)