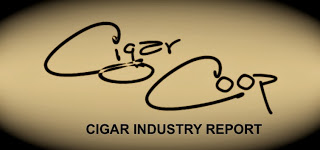 The Cigar Industry Report is a one stop place to catch up on the activity here at Cigar Coop and Stogie Geeks. It is a combination of our news reports, cigar reviews, and assessment updates we do throughout the week. We will also recap what happened on our Stogie Geeks show. Finally, each week we will look back at Cigar Coop history. Look for this report every Saturday morning at 8am Eastern time.


Feature of the Week: TAA

This week we spend some time covering some of the new releases that came out of the TAA. We had previewed Crowned Heads and La Flor Dominicana's offerings a few weeks ago. The following is the list of what is being released as the Exclusive Series for 2014.
Avo 2nd Movement
Crowned Heads The Angel's Anvil
News and Previews.
Legislative News
Assessment Update
Feature Stories
Stogie Geeks Episode 90