Prior to the 2014 IPCPR Trade Show, Viaje Cigars made three announcements on new releases: Viaje Collaboration 2014, Viaje Cache, and the Viaje Satori 2014. While these products were on display at the 2014 IPCPR Trade Show, these products were already shipped to retailers just prior to the show. The name Viaje means "journey" and there is no doubt this is what Andre Farkas' company mission is. Viaje is a dynamic company that constantly is mixing things up. The company's small batch production model has become a game changer in the industry. We managed to catch up with Farkas at this year's trade show. We learned about his latest projects, and got a view of where Viaje's journey will be heading for the remainder of 2014.

Farkas made a point of telling us that a big part of his small batch model involves working with different vintages for the releases each year (i.e. Viaje Satori 2013 is a different vintage than Viaje Satori 2014). Farkas told us that this keeps the fun in the releases. At the same time, there still seems to be a "lot" of fun with the new stuff coming out.
Viaje Collaboration 2014
Back in February, Farkas was our special guest on Stogie Geeks and mentioned he would be collaborating with someone on a project for a release – thus the Viaje Collaboration project was born. In this series, Farkas selects a partner to collaborate with – whether manufacturer, retailer, or anybody. For this project, Farkas allows his collaborating partner to take the reins in terms of the blend. The first partner selected was a familiar one – Casa Fernandez. While the plan is for this to be an on-going series with other collaborators, but Farkas isn't committing to a schedule for this. This could be a project released every one to two years.
In regards to partnering with Casa Fernandez, Farkas said, "For my first one, I wanted to be with the guys I do all my business with, so this made the most sense."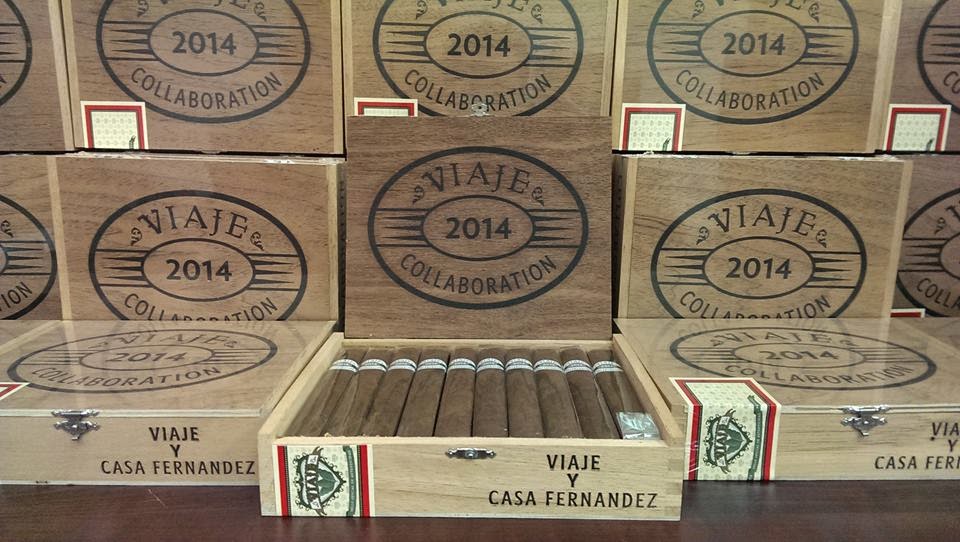 For Viaje Collaboration 2014, there has been a production of 1,000 boxes – each consisting of 20 cigars. The blend is a Nicaraguan puro featuring a Nicaraguan Corojo 99 wrapper and Aganorsa leaf tobacco. It has been released in one size -a 6 x 52 Box-Press Toro with an unfinished foot. The Collaboration 2014 is one of two cigars coming out of two cigars being made at the TABSA factory in Nicaragua – Viaje's first releases out of this factory.
Viaje Cache
This is a new maduro blend featuring a San Andres wrapper and Nicaraguan Aganorsa leaf tobacco for the binder and filler. The name "cache" refers to the rooms where Viaje's best leaf is allowed to age in bales. These are also the rooms where Farkas and the blending team come to test the tobacco leaf before the cigar production begins. This cigar is a tribute to those special rooms.
Viaje Cache comes in 25 count boxes. Twenty of the cigars are 5 x 52 rounded parejos, but at the bottom of the box is a hidden compartment that houses 5 box-pressed cigars. The bands of the Cache also reveal more when they are put under a black light.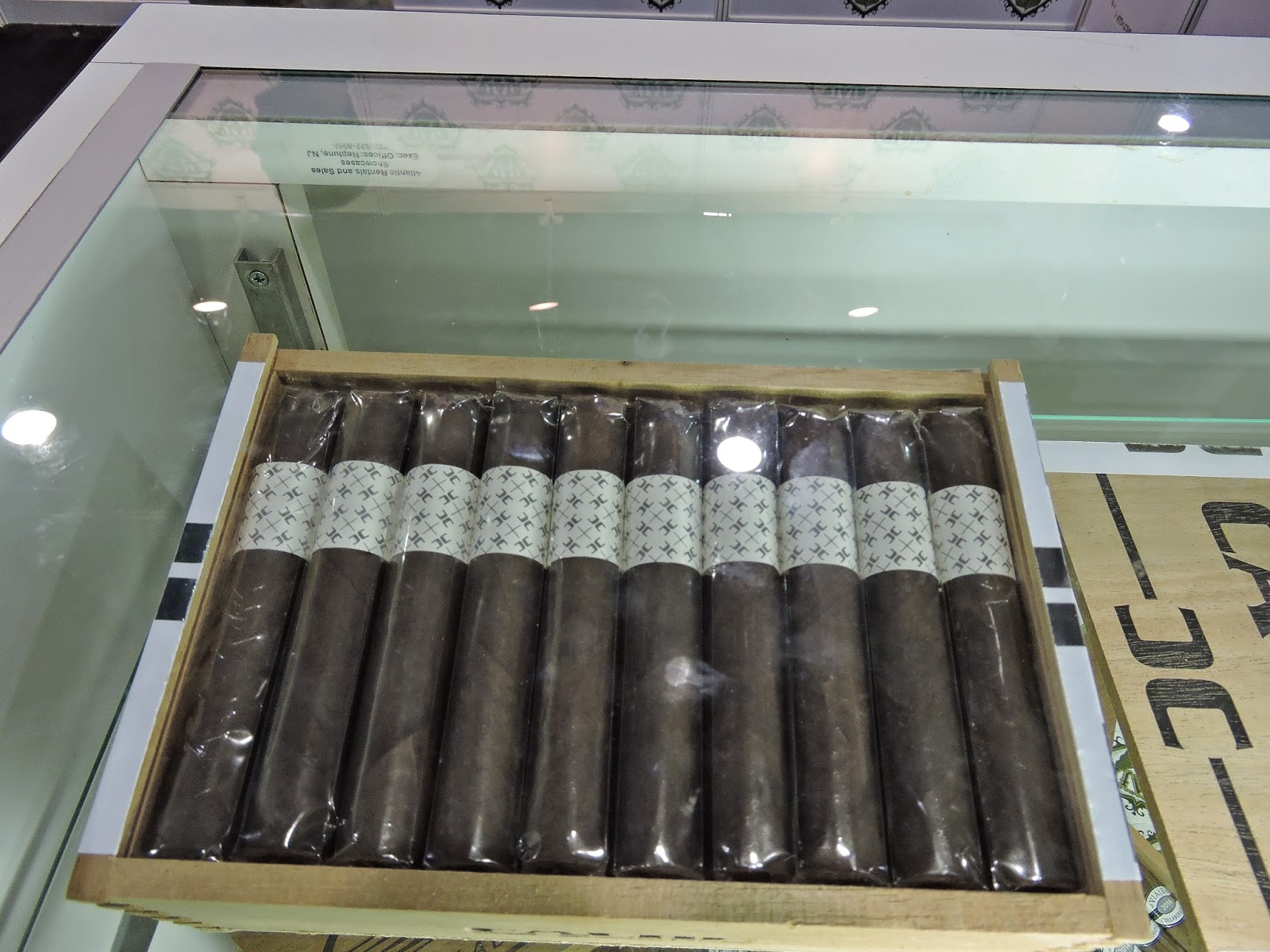 Viaje Cache – Rounded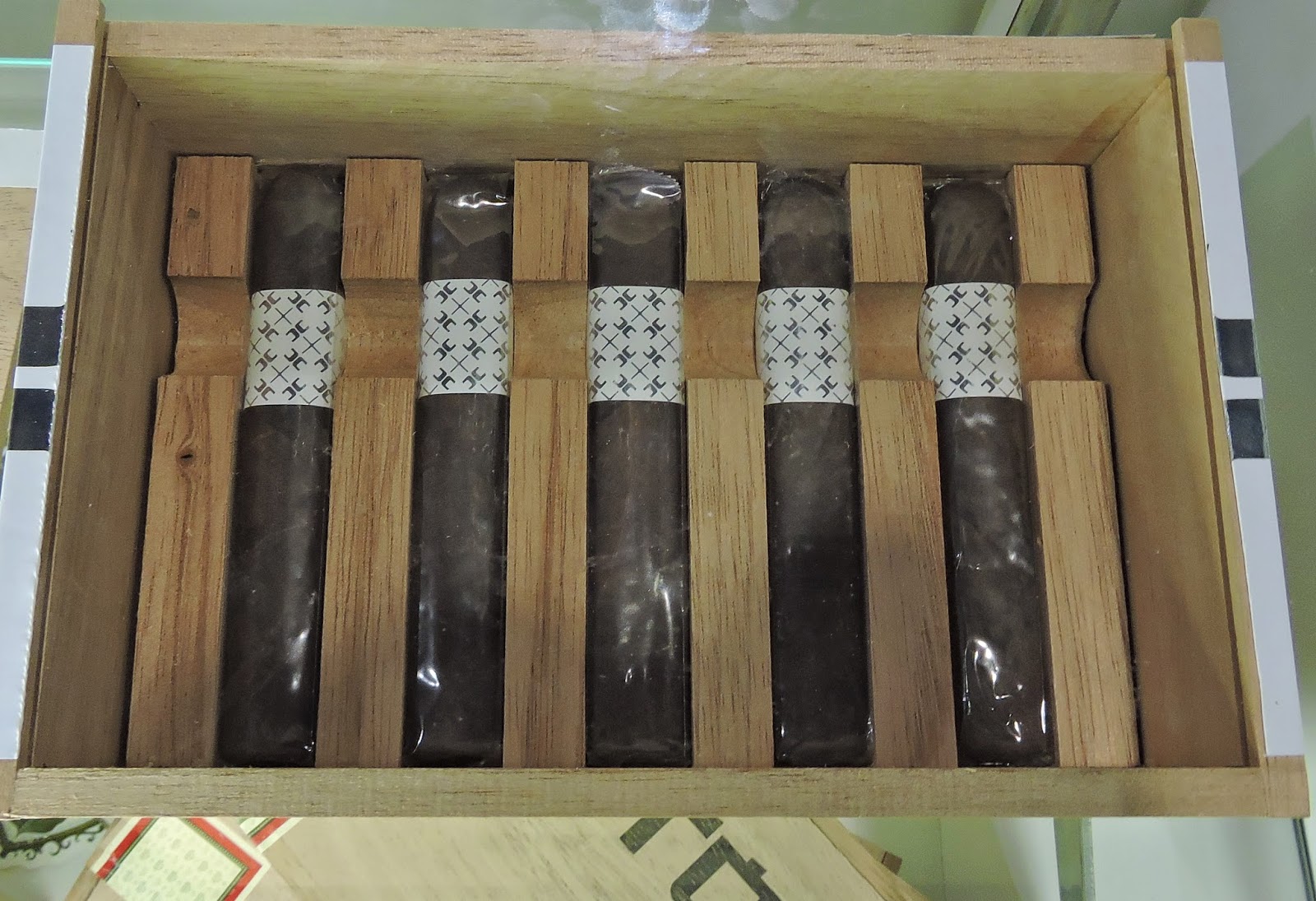 Viaje Cache – Box-press
When asked about whether Cache would continue as a project going forward, Farkas told us that a lot depends on the feedback. This is an approach he has taken with many of his other small batch projects to determine if they are on-going. Production of the Viaje Cache is 500 boxes. Like the Collaboration 2014, the Cache is being made at the TABSA factory in Nicaragua.
Viaje Satori
The Satori was introduced in 2010 as a cigar only available to those retailers who are at the IPCPR Trade Show. The blend has remained constant since 2011 when a San Andres Maduro wrapper was placed on it. With the exception of 2012 (when the box-press and rounded shapes were flipped), the sizes have been the Karma (5 x 52 – rounded), Nirvana (6 x 50), and Zen (6 3/4 x 52 box-pressed perfecto). This year a fourth size has been introduced – a 4 1/2 x 48 called Arya. Farkas told us that if "the people like it, we will keep it (as an on-going size)." Production of the Satori vitolas is limited to 150 boxes.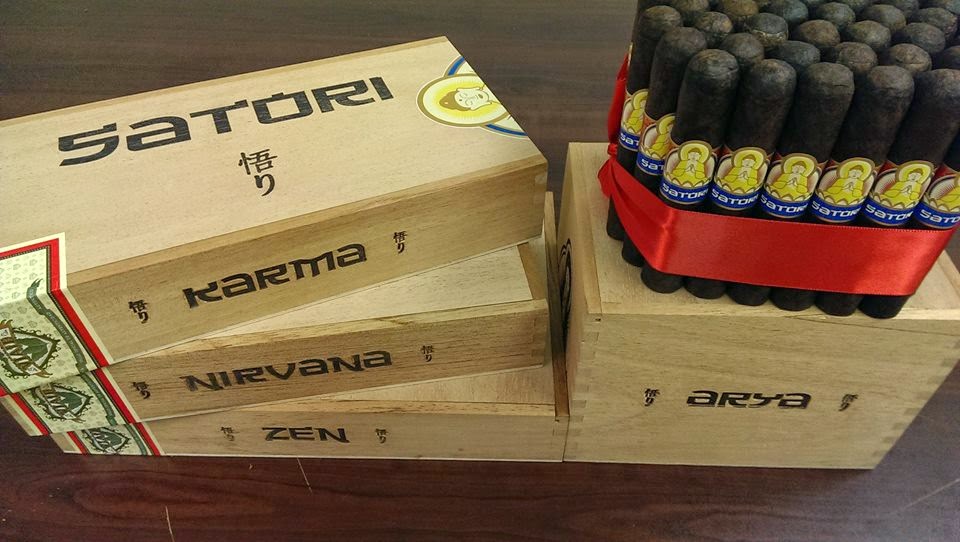 Future Plans


Farkas was also kind enough to share some plans for Viaje for the rest of the year and even a little beyond
September Release
A third size will be coming to the Viaje Friends and Family called Bel Air. This will introduce a 6 x 50 size to the line. The packaging will remain the same as the previous Friends and Family releases.
The Reserva line (Oro and Platino) will have a new box-pressed 7 x 50 Churchill size introduced called "Aficionado". There also will be a new White Label Project (WLP) release – which will be the first one for 2014.
Halloween Seasonal Release
Farkas confirmed there will be another Skull and Bones M?stery release along with the return of the Viaje Full Moon for 2014.
Thanksgiving Seasonal Releases (Stuffed Turkey and Farmer Bill Hatchet)
As Farkas revealed on Stogie Geeks, after three years of being a part of the WLP (White Label Project) line, the Viaje Stuffed Turkey Cigars will now stand on their own and get their own packaging. The plans are for both the White Meat (Natural) and Dark Meat (Maduro) to be released this fall. Farkas also revealed that shipping with the Stuffed Turkey cigars will be a new cigar called Farmer Bill Hatchet. This will be a 7 x 52 box-pressed cigar and will be a new blend.
End of Year Seasonal Releases
Farkas confirmed the Viaje Holiday Blend will be returning along with the barber-pole Viaje Candy Cane. Farkas said to expect a new version of the Candy Cane for 2014.
Viaje Zombie (2015)
Farkas talked a little about bringing the Zombie releases back for next year. Due to the success of the Viaje Zombie Red (Maduro), Farkas is leaning toward bringing back that version along with the traditional Green (Natural).