Assessment Updates will be posted on this web-site to: 1) Assess "pre-review" cigars that were not given a rating or score (typically pre-release cigars); 2) Provide numeric ratings to cigars previously assessed prior to the implementation of the numeric scoring system; 3) Provide a re-assessment and re-score of a previously assessed/score cigars. Today, we re-assess the Viaje Stuffed Turkey White Meat 2014. This was a cigar we assessed (but did not score) with the 2011 version back in November, 2011. We also assessed the 2012 version back in December, 2012.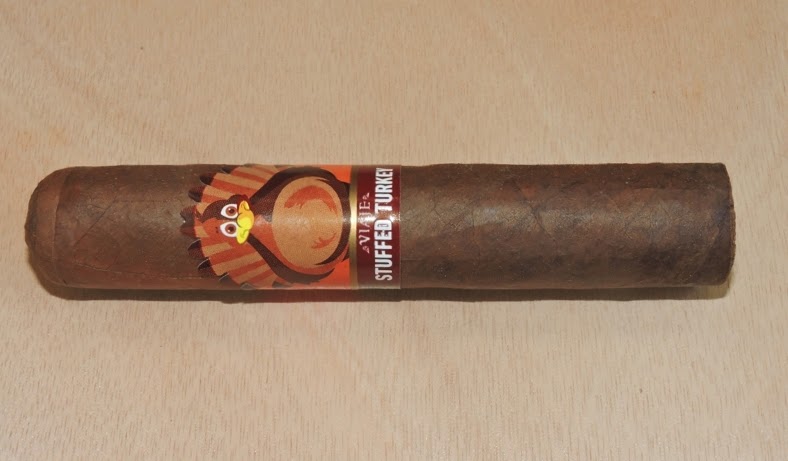 Viaje Stuffed Turkey White Meat 2014

Wrapper: Nicaraguan Criollo AGANORSA
Binder: Nicaraguan AGANORSA
Filler: Nicaraguan AGANORSA
Country of Origin: Honduras (Raices Cubanas)
Robusto: 5 x 58
The Viaje Stuffed Turkey made its debut back in 2011 in a Criollo wrapped Nicaraguan puro in a 5 x 60 vitola as a part of Viaje's White Label Project (WLP) series. The Stuffed Turkey is Viaje's Thanksgiving themed release. This cigar would be rebranded the Viaje Stuffed Turkey White Meat when a maduro counterpart was introduced (Viaje Stuffed Turkey Dark Meat). In 2013 both the Stuffed Turkey Dark and White Meat returned, but the vitolas were resized to a 58 ring gauge. The 2014 editions maintain the 58 ring size.
The Viaje White Label Project was put in place for experimental releases, factory errors, mash-ups, and different shapes. One thing that was "experimental" with these lines was that these were 60 ring gauge blends (a first for Viaje). Now after completing three years as a part of this series, the Stuffed Turkey blends move to their own line – complete with its own banding and packaging. This is news Viaje President Andre Farkas broke on Stogie Geeks earlier this year.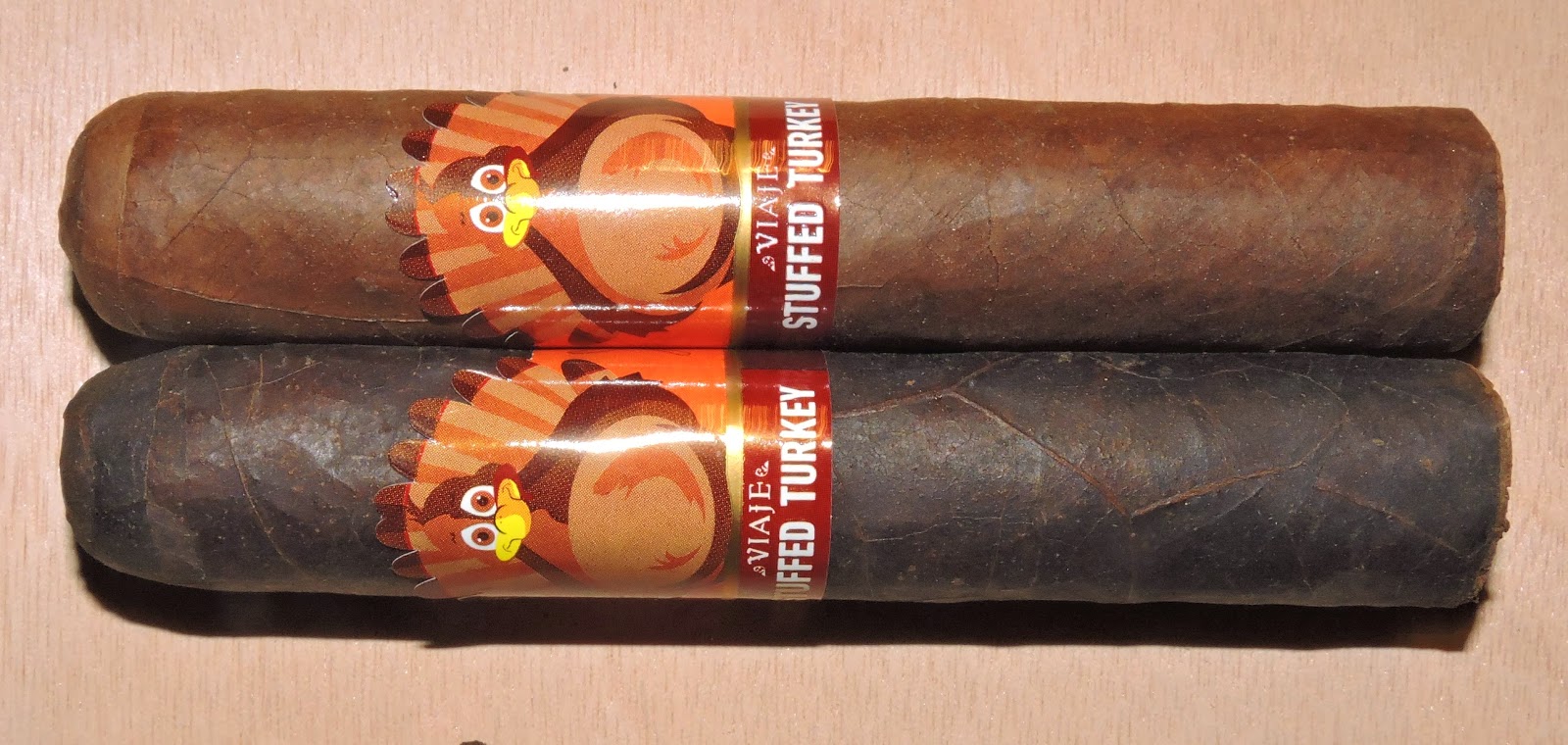 Viaje Stuffed Turkey White Meat 2014 (Top),
Viaje Stuffed Turkey Dark Meat 2014 (Bottom)
Three years from the original release and I found the Viaje Stuffed Turkey White Meat 2014 to be a very different cigar than the original Viaje White Label Project Stuffed Turkey and even better than the 2012 White Meat The White Meat started out with notes of natural tobacco, tangy sweet-spice, and some cherry. The tangy sweet-spice wass much more prominent in the first third. The second third saw more the tangy spice diminish and notes of earth and natural tobacco took center stage. The final third saw more classic pepper join the earth and natural tobacco. I found the White Meat to be a medium to full cigar in both strength and body from start to finish.
In terms of the tangy flavors, I seemed to have some trouble pinning this with the 2012 version. There were notes of mesquite and cinnamon which had me in the ballpark. For whatever reason, the 2014 version was much more crystal clear.
Most importantly, much of the bitterness and burn issues I had from 2011 were nowhere to be found.
The construction was excellent. The burn performed excellent with only occasional touch-ups. The draw had a touch of resistance – which is something I like.
Summary
Burn: Excellent
Draw: Excellent
Complexity: Medium
Strength: Medium to Full
Body: Medium to Full
Finish: Excellent
Assessment: 3.0 – The Fiver
Score: 89 (2012 Score – 88*)
* Scored under previous system
References
Original Assessment (2011 Edition): Viaje White Label Project Stuffed Turkey
Original Assessment (2012 Edition): Viaje WLP Stuffed Turkey 2012 White Meat
News: Viaje Stuffed Turkey 2014
Price: ~$10.00
Source: Cigars Purchased
Stogie Geeks Episode: Episode 126
Stogie Feed: Viaje Stuffed Turkey 2014 White Meat