MoyaRuiz Chinee Finger Trap – Photo Credit: MoyaRuiz Cigars
As we reported, MoyaRuiz Cigars is planing their second limited edition cigar called the Chinese Finger Trap. With the release of this cigar approaching in the near future, some additional details of this project have now surfaced.

Like the Nunchuck MoyaRuiz's first limited edition cigar, the Chinese Finger Trap pays homage to the Cigar Dojo social media community. MoyaRuiz co-founder Danny Moya explained to Cigar Coop that the Cigar Dojo community was instrumental in some of the company's early success with the La Jugada line. Moya also told Cigar Coop that many companies incorporate a theme around an annual release and in the case of MoyaRuiz, the theme of a annual release cigar in homage to the Dojo community seemed most appropriate.
A Chinese Finger Trap is a novelty item by which it traps the fingers of a "victim" inside the two ends of small flexible cylinder. The design of the primary band will resemble a Chinese Finger Trap. Moya informed Cigar Coop that the band is not meant to be an actual finger trap. While there were attempts made, ultimately a decision was made to not make it the actual novelty over concerns of possibly damaging the cigars. Moya did say when the primary band is removed, there will be a undisclosed secondary band.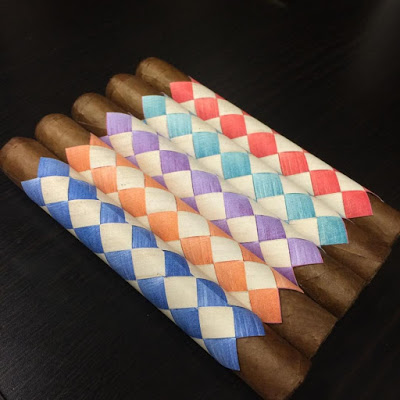 MoyaRuiz Chinee Finger Trap – Photo Credit: MoyaRuiz Cigars
Details of the blend are not being disclosed. Moya did inform Cigar Coop the cigar will be a 6 x 50 Toro in ten count boxes.
The limited edition Chinese Finger Trap joins the regular production Rake as MoyaRuiz's 2015 releases.