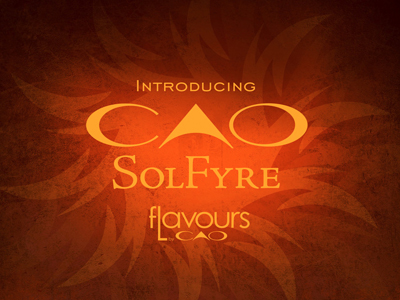 CAO Cigars has announced a new line in its CAO Flavours portfolio.  The CAO SolFyre is the latest addition to the brand's flavored cigar profile.  CAO SolFyre is described as bringing together a combination of cinnamon and whiskey.  The cigar will be shipped at the end of June.
The CAO SolFyre will feature a Cameroon wrapper over a blend of mild Dominican tobacco.  The cigar is infused with spicy notes of cinnamon and smoky notes of whiskey.  The cigar is being shipped in three sizes: Cigarillo (4 x 30, $16.99 for a tin of 10); Corona (5 1/2 x 42, $6.39 per cigar); and Petit Corona (4 x 40, $4.69 per cigar).
The addition of the CAO SolFyre is the first new release in the CAO Flavours line since 2013's limited edition CAO American Slyce.