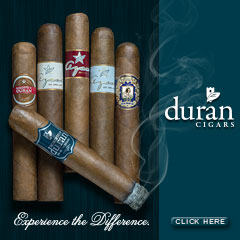 Jack Torano, Marketing and Regional sales manager for Duran Cigars was our special guest on Episode 144 of Stogie Geeks.  In addition to catching us up on all things related to Duran Cigars, Torano shared some news of some upcoming projects the company has in the works as it heads into the 2015 IPCPR Trade Show.
Duran Cigars
Roberto P. Duran Cigars is now being called Duran Cigars. The company has updated its logo and packaging. Torano said the name change based on making a shorter and simpler name.  As existing inventory depletes, new inventory will feature the new company name Duran Cigars.
Roberto P. Duran Signature Cigar
The Roberto P. Duran Premium Cigar, introduced at the 2014 IPCPR Trade Show will undergo a name change.  The new name will be the Roberto P. Duran Signature Cigar.  Torano said that bands will be changed to reflect this. "It truly is his (owner Robeto Pelayo Duran's) signature cigar," said Torano.  "It's the one he spent the most time on getting it to the flavor he wanted."
This year, a salomon based on the Roberto P. Duran Signature Cigar will be added.  The blend was done by the company's new master blender Santo Cardenas.  According to Torano, Cardenas tweaked the Signature blend into a a salomon format.  The cigars are packaged in individual hand-numbered, hand-signed coffins.  It will also feature a secondary band with Cardenas signature.
In addition, a new size 4 1/4 x 46 size of the Signature will offered called the Puntica.  These will be offered in three packs, with the packs sold in 10 count boats.
Neya
The Neya line will undergo some changes. The Neya F8 blend will add a new 7 x 70 offering called "Big Jack" (named for Torano). There will also be a 5 x 58 offering known as "Gringo" introduced into the line. The line will also have its packaging changed. Instead of the boxes saying "Neya Cigar Company", they will now say "Neya by Duran Cigars".
The Neya F8 offerings now will feature a secondary band.
Azan
There will be line extensions coming to the Azan brand.  The Azan White Premium and Azan Natural Maduro will see larger ring gauges introduced with a 6 1/4 x 56 vitola.  In addition, the Azan Burgundy will also have the Puntica size now offered in 3 packs.
Nicatabaco Factory Blend
Duran Cigars will introduce a new factory-direct bundle offering line called "Nicatabaco Factory Blend".  There will be a Nicatabaco Factory Blend 1 and a Nicatabaco Factory Blend 2.  These will be premium long-filler cigars complete with bands.  These cigars will be offered in traditional cellophaned bundles.
The company is expected to make more formal and detailed announcements on these lines prior to the 2015 IPCPR Trade Show.
Our conversation with Jack Torano from Episode 144 of Stogie Geeks is below: