Agile Cigar Reviews replace what we termed "Assessment Updates". The concept is the same, but the name is different. Agile Cigar Reviews use a lightweight, shorter format. These will never take the place of our comprehensive reviews. They are only used on blends we have previously assessed. This might be a blend we are re-scoring or providing a score for a first time. It might be a blend we are looking at in a different size. Today we look at the Asylum 13 Ogre Lancero. We have assessed the Asylum 13 Ogre before, but in different sizes, most recently in the Robusto size back in April 2014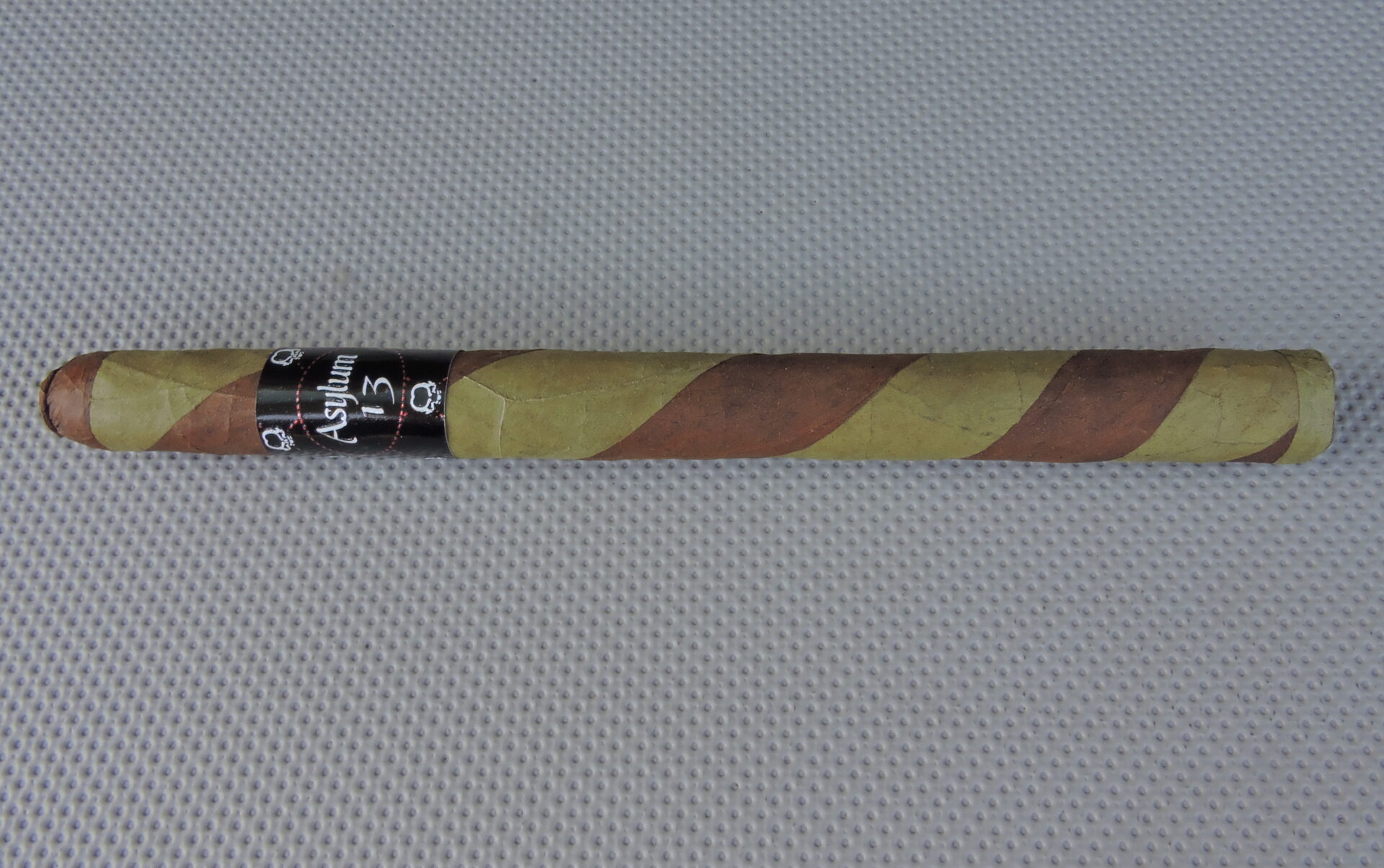 Wrapper: Nicaraguan Candela / Nicaraguan Habano (Barber Pole)
Binder: Nicaraguan
Filler: Nicaraguan
Country of Origin: Nicaragua
Lancero: 7 x 38
Back in 2013, Asylum Cigars released the first Asylum 13 Ogre. This was a different cigar in that not only would it feature a barber-pole with candela wrapper, but it would be in a 7 x 70 format.  The Ogre became one of the most successful cigars made by Asylum. Since then the Ogre has grown into a full-line of cigars. Just prior to the 2015 IPCPR Trade Show, it was announced that a lancero would be the seventh vitola in the Ogre line.
This became the second released under the Asylum brand.  Last year, the company released the Asylum 13 99 Problems in its Nicaraguan (Habano) puro blend.
In addition to featuring a Nicaraguan candela and Nicaraguan Habano barber-pole, the remainder of the blend consists of Nicaraguan tobaccos for the binder and filler. The lancero is a classic 7 x 38 size.
The Asylum 13 Ogre Lancero produced a combination of cedar, grass, white pepper, and cream notes. I found the Lancero to have more of a cedar note compared to the other sizes of the Ogre line. At the same time, I found this cigar to have less of a creamy profile than some of the other sizes. From a strength and body standpoint, I found the Asylum 13 Lancero to be at a medium level for both attributes – which is pretty close to some of the other sizes I had smoked.
The original 7 x 70 Ogre was a cigar blended to a 70 ring gauge – and I think did a good job for that large ring size.  Obviously the lancero comes down significantly in terms of ring gauge, but the blend has more than compensated well for this.  This is a fine offering by Asylum Cigars. It's one I'd recommend to a novice or experienced cigar enthusiast. It's a cigar worth of a fiver.
Summary
Burn: Excellent
Draw: Excellent
Complexity: Medium
Strength: Medium
Body: Medium
Finish: Good
Assessment: 3.0-The Fiver
Score: 89
References
Original Assessment: Asylum 13 Ogre
News: Asylum 13 Ogre Lancero
Price: ~$8.00
Source: Purchased / Cigars Provided by Manufacturer
Stogie Geeks Podcast: Episode 157
Stogie Feed: Asylum 13 Ogre Lancero