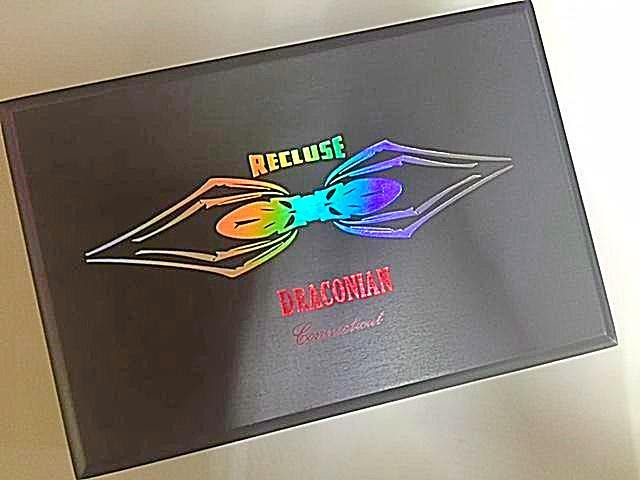 Recluse Cigar Company continues to announce its new cigars under its major portfolio expansion. Today the company announced the seventh of what is planned to be a series of nine new blends that will be introduced at the 2016 IPCPR Trade Show. This time, the company has decided to expand on the original Recluse Draconian and introduce the Recluse Draconian Connecticut. This cigar is the first new Draconian-branded cigar since the original Draconian was introduced back in 2013.
The Recluse Draconian Connecticut offers a Connecticut Shade version under the Draconian brand. With this release, there will now bring a Connecticut Shade offering under each of Recluse's three brands. The Recluse Amadeus Connecticut, which was introduced in 2014 was the company's first Connecticut Shade cigar.  In addition, this year the company recently announced a Connecticut under its OTG offering called the Recluse OTG Connecticut.
The Recluse Draconian Connecticut uses a Grade A Connecticut Shade wrapper, a Sumatra binder, and a combination of Braziago, Iconic Ligero and Piloto Cubano tobacco. Consistent with the other roll outs, the Recluse OTG Connecticut is being released in 14 vitolas, including the company's signature Sidewinder and Kanu sizes.
In a press release announcing the Recluse Draconian Connecticut, Recluse Cigar Company President Scott Weeks said, "We created the original Recluse Draconian to smash the perception that a cigar needs to say the word Cuban on it to be exceptional. We have taken this original work of art and taken it to a new level with the Draconian Connecticut".
The Recluse Draconian Connecticut joins the Recluse Amadeus Los Cabos , Recluse Amadeus Rosado, Recluse Amadeus Corojo Reserva, Recluse OTG Connecticut, Recluse OTG Dominican Puro, and Recluse OTG Habano as lines announced by Recluse Cigar Company thus far for 2016.
At a glance, here is a look at the Recluse Draconian Connecticut:
Blend Profile
Wrapper: Ecuadorian Connecticut Shade
Binder: Sumatra
Filler: Braziago, Iconic Ligero and Piloto Cubano
Country of Origin: Dominican Republic (Tabacalera Leyendas Cubanas)
Vitolas Available
The Recluse Draconian Connecticut will be made available in Fourteen sizes. All will be in 24 count boxes except for the three Kanu offerings which will be in 20 count boxes.
Petit Corona: 4 x 42 (SRP $5.95)
Corona: 5 3/4 x 46 (SRP $ 6.75)
Robusto: 5 x 52 (SRP $7.50)
Toro: 6 1/4 x 50 (SRP $8.50)
Belicoso: 6 1/2 x 56 (SRP $8.95)
Lancero: 7 x 38 (SRP $8.95)
Tarantula: 6 x 60 (SRP $9.50)
Excepcionales: 7 1/2 x 56 (SRP $9.75)
Sidewinder #1: 5 x 57 (SRP $8.50)
Sidewinder #2: 6 x 57 (SRP $9.50)
Sidewinder #3 7 x 57 (SRP $10.50)
Kanu #1: 6 x 54 (SRP $10.25)
Kanu #2: 7 x 52 (SRP $10.95)
Kanu #3: 8 x 58 (SRP $11.95)
Photo Credit: Recluse Cigar Company