It turns out that for Avo Uvezian's 90th birthday, there will be a second cigar to commemorate the occasion. At the 2016 IPCPR Trade Shows, Avo Cigars unveiled the Avo 90th Classic Covers Volume 4. This limited edition cigar is the fourth installment of the Classic Covers Improvisation Series, and joins the Avo 90th Classic Covers Volume 3 as a cigar to commemorate Uvezian's milestone of turning 90 years old.
The Avo Improvisation Series was introduced in 2015. The concept behind this series is to draw inspirations from previous Avo releases to create a whole new cigar. The concept is similar to the relationship of a cover song to an original song. With Avo Classic Covers Volume 1, the inspiration was drawn from the Avo Classic blend. Tobaccos from the Avo Classic were incorporated from that blend and a whole new cigar was created.  The second installment, Avo Classic Covers Volume 2 used tobaccos from the Avo Heritage.  For the Avo 90th Classic Covers Volume 3, the Avo XO cigar was "covered".
With the Avo 90th Classic Covers Volume 4, it is the Avo Domaine blend that gets covered. The blend features an Ecuadorian Habano 2000 Marron wrapper, an Ecuadorian Sumatra binder, and an all Dominican filler that features 12 year tobaccos hand selected by Uvezian.
Avo Domaine is positioned as a personal blend for U.S. Specifically the company says it is the "Domaine" tobaccos that are "covered" by the Ecuadorian wrapper and binder. The vitola itself is the same 6 x 50/54 shop used by the Domiane 50 vitola. The cigar itself  was blended by Eladio Diaz in conjunction with Uvezian.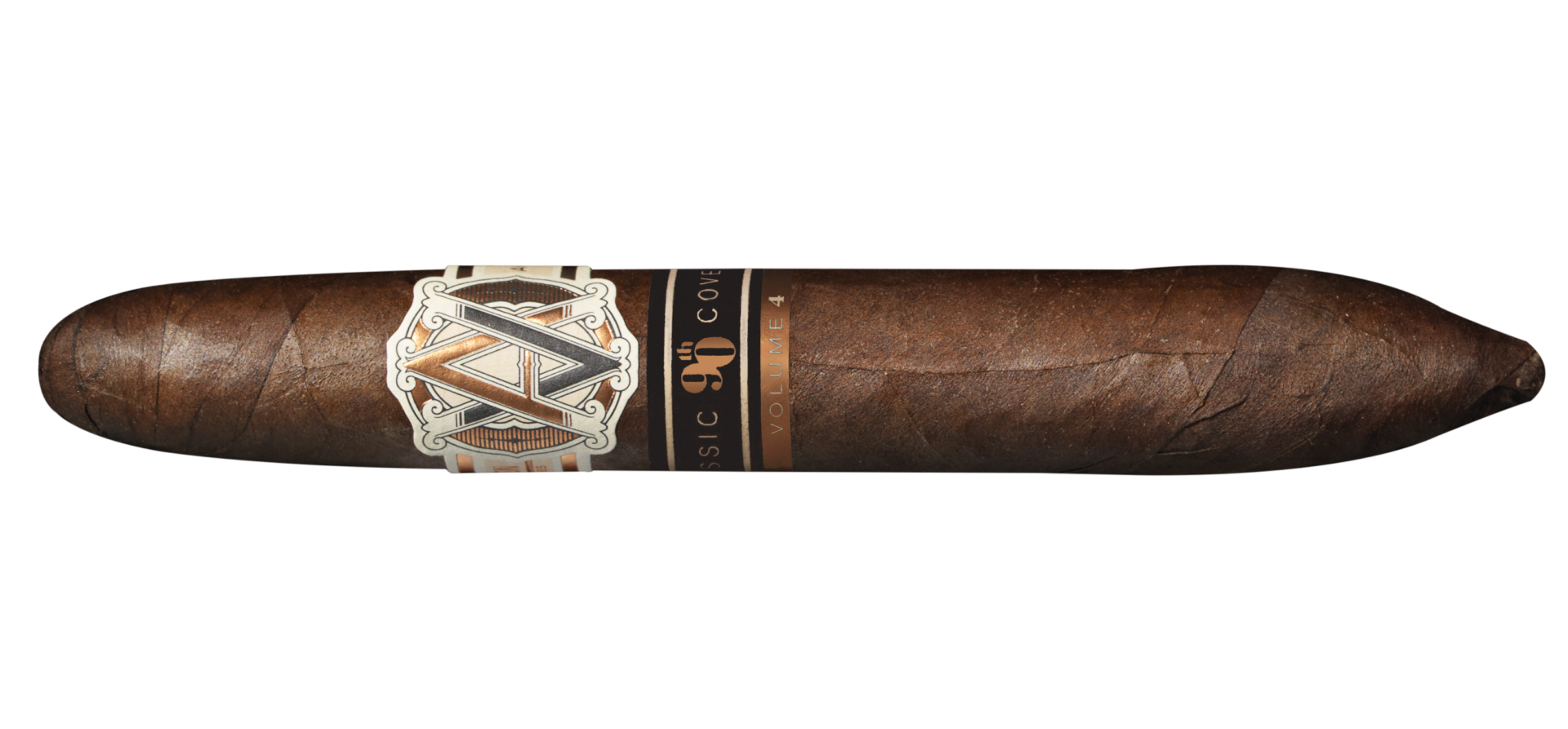 The cigars will be packaged 18 cigars per box. As with Volume 3, the box has a phonograph shape that can be re-used as an ashtray. Each of the cigars will be priced at $17.90 with boxes priced at $322.20.  There will be a total production of 2,000 boxes produced (down from the 3,500 for Volume 3).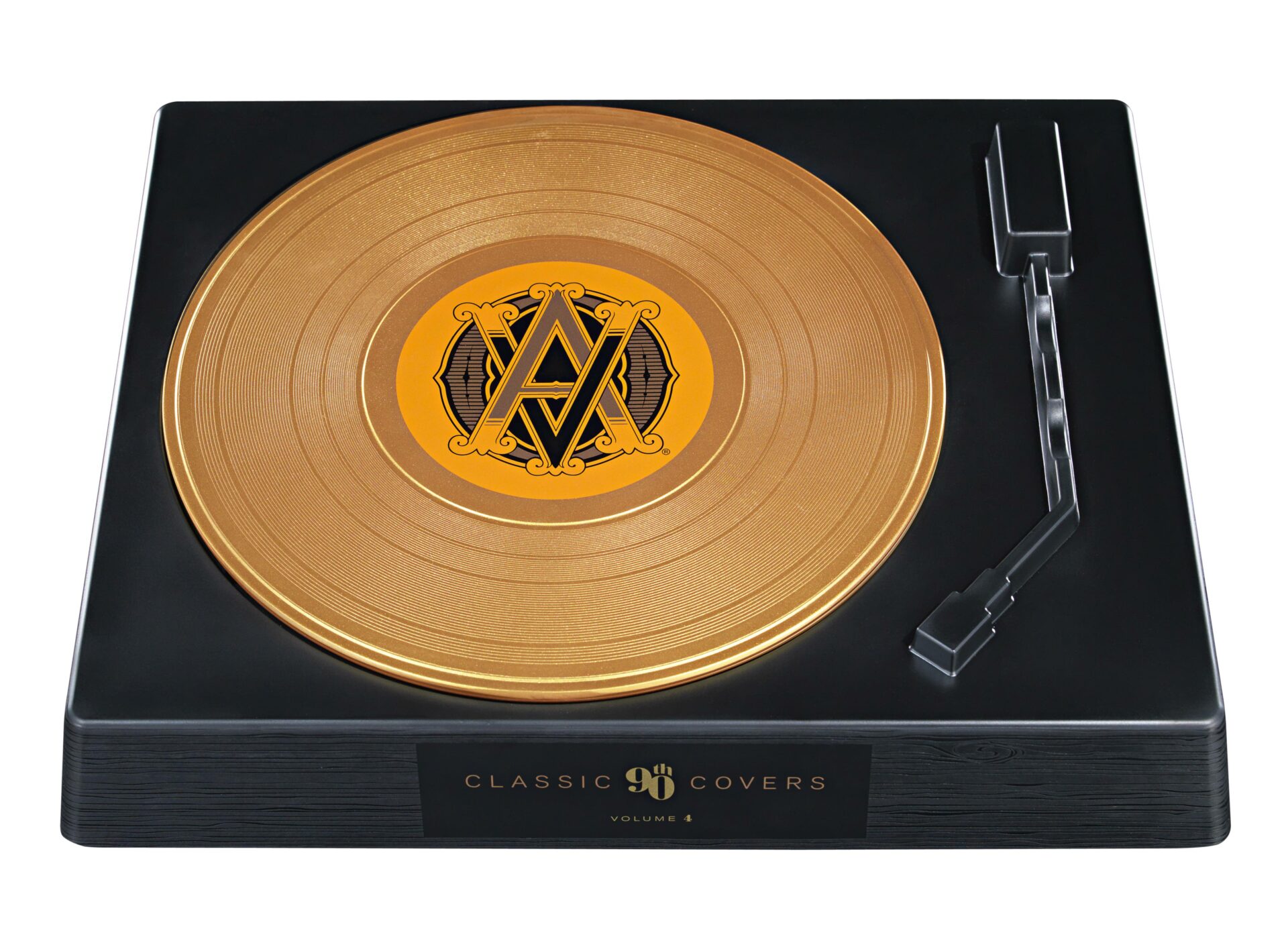 In a press release announcing the Avo 90th Classic Covers Volume 4, Uvezian commented, "I am elated to share such a remarkable new release in celebration of my 90th with friends throughout the world. 90 years may seem like a lot to most people, however, if you listen to your own beat, play your own melodies, and savor every note along the way, another 90 would be just fine with me."
A full launch of the Avo 90th Classic Covers Volume 4 is planned for October.
At a glance, here is a look at the Avo 90th Classic Covers Volume 4:
Blend Profile
Wrapper: Ecuadorian Habano 2000 Marron
Binder: Ecuadorian Sumatra
Filler: Dominican: San Vicente Mejorado Volado, Yamasa Visus, Pilito Visus, San Vicente Visus
Country of Origin: Dominican Republic
Vitolas Available
The Avo 90th Classic Covers Volume 4 comes in a single size – a 6 x 50/54 perfecto.
Photo Credits: Davidoff of Geneva, except where noted.