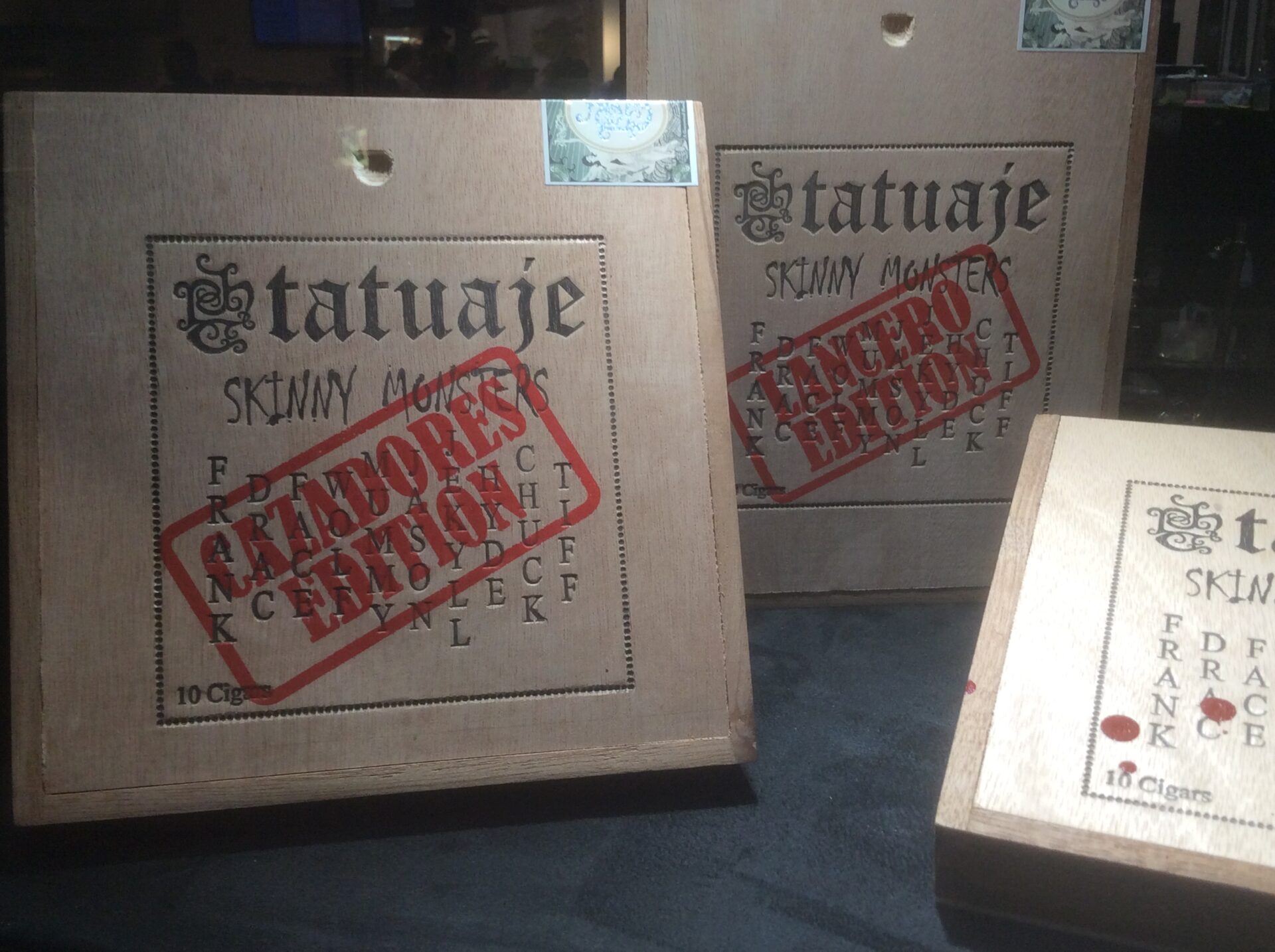 Get ready for more Monsters -Tatuaje Monsters that is. At the 2016 IPCPR Trade Show, Tatuaje Cigars showcased two new samplers that are offshoots from the recently released Tatuaje Skinny Monsters collection – the Tatuaje Skinny Monsters Cazadores Edition and the Tatuaje Skinny Monsters Lancero Edition. These samplers include cigars from the first ten Tatuaje Monster blends. With these blends, and plans for Tatuaje – The Krueger (the 2016 Monster Release), the total number of Monster offerings to date will be up to 52.
The Tatuaje Skinny Monsters Cazadores Edition introduces a 6 3/8 x 43 format for the first ten Monster blends. The Tatuaje Skinny Monsters Lancero Edition introduces a full-lancero size, a 7 1/2 x 38 for each of the blends.
The Cazadores Edition and the Lancero Edition bring the total number of samplers to five. In 2012, Tatuaje released the Little Monsters was a ten count sampler which included shorter and thinner versions of the first five Monsters releases. Two years later, Tatuaje unveiled the ten count Pudgy Monsters, which was a shorter version, but same ring gauge of the first six monsters releases. That sampler also included two new blends, Chuck and Tiff that were not released as Monsters. Earlier this year, Skinny Monsters followed with 6 x 38 petite lancero versions of the ten Monster blends released (including Chuck and Tiff) prior to 2016. There has not been a sampler for the full sized Monsters.
Skinny Monsters has also recently been made available in individual 25 count boxes.
For reference, the grid below maps each monster / horror film character blend to the cigar that was released in each of the Monster Series collections. A blank indicates the blend was not released in that collection.
Character/Collection
Full Monsters
(The +) -Annual
Little Monsters – 2012


Pudgy Monsters
(Pudgy +) – 2014
Skinny Monsters
(Skinny +) – 2016
Skinny Monsters
Cazadores
Skinny Monsters
Lancero
Frankenstein (2008)
Frank
Frank Jr.
Frank
Frank
Frank
Frank
Dracula (2009)
Drac
Lil' Drac
Drac
Drac
Drac
Drac
Leather Face (2010)
Face
Baby Face
Face
Face
Face
Face
The Wolfman (2011)
Wolfman
Wolfie
Wolf
Wolf
Wolf
Wolf
The Mummy (2012)
Mummy
Mini Mum
Mummy
Mummy
Mummy
Mummy
Jason Voorhees (2013)
JV13
Jason
Jason
Jason
Jason
Dr. Jekyll (2014)
Jekyll
Jekyll
Jekyll
Jekyll
Mr. Hyde (2015)
Hyde
Hyde
Hyde
Hyde
Chuck (Child's Play)
Chuck
Chuck
Chuck
Chuck
Tiff (Child's Play)
Tiff
Tiff
Tiff
Tiff
Freddy Krueger (2016)
Krueger
Photo Credit: Cigar Coop