Agile Cigar Reviews replace what we termed "Assessment Updates". The concept is the same, but the name is different. Agile Cigar Reviews use a lightweight, shorter format. These will never take the place of our comprehensive reviews. They are only used on blends we have previously assessed. This might be a blend we are re-scoring or providing a score for a first time. It might be a blend we are looking at in a different size. Today we look at the Davidoff Escurio Robusto in the Gran Perfecto size. This is a cigar we last  assessed in the Robusto size in March 2016.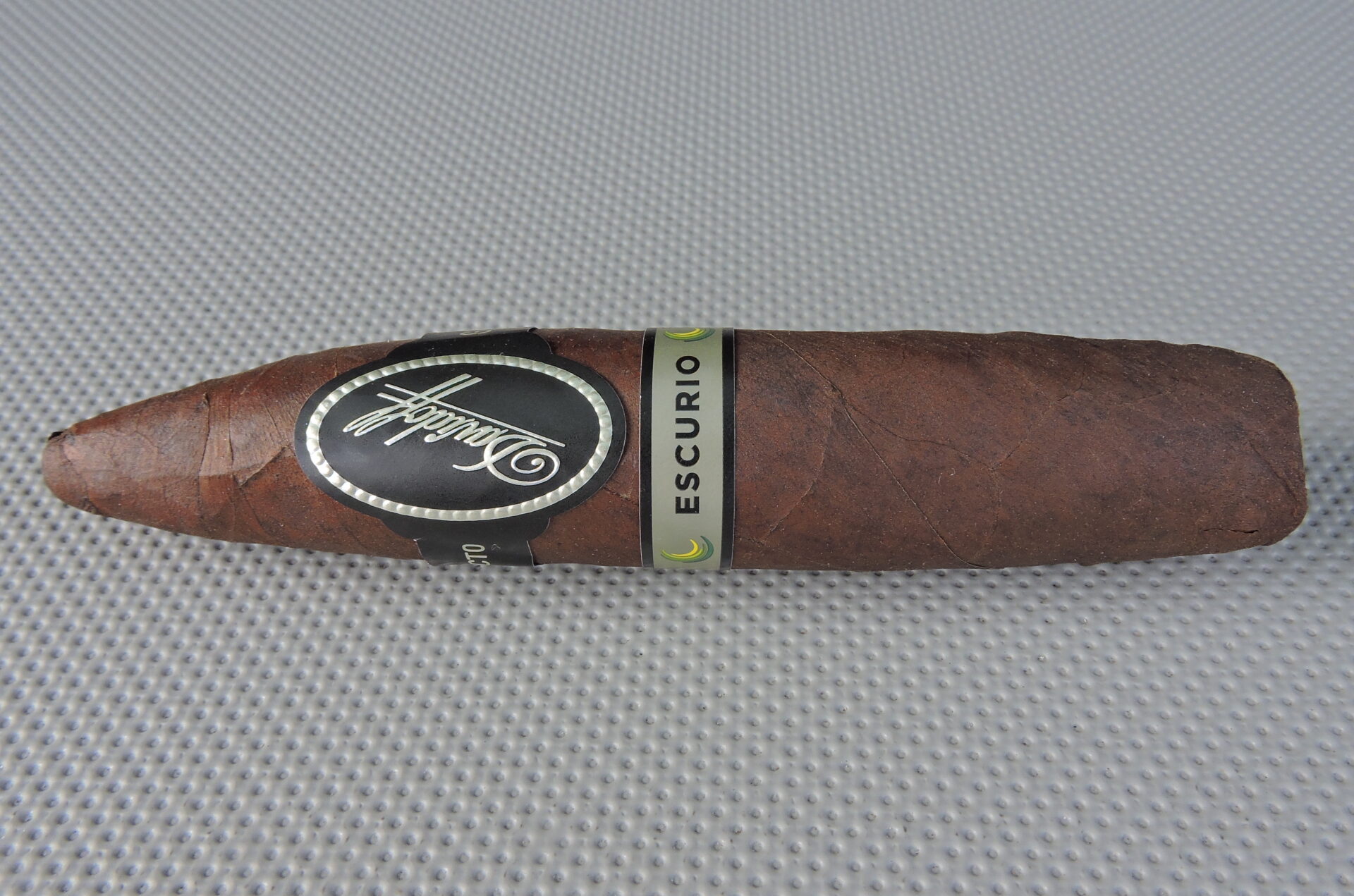 Wrapper: Habano Ecuador
Binder: Brazilian Cubra
Filler: Dominican (San Vicente, Piloto andOlor/Piloto Seco), Brazilian (Cubra and Mata Fina)
Country of Origin: Dominican Republic.
Perfecto:  5 x 50/61
In 2015, Davidoff released the Escurio as the second installment under its "Discovery Pillar" (or Black Label). The Discovery Pillar is a brand has allowed Davidoff to execute on its strategy of innovation. The first installment of the Discovery Pillar was Davidoff Nicaragua, Davidoff's Nicaragua puro. For the Escurio, Davidoff set its sights on another country – Brazil. However, while Davidoff Nicaragua contains 100 percent Nicaraguan tobacco, the Davidoff Escurio builds a multi-national blend that has a significant Brazilian component. The Escurio was originally released in three sizes, but in 2016 two line extensions were added in the form of a Corona Gorda and Gran Perfecto. Today, we take a closer look at the Gran Perfecto.
The name Escurio is a derivative of two words – Escuro (which means dark in Portuguese, Brazil's language – and in this case the cigar's wrapper falls into this category) and Rio (short for the Brazilian city of Rio de Janeiro – which was an inspiration for this cigar).
As for the blend, it has a dark Ecuadorian Habano wrapper, a Brazilian Cubra wrapper, and filler consisting of Brazilian and Dominican tobaccos. The Gran Perfecto is a plump looking vitola – measuring 5 x 50/61.
The Davidoff Escurio Gran Perfecto is going to deliver notes of leather, cocoa, cedar, exotic spice, and a slight grass note. The leather note was one noticeable difference from the Robusto size, which I found had more of an earthy profile. During the second half there was a noticeable spike in the spices. During this stage, not only did the spices take over, but I found them to get somewhat harsh and pungent. The Escurio Gran Perfecto started out as a medium strength, medium-bodied cigar. By the second half, the flavors had moved into medium to full-bodied territory while maintaining its strength. The burn and draw wee excellent.
One important philosophy we follow on Cigar Coop is "size matters". While I've found the Davidoff Escurio Robusto to perform at a very high level over several months, the Gran Perfecto was fell a little short. In particular, it was the second half that disappointed me. This might be a size you want to try, but I'm more inclined to go with the Robusto.
Summary
Burn: Excellent
Draw: Excellent
Complexity: Medium
Strength: Medium
Body: Medium (1st Half), Medium to Full (2nd Half)
Finish: Good
Rating
Assessment: 2.5 – Try One
Score: 88
References
Previous Assessment: Davidoff Escurio Robusto
News: Davidoff Escurio Adds Corona Gorda and Gran Perfecto Line Extensions
Price: $16.90
Source: Purchased
Brand Reference: Davidoff
Photo Credit: Cigar Coop