Agile Cigar Reviews replace what we termed "Assessment Updates". The concept is the same, but the name is different. Agile Cigar Reviews use a lightweight, shorter format. These will never take the place of our comprehensive reviews. They are only used on blends we have previously assessed. This might be a blend we are re-scoring or providing a score for a first time. It might be a blend we are looking at in a different size. Today we take another look at the Espada by Montecristo Estoque. This is a cigar we have previously assessed back in November, 2015.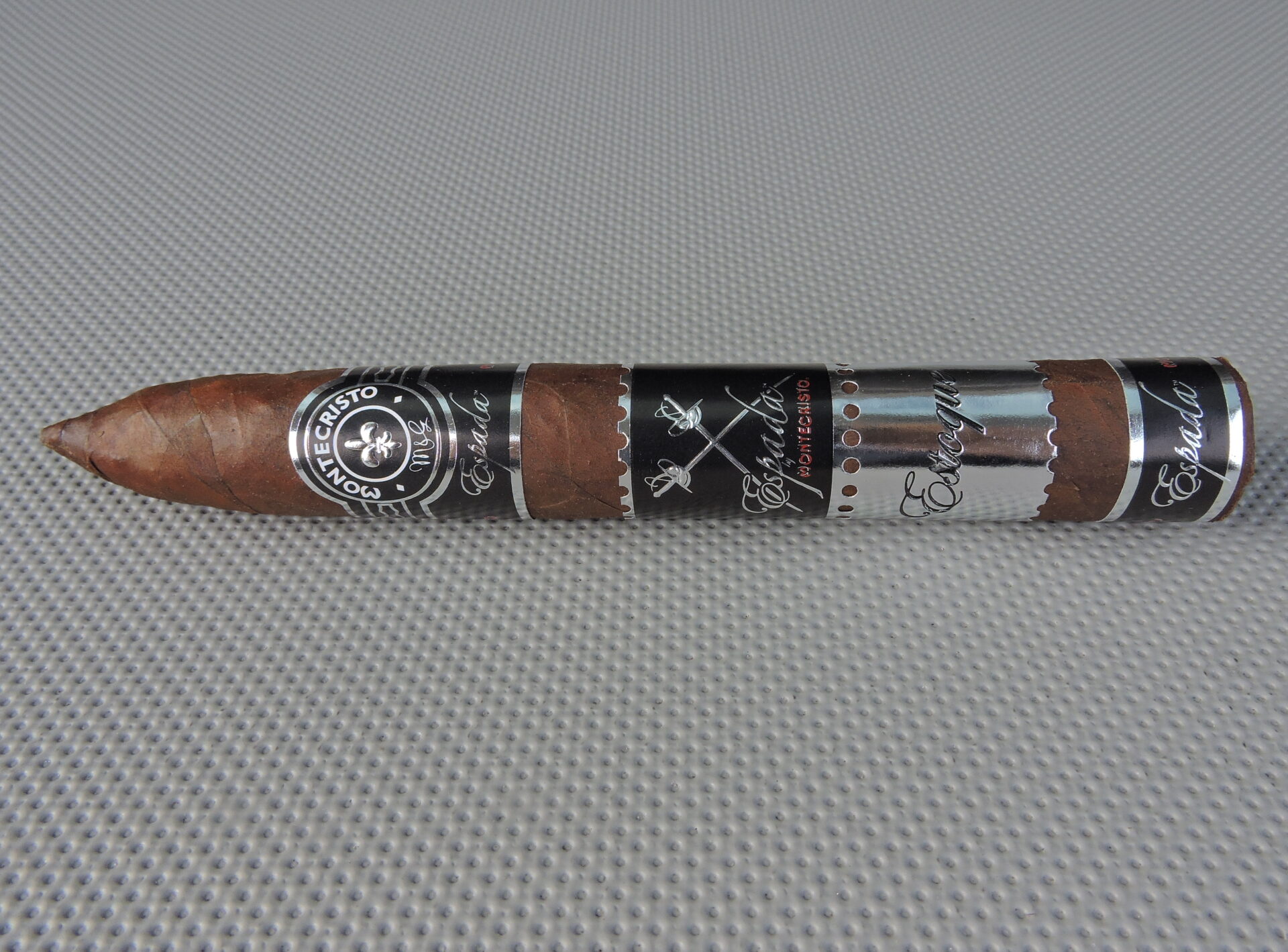 Wrapper: Nicaraguan Cuban Seed Viso Jalapa Vintage 2013
Binder: Nicaraguan Criollo Seco Jalapa Vintage 2002
Filler: Nicaraguan Corojo Seco Esteli, Vintage 2009 Nicaraguan Criollo Viso Ometepe Vintage 2013, and Nicaraguan Criollo Viso Condega Vintage 2013.
Country of Origin: Nicaragua (Placencia SA)
Torpedo: 6 x 50
In 2014, Altadis USA's Monetaristo brand announced a cigar called Espada by Montecristo. The Espada is a significant project for the Montecristo brand as it became the first all Nicaraguan Montecristo and well as the first Montecristo to be made in Nicaragua. In addition, it marked the first of what would be a series of collaborations by Atladis USA as the Espada would be produced at the Placencia factory. Fast forward to 2015 and with the Montecristo brand commemorating its 80th anniversary, Altadis USA decided to come out with a limited edition line extension to Espada known as Espada by Montecristo Estoque.
Like the regular production Espada, the Estoque is also a Nicaraguan puro. At the same time the Estoque features a completely different blend than the regular Espada offering. The Estoque comes in one size – a 6 x 50 Torpedo that the same format as the Montecristo brand's No. 2 format. The cigars are packaged in ten count boxes.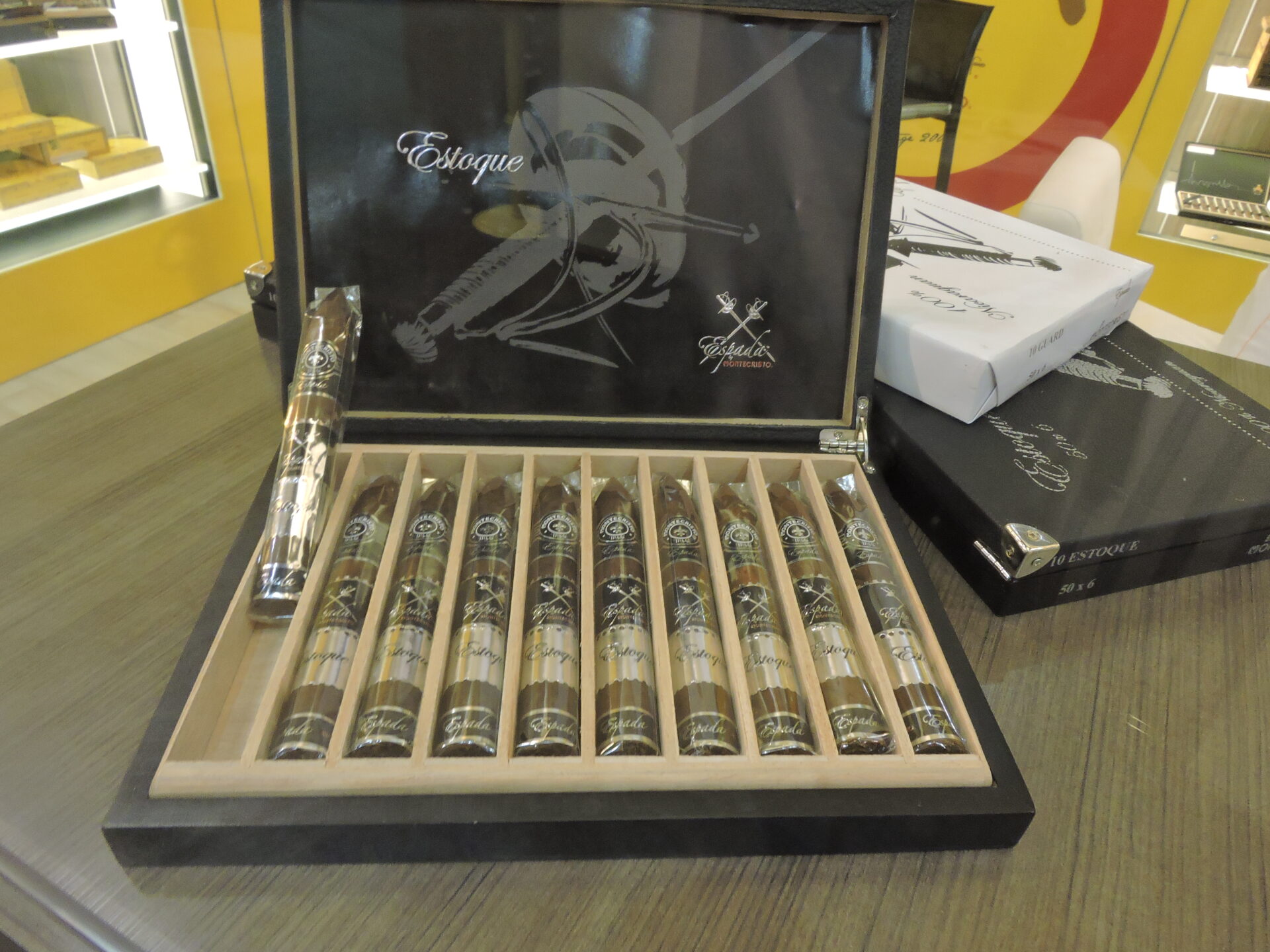 The tasting notes to the Estoque include notes of citrus, coffee, cedar, classic wood, and red pepper. There were a couple of differences from when smoked in 2015 – notably the coffee presence had diminished. I also didn't quite get the dark chocolate notes that I detected when I originally assessed the Estoque.
I also found the Estoque to be slightly dialed back in strength from the last time I assessed this cigar. For the most part, the strength level remained in the medium range. As for the body, this pretty much remained in the same wheelhouse as I assessed the Estoque as being medium to full-bodied.
Overall the Estoque is still a fine extension to the Montecristo brand, but I'm wondering if this cigar might have aged out. I found the diminished presence of the coffee notes and the loss of the dark chocolate flavor was indicative of this. It's still a cigar I'd recommend as a fiver, but it's probably one I would smoke sooner than later.
Summary
Key Flavors: Classic Wood, Cedar, Red Pepper, Coffee
Burn: Very Good
Draw: Excellent
Complexity: Medium
Strength: Medium
Body: Medium to Full
Finish: Very Good
Rating
Assessment: 3.0-The Fiver
Score: 89
References
Previous Assessment: Espada by Montecristo Estoque
News: Espada by Montecristo Estoque Unveiled at 2015 IPCPR
Price: $14.50
Source:  Purchased
Brand Reference: Montecristo
Photo Credits: Cigar Coop