Agile Cigar Reviews replace what we termed "Assessment Updates". The concept is the same, but the name is different. Agile Cigar Reviews use a lightweight, shorter format. These will never take the place of our comprehensive reviews. They are only used on blends we have previously assessed. This might be a blend we are re-scoring or providing a score for a first time. It might be a blend we are looking at in a different size. Today we look at the Xiphos NR Maduro in the Robusto size. This is a cigar we most recently assessed in the Toro size back in November, 2016.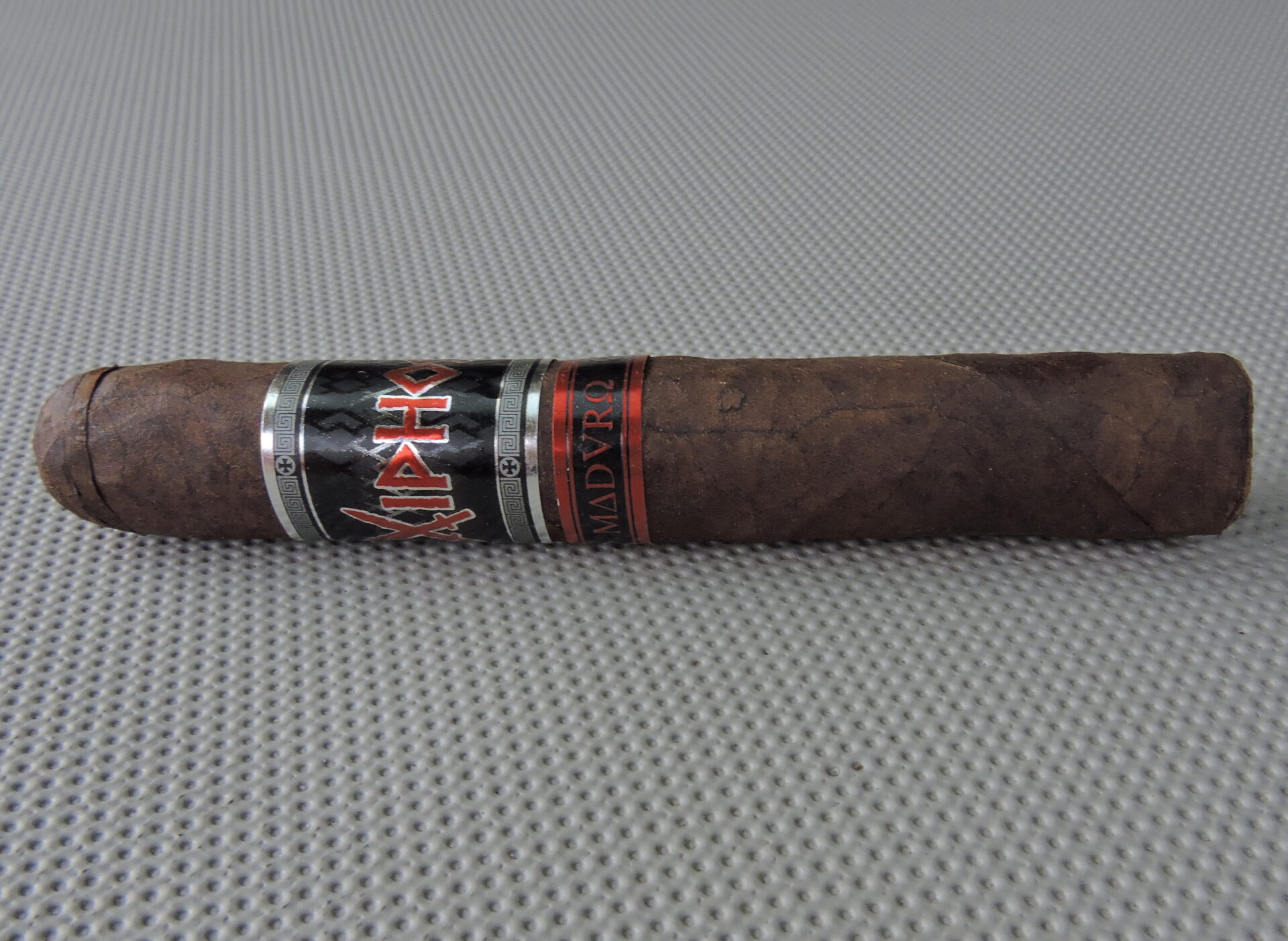 Wrapper: Connecticut Broadleaf Maduro
Binder: Indonesian
Filler: Nicaraguan (Esteli and Jalapa) Viso, Seco, and Ligero
Country of Origin: Nicaragua (New Order of the Ages)
Robusto: 5 x 52
Xiphos Cigars is a company founded by Brad Longanecker. The company has two main brands in its portfolio: Xiphos NR and Xiphos CR. The brands are differentiated by the country where they are produced. For the Xiphos CR, the cigars are produced in Costa Rica while for the Xiphos NR, the cigars come from Nicaragua.  The NR line consists of both a Habano and Maduro offering. Back in November, I sampled the Xiphos NR Maduro Toro and was quite impressed. Today we smoke the Xiphos NR Maduro Robusto size – and once again am impressed by this line.
The Xiphos NR Maduro features a Connecticut Broadleaf wrapper over an Indonesian binder and Nicaraguan filler. The Robusto is a 5 x 52 vitola. The Xiphos NR line is produced out of the New Order of the Ages (NOA) factory owned by Noel Rojas and Brandon Hayes.
The Xiphos NR Maduro Robusto delivers a rich coasted coffee note – something I found to be signature note of the Toro size. There also was a slight maduro sweetness (a cross between natural tobacco and dried fruit), dark chocolate, and some black pepper notes. During those second half, there was an increase in the pepper and the coffee notes lost some of its edge become more like a classic earthy note. The flavors were medium to full-bodied countered by medium strength,
Back whenI assed the Toro, I identified Xiphos Cigars as a revelation in the small production segment. The work that Longanecker has done with NOA is quite impressive. Simply put, the Xiphos NR Maduro is a line that delivers great flavor. While I give a slight edge to the Toro size, the Robusto is still a great option when you need a quicker smoke. This is a cigar I would recommend to an experienced cigar enthusiast or even novice looking for something in the medium plus range. As for myself, this is a cigar I would smoke again – and easily a box worthy offering.
Summary
Key Flavors: Coffee, Black Pepper, Dark Chocolate, Earth, "Maduro Sweetness"
Burn: Excellent
Draw: Excellent
Complexity: Medium+
Strength: Medium to Full
Body: Medium to Full
Finish: Excellent
Rating
Assessment: 4.0-Box Worthy
Score: 91
References
Previous Assessment: Xiphos NR Maduro Toro
News: n/a
Price: $9.50
Source: Xiphos Cigars
Brand Reference: Xiphos
Photo Credit: Cigar Coop