---
For the eighth consecutive year, the Cigar Coop brand will be providing coverage of the International Premium Cigar and Pipe Retailers (IPCPR) Association Trade Show and Convention. We are proud to be a part of a very small group of media to say that. Our four-part series has you covered whether you are going to the show or following from home.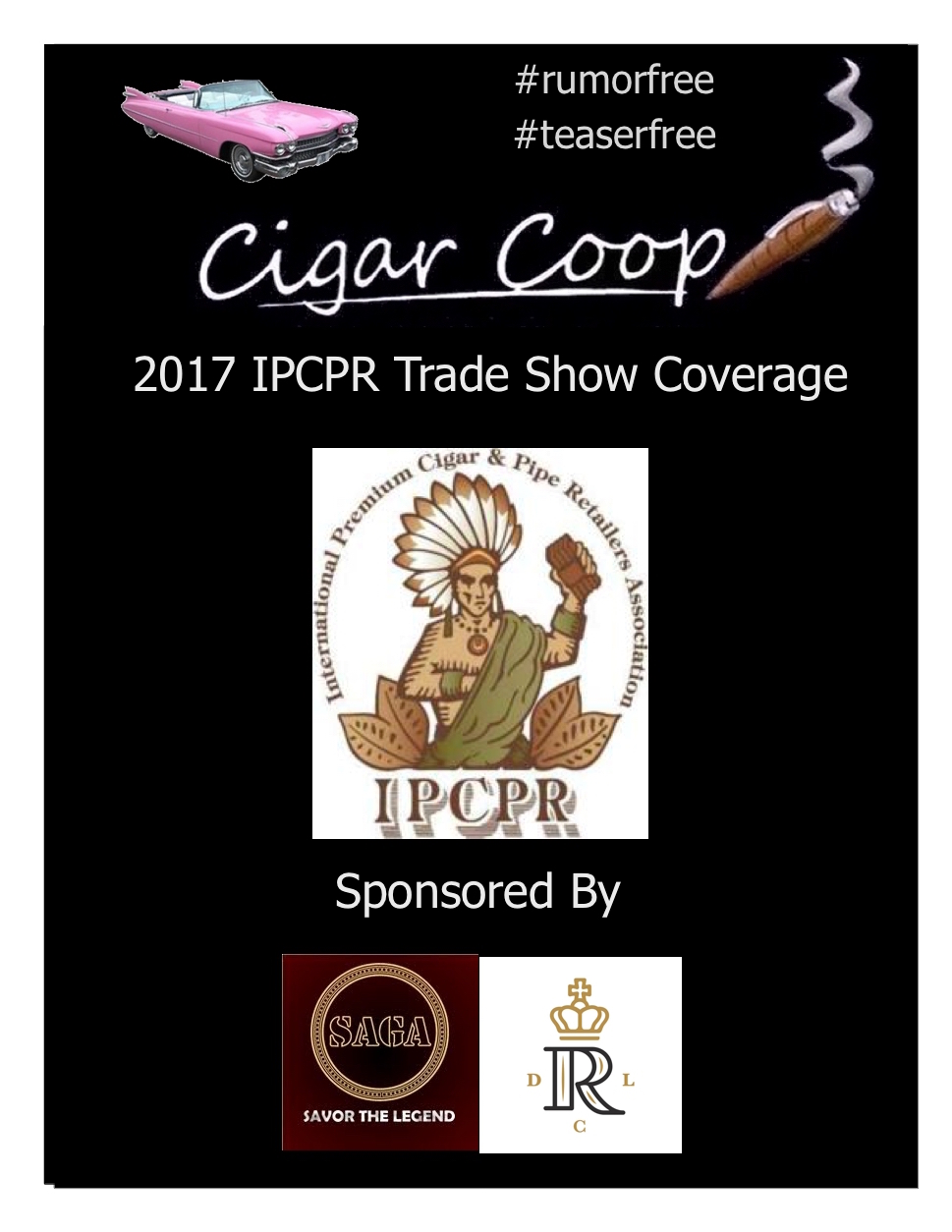 IPCPR 2017 Pre-Game – The Trends to Watch
In past years, the trends we have covered in this series have had a tobacco focus. This year, the trends are very much on the marketing end – all because the cigar industry now must be in compliance with U.S. Food and Drug Administration (FDA) Regulations.
There are two dates that are going to effect every trend we list in this installment.
February 15, 2007: The Predicate "Grandfather" date
August 8, 2016: The date where new products being introduced are subject to FDA pre-approval to be marketed.
1. Some Stealth Products are Unveiled
Stealth Products showed up in the market last August. Stealth Products were released to a small number of retailers in order for a manufacturer to meet the FDA requirements of a cigar product being sold and marketed before August 8th, 2016. The plan was for a more widespread, general release to follow. The bizarre thing is, no information was put out by the companies for most of these products. At this year's IPCPR, some of these products will now officially be "launched". This appears to be an attempt to create an illusion that the product is new.
If you see words in a press story/release that "product xyz was released last Fall in limited quantities and now this year will see a national release", these are likely to have been stealth products  Some of these products that were released were actually put on the shelf for sale. The whereabouts of many of the stealth releases remain one of the great mysteries in the cigar business.
2. What's Old is What's New
It's a blast from the past, and there are two different ways of doing this:
Predicate Products make a comeback
"We found some old product in the factory"
First, if there was a product marketed on February 15, 2007 or before, it's a valuable commodity in the cigar business. Therefore, I expect companies that own predicate products will be promoting them and using it as a strategic advantage. We saw Perdomo Cigars set the stage for this last year, and now Gurkha appears to be following in this direction. In particular, larger and older companies will have a strategic advantage in this area.
Since companies are allowed to make packaging changes (see below #4), that can be used as another way to market the products and give it "a new coat of paint".
Secondly, there are many limited edition cigars that have surfaced since February 15, 2007, Many of these products are still tucked away in storage rooms in the factory. As a result, we may see some limited edition cigars make a comeback for what could be described as "one last run".
3. That Product was First Released When?
There are going to be a lot of products that you will see that will trace their original release date to 2007 or earlier. If you follow the industry closely, there will be a lot of head scratching because you might not remember that product on the market that early.
This is something really worth watching. If there is a way to trace the marketing of a product back to the predicate date or earlier, a company is going to do it. In some cases, it's possible it was marketed in a more limited fashion – or marketed under another name.
The nature of what determines whether or not a product was on the market on February 15th, 2017 is a gray area. In the draft guidance, the FDA says "FDA recommends that you provide adequate information to demonstrate that the tobacco product was commercially marketed (other than exclusively in test markets) in the United States as of February 15, 2017".
While some products have been submitted and approved by the FDA as having "grandfather determination", companies are still not required to go through the determination process.
You also will see a lot of products with "new" names that are said to be "predicate blends".
While we expect many companies to have meticulous record keeping in terms of this topic, we also expect them to use the technicalities of the actual release date to their advantage to assure retailers that the product will be around.
4. We Got New Packaging!!!
Packaging changes are going to be a lot more common this year for two reasons:
Some packaging will change in order to comply with FDA Warning Labels
Some packaging will simply change to give it a "fresh" look
Last year, a U.S. District Court in Washington DC ruled that labeling changes do not constitute New Product. While this was a court case filed by Altria, Lorillard, and Reynolds American against the U.S. Food and Drug Administration (FDA), it is one that has benefitted the cigar industry in which packaging is a key component.
In that same court ruling, the court did uphold that changes to product quantity in packaging does constitute a new tobacco product. For example, if a cigar company wants to change from 20-count to 10-count boxes, it would require FDA approval through Substantial Equivalence.  As a result, I expect fewer box count changes, although I have been told by several companies that they introduced new box count options into the market in a "stealth" fashion prior to August 8th, 2016.
5. "Showcasing Products"
There will be a set of companies at the IPCPR Trade Show that did not release stealth products, nor have predicate (grandfather) products to introduce. The IPCPR Trade Show is still a buying event and in the end, many companies are going there because they want to sell product. A sales approach that I would expect to see is called "showcasing a product".
Showcasing a product simply involves highlighting a particular product. It could be a product that is selling slower. It could be a red-hot product where the company wants to ride the wave of success. It could be simply showing off new packaging. In some of these cases, the showcased product may be the focus of show deals.
This may ultimately be the direction the IPCPR Trade Show heads in as we close out the decade.
Other Installments of the IPCPR Pre-Game Series
6/25 Part 1: A Look at This Year's Trade Show and Convention
7/2  Part 2: The Trends to Watch
7/9 Part 3: Predictions for the Five Hottest Cigars
7/11 Part 4: Around the Show Floor