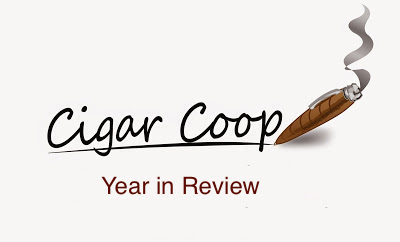 The Performance Rankings were introduced in 2012 as a statistical analysis based on the average numerical score of all cigars assessed on Cigar Coop. Today we slice this data by Factory – a new category introduced for 2017. This is not meant to be necessarily an award, but a look at how scoring went, and what can we learn from it.
For 2017, a total of 205 (down from 243 in 2016) cigars were considered for this analysis. The average score for these cigars was 90.84. (Statistically, this was almost equivalent to 2016 when the average was 90.80)
We used the following criteria to implement this:
The cigar must have its score published during the 2017 Cigar Coop Cigar Year that ran from November 25, 2016 to November 23, 2017.
All cigars scored were eligible regardless of release date. The goal here is to see how the brand performed during the Cigar Coop Cigar Year.
Ties were broken with the factory with more cigars assessed breaking the tie.
A minimum of five cigars assessed made in a particular factory were required to make this ranking.
Factories that were not disclosed for a cigar rated are not included.
While for the Prime Time Awards we separated by small and large factories, this distinction was not made for the Performance Rating. The Prime Time Awards factored in other intangible factors other than score. Performance Ratings are purely based on average score. The Prime Time Awards were voted on by all three members of the Prime Time team while this author assessed all of the cigars scored on Cigar Coop.
The following are the 16 factories and their average scores that met the criteria above to qualify for this list. The number of cigars from the factory is listed in parentheses.
| | | |
| --- | --- | --- |
| Rank | Brand | Score |
| 1 | La Zona (8) | 92.00 |
| 2 | Tabacalera Palma (5) | 91.83 |
| 3 | Tabacos de Costa Rica (8) | 91.75 |
| 4 | Tabacalera Fernandez (8) | 91.38 |
| 5 | Fabrica Oveja Negra (6) | 91.33 |
| 6 | TABSA (7) | 91.29 |
| 7 | Tabacos Cubanica S.A. (5) | 91.20 |
| 8 | La Gran Fabrica (6) | 91.17 |
| 9 | Quesada Cigars (5) | 91.00 |
| 10 | Plasencia Cigars SA (8) | 90.88 |
| 11 | Tabacalera La Alianza (12) | 90.83 |
| 12 | Cigars Davidoff (13) | 90.54 |
| 13 | My Father SA (12) | 89.83 |
| 14 | Tabacalera William Ventura (5) | 89.80 |
| 15 | Diadema Cigars de Honduras SA (5) | 89.60 |
| 16 | OK Cigars (5) | 89.60 |
Best Factory Performance 2017: La Zona
La Zona was the winner this year. La Zona has been the
Small Factory of the Year
three years in a row and the high performance number is indicative of why La Zona has been the dominant factory for this award over this period of time.
Tabacalera Palma was boosted by two high scores from the Señorial 65th Anniversary Perfecto Elégance and Señorial Toro – two cigars from Las Cumbres Tabaco. Only one cigar from this factory landed on the Countdown – the Oliveros All Stars Small Batch No. 5 Basso by Boutique Blends Cigars (#17)
Tabacos de Costa Rica made all 8 cigars rated on Cigar Coop in 2017 from Costa Rica. It was boosted by the performance of Bombay Tobak. At the same time, only one cigar from this factory landed on the Countdown – the Gaaja Maduro Torpedo by Bombay Tobak (#3).
While Plasencia Cigars SA finished tenth, it still won the Large Factory of the Year, and that was based on other intangibles besides scores.
Other Observations
There were 16 Factories that met the minimum five cigar rule.
Tabacos de Costa Rica was the only factory outside of Nicaragua to have a minimum of five cigars rated to qualify for the list.
Seven of the top 10 factories were located in Nicaragua – and it was Nicaragua that led the Performance Ratings for Country of Origin of 2017.
La Zona, TABSA, Tabacalera Fernandez, and Tabacalera La Alianza each placed three cigars on the Cigar of the Year Countdown – all tie for the lead in 2017.
The only Honduran factory to qualify for the Countdown was Camacho's new Diadema Cigars de Honduras SA. The two cigars from Honduras on the Countdown came from factories owned by the Eiroa family – which did not meet the minimum rule. The Cigar of the Year was EIROA The First 20 Years Colorado 50 x 5  and came from Christian Eiroa's El Aladino factory while the #27 cigar, the Rancho Luna Maduro Robusto came from Julio Eiroa's Las Lomas factory.