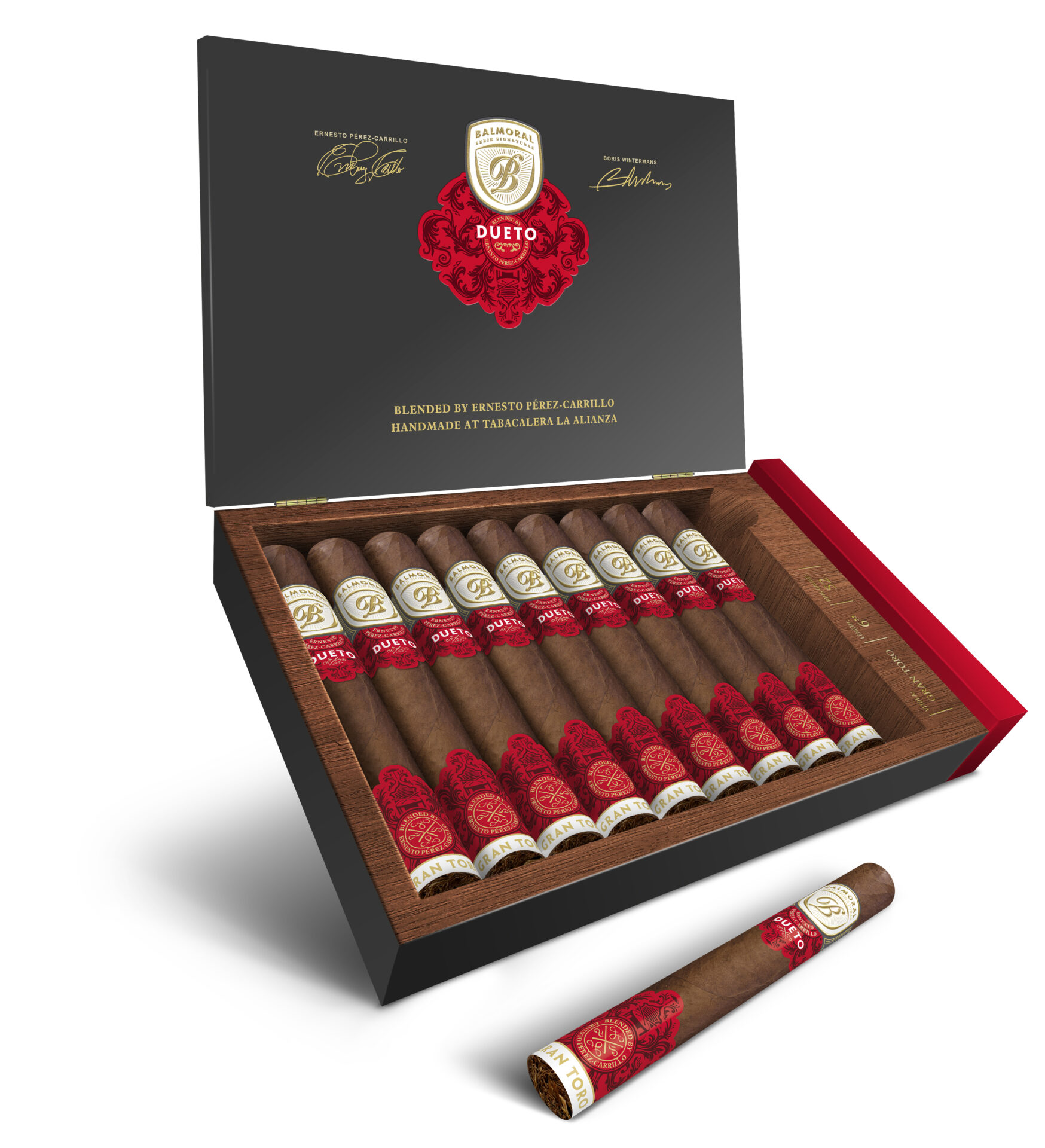 Royal Agio Cigars has announced the launch of Balmoral Series Signatures, a platform the company will use for collaborations. The first launch in the series will be Dueto, a collaboration between Royal Agio Cigars' CEO Boris Wintermans and Ernesto Perez-Carrillo Jr.
According to Royal Agio Cigars, while Perez-Carrillo developed the blend, the tobaccos used in the blend represent the preferred tobaccos of both Perez-Carrillo and Wintermans. Dueto features a Jalapa-grown Nicaraguan wrapper, an Esteli-grown Nicaraguan binder, and a combination of Nicaraguan and what the company says is exclusive stalk-cut Brazilian Mata Norte tobaccos.
Dueto will be available in five sizes presented in 10-count boxes. Sizes include Robusto, Ovación (Figurado), Gran Toro, Gordo, and Churchill.
"I am honored to have had the opportunity to work alongside Ernesto on this very special collaboration project for Balmoral. I want to push the boundaries of what can be discovered in premium cigar blending, and it is this desire that inspired the creation of the Balmoral Serie Signaturas (Signature Series) and initial conversations with Ernesto. This collaboration platform offers another avenue for us to explore, discover and release completely new and exciting cigar blends. The resulting blend for Dueto behind Ernesto's blending genius, makes this first release nothing short of exceptional," commented Wintermans in a press release.
Pérez-Carrillo added, "It has been a pleasure to work with Boris and his team at Royal Agio on this special project, especially because we share a fundamental, common exploratory philosophy as cigar makers. For the both of us, it's never been about big volume. It's just the opposite. It's always been about the underlying passion that drives us to create new and unique cigar blends that will inspire cigar smokers. I feel that we've created something very special here and that this release will be one of the most exciting introductions of the year."
Dueto is expected to ship to U.S. retailers in September 2018.
Dueto is the third major release announced by Royal Agio Cigars for the IPCPR Trade Show. Earlier this week, the company announced a major expansion to its Balmoral brands as well as an all-new brand known as San Pedro de Macorís. Royal Agio is a large tobacco company based in the Netherlands. While they have a huge machine-made operation, they have been offering premium handmade cigars in the U.S. market for several years. Last year, the company set up its own distribution for the U.S. market.
At a glance, here is a look at the Dueto:
Blend Profile
Wrapper: Nicaraguan (Jalapa)
Binder: Nicaraguan (Estelí)
Filler: Brazilian Mata Norte (Stalk-Cut), Nicaraguan
Country of Origin: Dominican Republic (Tabacalera La Alianza)
Vitolas Available
Robusto: 5 x 50 (MSRP $9.75)
Ovación (Figurado): 5 1⁄2 x 50 (MSRP $10.25)
Gran Toro: 6 x 52 (MSRP $10.50)
Gordo: 6 x 60 (MSRP $12.50)
Churchill: 7 x 49 (MSRP $11.50)
Photo Credits: Royal Agio Cigars