"…the Triqui Traca delivers on being a bolder offering from the original Mi Querida… Overall I found the flavors produced to be very enjoyable."
Wrapper: Connecticut Broadleaf
Binder: Nicaraguan
Filler: Nicaraguan, Dominican
Country of Origin: Nicaragua
Factory: Nicaragua American Cigars S.A. (NACSA)
No 552: 5 x 52
Price: $10.75
Sponsor: Yes
Samples Provided for Initial Review: Yes
Review: Mi Querida Triqui Traca No. 552 by Dunbarton Tobacco & Trust (5/7/20)
Appearances on Countdown (By Year/Brand): 6 (2015, 2016, 2017, 2018, 2019, 2020)
Coming in at #16 is the Mi Querida Triqui Traca No. 552 by Dunbarton Tobacco & Trust. The Mi Querida Triqui Traca can be traced back to the Mi Querida Firecracker project that Steve Saka did for New Hampshire-based retailer Two Guys Smoke Shop in 2018. The Mi Querida Firecracker is a 3 1/2 x 50 size featuring a long fuse much like a Firecracker. For that project, Saka released the Mi Querida Firecracker using an alternative blend that was stronger than the original Firecracker. With Mi Querida Trique Traca (which is a name that refers to a large firecracker almost resembling a stick of dynamite), Saka worked with that alternate blend and tweaked it to be released in other sizes (minus the long fuse). One of those initial sizes, the 552 (5 x 52 Robusto) lands on this year's Countdown.
Like the original Mi Querida, the Triqui Traca consists of a Connecticut Broadleaf wrapper over a Nicaraguan binder and a combination of Nicaraguan fillers – but there are two notable differences. First, the wrapper of Triqui Traca was switched from the traditional Connecticut Broadleaf Mediums to the rarer No. 1 Dark corona leaves. Second, the filler incorporates what is described as a "high octane ligero" from the Dominican Republic.
Flavorwise, the Mi Querida Triqui Traca delivers notes of chocolate, blackberry, earth, and red pepper. The cigar itself is bolder than the original Mi Querida. It starts out medium to full in strength and body before progressing to full in the second half. Triqui Traca doesn't have as much of a gritty profile as the original Mi Querida, and in some ways, it is smoother than that original.
Dunbarton Tobacco & Trust has amassed quite a record on the Cigar Coop Countdown. Since the company was formed, it has appeared on the Countdown every year of its existence. That gives Dunbarton Tobacco & Trust six consecutive Countdown appearances.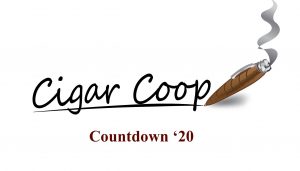 For details of the 2020 Cigar of the Year Countdown, see our 2020 criteria.
Photo Credits: Cigar Coop