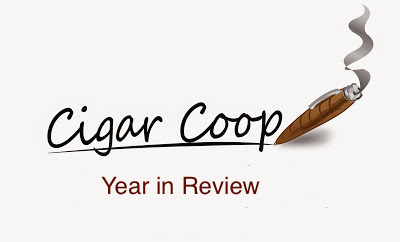 Over the past few weeks we have been ranking and looking at data on the performance of products released by cigar companies. One thing that we are adding this year is how do cigar companies rate in terms of the readership on Cigar Coop. This year, we rank the 25 "most-read" companies on Cigar Coop.
To determine this, a report was run on the 500 most-read articles on Cigar Coop. These articles are not 2020 specific, but are the 500 most-read articles regardless of publication year. Articles considered included news, reviews, feature stories, and events. Articles that were not specific to a company were removed from the dataset. Then each article was sorted by company.
The total page views related to a specific company were tabulated. Once the tabulations were completed, the results were sorted by which company had the most pageviews.
For this exercise, we considered only the top 25 companies ranked on page views.
NOTE: This reflects ARTICLES and does not include banner advertising. It also does not include Prime Time podcast numbers.
Ranking: Most Read Stories on Cigar Coop
| | | |
| --- | --- | --- |
| Rank | Company | TAA |
| 1 | Drew Estate | Yes |
| 2 | General Cigar Company | Yes |
| 3 | Davidoff | Yes |
| 4 | Alec Bradley Cigar Company | Yes |
| 5 | Altadis | Yes |
| 6 | My Father Cigars | Yes |
| 7 | Rocky Patel Premium Cigars | Yes |
| 8 | AJ Fernandez Cigar Company | Yes |
| 9 | Micallef Cigars | No |
| 10 | Perdomo | No |
| 11 | JRE Tobacco Co | No |
| 12 | Tatuaje | Yes |
| 13 | Arturo Fuente | Yes |
| 14 | RoMa Craft Tobac | No |
| 15 | Dunbarton Tobacco & Trust | No |
| 16 | Joya de Nicaragua | Yes |
| 17 | Gurkha | Yes |
| 18 | JC Newman Cigar Company | Yes |
| 19 | Nat Sherman | Yes |
| 20 | PDR Cigars | No |
| 21 | United Cigar | No |
| 22 | CLE Cigar Company | No |
| 23 | Boutique Blends | No |
| 24 | De Los Reyes | No |
| 25 | Oveja Negra Brands | No |
General Findings
A total of 86 companies had cigar articles read in 2020.
The Top Ten consists of nine companies that have been in business ten years or more.
The "Big Four" (Drew Estate, General, Davidoff, and Altadis) occupied four of the top five spots on this ranking. The fifth company belonged to Alec Bradley (#4).
Drew Estate's edge over General Cigar was very close – a difference of exactly 1,000 views (see below)..
The other strong showing for companies with less than ten years being existence were JRE Tobacco Company and Dunbarton Tobacco & Trust.
Fourteen companies released cigars to the TAA, including the Top 8 in the rankings (more below)
De Los Reyes comes in at #24. The company did not release a cigar, but was carried on the strength of Saga Short Tales Tomo VI: winning 2019 Cigar of the Year.
Speaking of Cigar of the Year, the only company in the Top 10 that had a Cigar of the Year was Davidoff (AVO LE 10 (Limited Edition 2010) – 2010 Cigar of the Year
For those wondering, Padrón finished #32. Outside the Fuente collaboration, this was a quiet year for Padrón. We also didn't review a Padrón cigar in 2020.
The TAA Releases
One of the most interesting things uncovered was related to companies who released cigars to the Tobacconist Association of America (TAA). There were 14 companies listed in the Top 25 that have released cigars to the TAA, including the top 8 companies ranked.
Here is where things get interesting. Out of the 500 most read-articles, only FIVE were related to TAA cigars – that translates to 1%. Of those five companies, two of the cigars were La Palina Cigars, a company that did not place in the Top 25. All five of the TAA stories that landed on the Top 500 were cigar reviews and not news. The highest ranked TAA cigar was the Tatuaje TAA 51th that finished #110.
The fact that only 5 TAA Cigars landed on the Top 500 was simply mindboggling and sends a message loud and clear, our audience is not interested in TAA cigars – something that is disappointing since we have put a lot of effort into covering each and every release since 2014 and look forward to these cigars coming out.
I'll attribute this because the TAA and many of its manufacturers have done a poor job at marketing these cigars. With 14 companies delivering cigars to the TAA listed in our Top 25, I would expect these numbers to be higher than what has been shown here.
The Shop Exclusives
The Shop Exclusive numbers are equally mindboggling to the TAA numbers.  Of the 500 most read-articles, there were only 3 related to single store releases. 2 of the 3 came from companies listed in the Top 25.
These numbers confirmed a suspicion in that there has been waning interest in the Single Store release numbers. In fairness, we have tightened up procedures for agreeing to cover Shop Exclusives, so I'm sure that didn't help. Yet, I expected more than 3 of 500 to be from single store releases. All three of these were news articles and not cigar reviews (which for single store exclusives did not make the Top 500)
There was one shop exclusive that did quite well – the Brotherhood No. 1 by Oscar Valladares for The Cigar Shop. This story came in at #26. This might be on the strength that The Cigar Shop is a "home" shop for me combined with a very passionate group of cigar enthusiasts in Charlotte that supports these cigars.
The other two shop exclusives listed in the Top 500 were the Aladino Habano Vintage Selection Toro (#253) and Tatuaje Anarchy KAOS (#260).
One thing that has been quite interesting is Protocol Cigars. The company did a lot of shop exclusives. The shop exclusives were popular among consumers. While we saw an early surge in readership when the shop exclusive stories were published, the company still did not have a shop exclusive article in the Top 500 – which was surprising. Protocol Cigars ranked #52 overall of the 86 companies – still quite an impressive number considering the size of the company.
Despite the more strict procedures on Shop Exclusives we implemented, the fact that there were only three shop exclusives says one thing loud and clear – this is not a segment of the market of interest to our audience.
Drew Estate over General
As mentioned, the battle between Drew Estate and General was very close with Drew Estate edging General by exactly 1,000 views. One difference we see is that Drew Estate is very consistent at communicating press information, while General was at times selective at times in terms of some of its press releases. In the end, General is still one of the best companies we deal with getting press information, but I'll infer that Drew Estate got a slight edge here from being more comprehensive with the press releases it puts out to the media.
Speaking of Press Releases…
My Father Cigars (#6) and Tatuaje (#12) are the highest ranked companies where we have never received a press release. While the need for companies to do press releases I feel is quite important, the high rankings for these companies speak volumes for the strength of what both are doing.
Rocky Patel Premium Cigars has seen a stop in press releases being sent to the general media, but the brand still ranked #7.
Micallef
Micallef Cigars' #9 on the ranking is one of the big surprises. This considering the company has only around five years of coverage, and we have really only begun doing regular coverage over the past year. This can be attributed to an excellent marketing campaign combined with the strength of the Micallef Ambassadors program.
2020 Numbers Summary
In terms of page views as a whole (all articles, not just the top 500), Cigar Coop had an 11.48% increase in readership in 2020 from 2019. Nine of the 12 months saw an increase of year-to-year traffic in 2020 from 2019. Of note, we had record readership in August and December.
July is a strong month due to the fact that is when the IPCPR Trade Show has taken place. This year we implemented a Summer of '20 campaign to cover releases as it there was a Trade Show. I believe this is the only media outlet to take such an approach. We saw the surge in traffic increase in August as we got deeper into the Summer of '20. Despite fewer products announced in 2020, there was still a 26.47% increase from 2019.
December is a strong month due to the Cigar of the Year Countdown. We had a 20.67% increase from 2019 in traffic. With a lot of media outlets delaying their Cigar of the Year lists, this helped Cigar Coop reach the record December numbers.