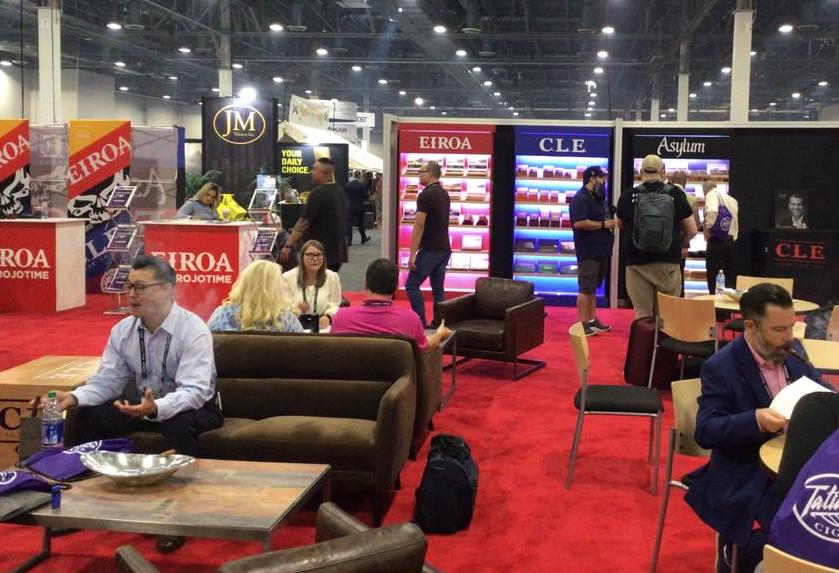 2022 marked the 10th anniversary when Christian Eiroa would launch CLE Cigar Company. It also marked the 10th anniversary of the Asylum Brand he partners with Tom Lazuka on. This year, CLE Cigar Company celebrated both milestones as well as Christian's 50th birthday. At the same time, there were plenty of releases on hand for attendees across the company's three brands: CLE, Eiroa, and Asylum Cigars. These releases included new PCA Exclusive Cigars, new anniversary cigars for Asylum, line extensions, and packaging changes.
One unfortunate thing is one of the trade show shipments didn't arrive in time when we visited the booth (Day One). As a result, we don't have as many pictures as we'd like. Hopefully the power of words will fill in to capture the vibe of CLE.
CLE
Two products are receiving new packaging. This includes the CLE 25th Anniversary and the CLE Signature THT-EKE 03/17. Both are moving away from the slide top cabinet 25-count boxes, to wider, more color-vibrant 20-count boxes (graphic representation below).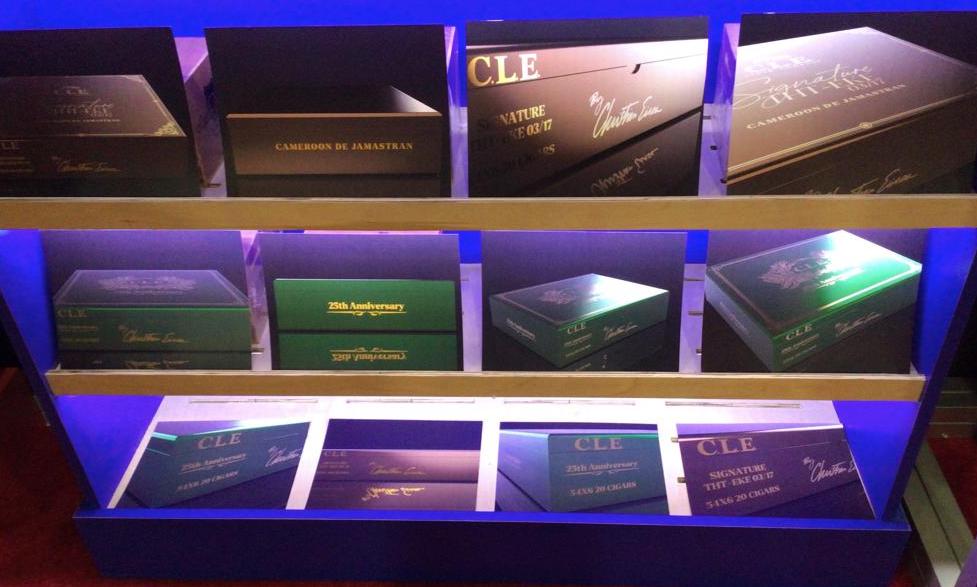 CLE is introducing new fresh pack containing 60 x 6 cigars of the following: CLE Connecticut, CLE Corojo, CLE Habano, and CLE Prieto. One of each of the four cigars are packaged in a humidified pouch.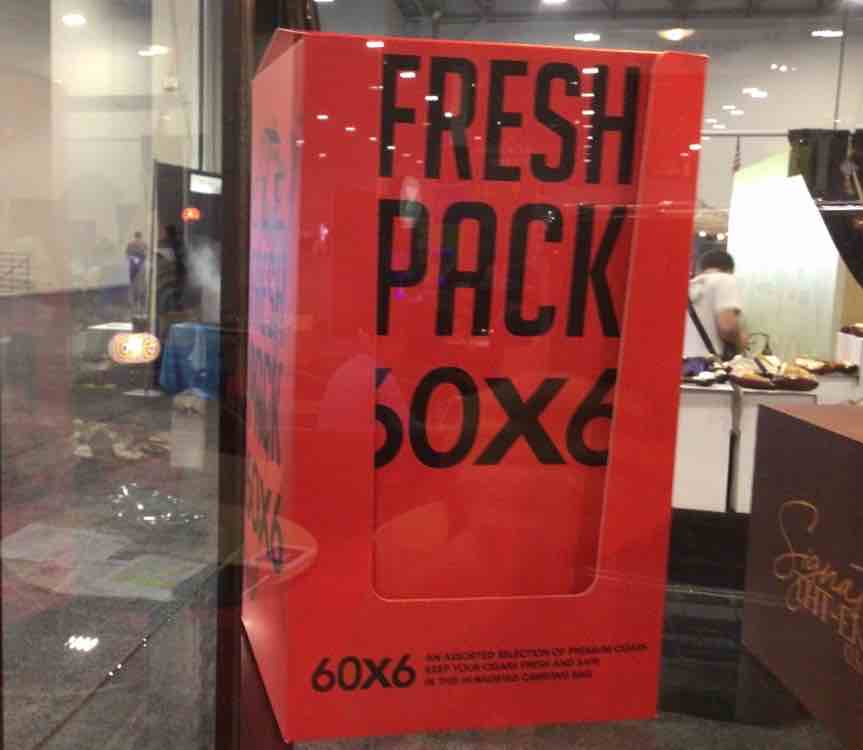 Finally, three CLE branded products are receiving a Toro-sized 54 x 6 line extension. These brands include: CLE Connecticut, CLE Corojo, and CLE Habano (not pictured).
Eiroa
For the second year in row, there is a PCA Exclusive being released under the Eiroa brand.  This is a cigar that was exclusively available to attendees of the 2022 PCA Trade Show. Dubbed the Eiroa PCA Exclusive 2022, this cigar is highlighted by the "Cameroon de Jamastran" wrapper, which is a tobacco leaf that comes from a Cameroon seed grown on Julio R. Eiroa's farm in Honduras. The Eiroa PCA Exclusive is the same blend as the Eiroa PCA Exclusive 2021. It also comes in the same sizes: 50 x 5, 11/18, and 60 x 6 – each presented in 20-count boxes. The difference is the PCA Exclusive 2022 cigars are rounded.
For fans of lanceros, the Eiroa (Classic) and Eiroa CBT lines are receiving a 38 x 7 line extension. Each is presented in 20-count boxes.
Asylum
Once again, Asylum is continuing their anniversary series. The series was launched in 2019 with the Asylum Seven and has now continued every year with a new anniversary cigar. With 2022 being the 10th anniversary of Asylum, there is now an Asylum Ten Cigar. Details of the Asylum Ten blend have not been disclosed, but it will come in the 70 x 7 and 11/18 sizes – staple sizes of the Anniversary series. According  to CLE Cigar Company, the Asylum Ten sold out prior to the opening of the Trade Show.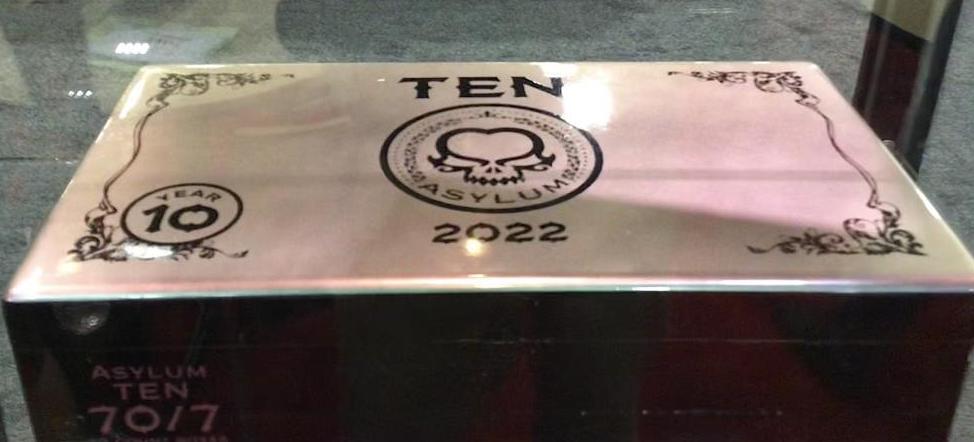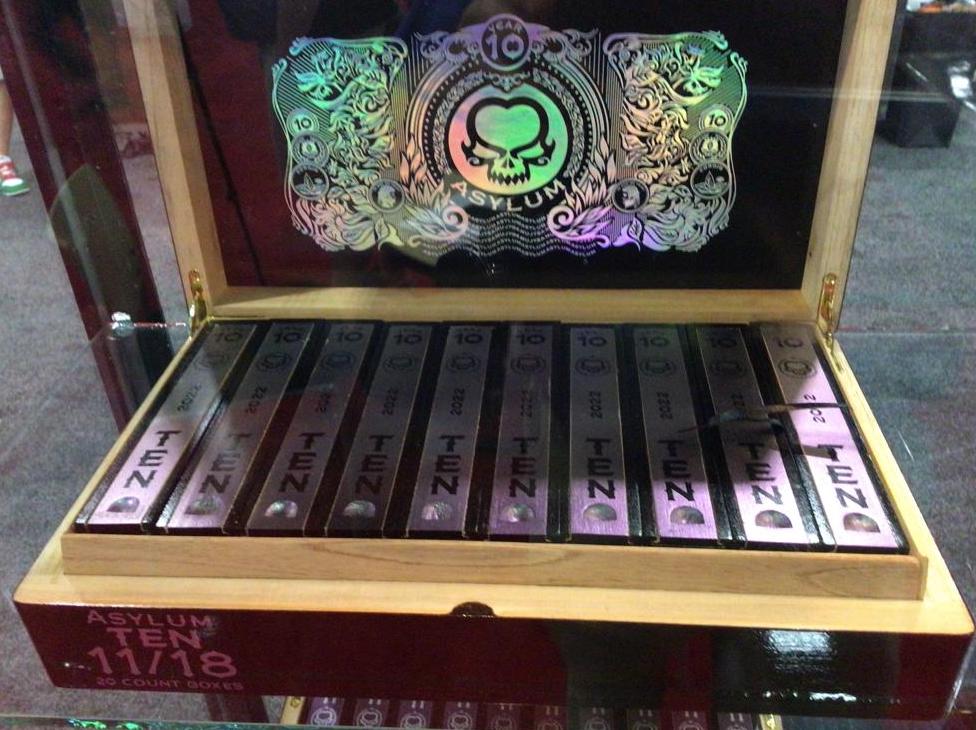 Meanwhile there will be an Asylum Eleven. The packaging was showcased, but the cigar is still under development.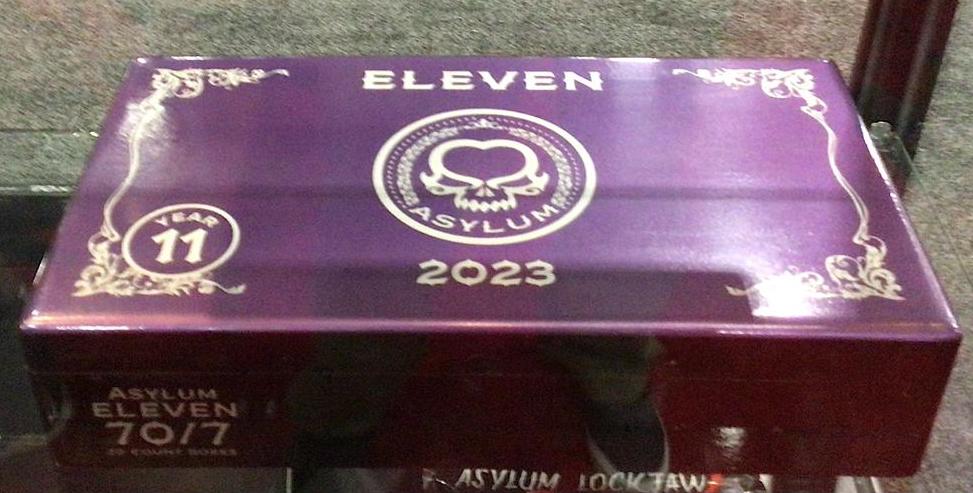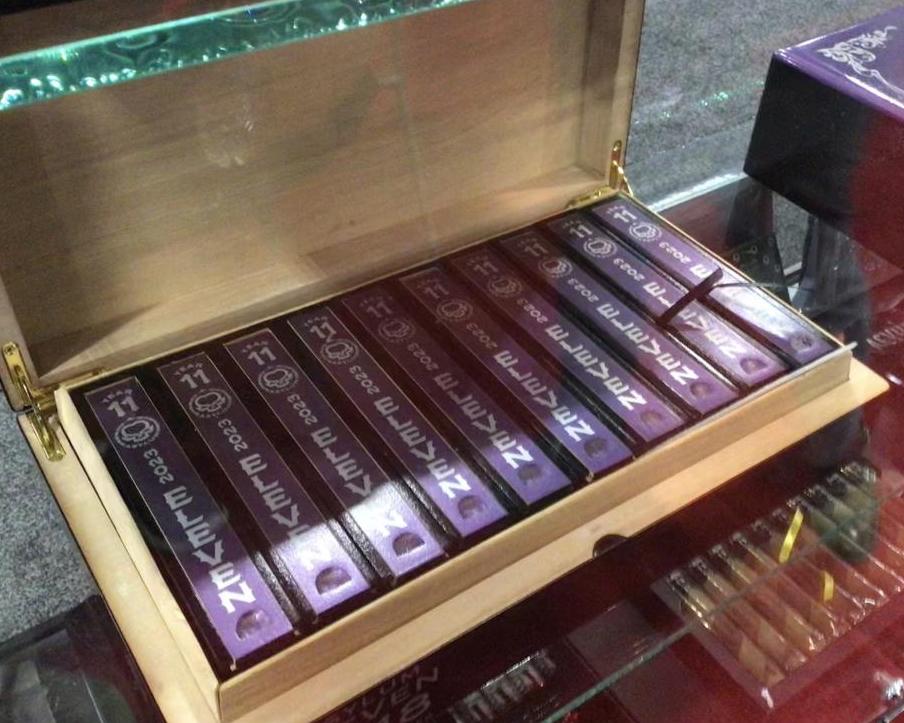 The Asylum Anniversary series has pretty much been a one-and-done limited release. There is one exception to that rule, and that is the Asylum Nine April Fool's Edition. This was first released last year in a 90 x 9 size. Demand for that cigar has been great, so now Asylum says it will be an ongoing limited production cigar released twice a year.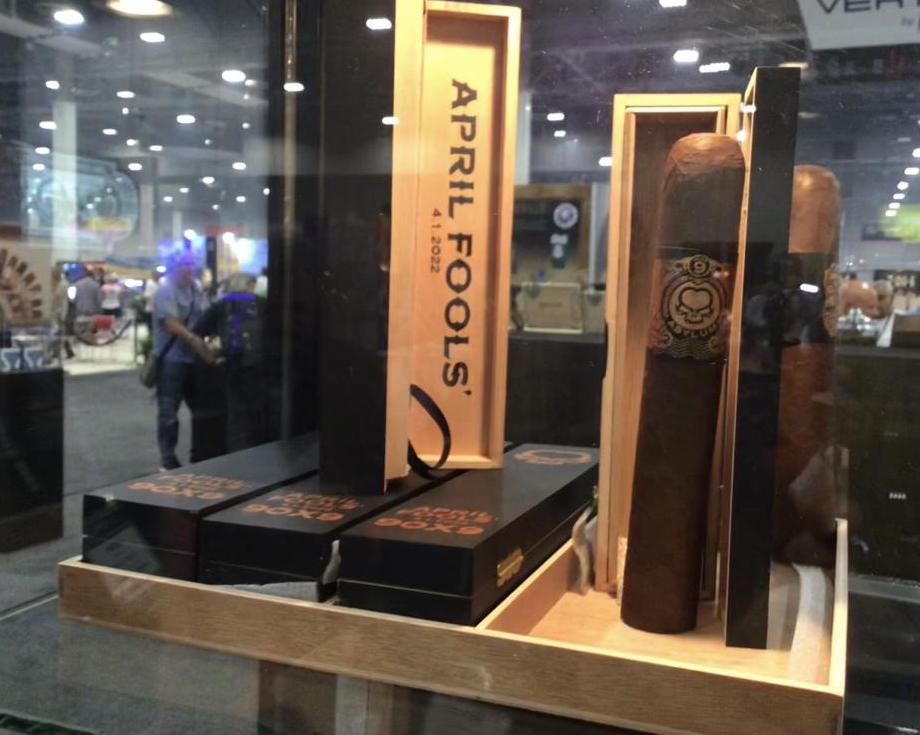 Similar to what is being released for CLE, there is also a four-count Asylum Fresh Pack. This will feature four 60 x 6 sized Asylum Cigars in a humidified pouch. There will be one of each of the following cigars included: Asylum 13 Corojo, Asylum 13 Connecticut, Asylum Nyctophilia, and Asylum Straight Jacket.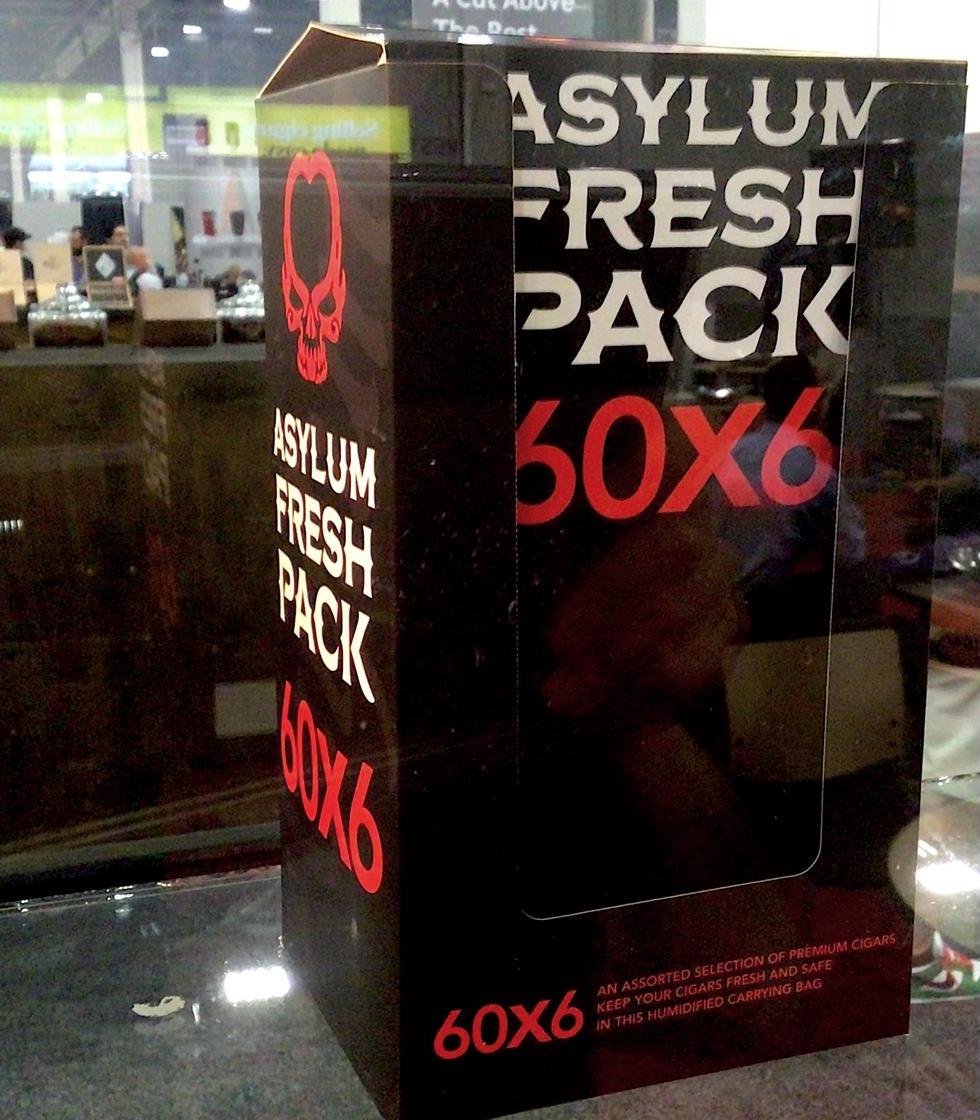 There is also an Asylum PCA Exclusive cigar for 2022. This is a cigar that was exclusively available to attendees of the 2022 PCA Trade Show. The Asylum PCA Exclusive 2022 is a Honduran puro. It is highlighted by a hybrid Habano wrapper grown by Julio R. Eiroa. It follows a similar formula to the Eiroa PCA Exclusive. The Asylum PCA Exclusive 2022 uses the same blend as the Asylum PCA Exclusive 2021 – the difference is the 2022 cigars are rounded and not box-pressed. It will be available in three sizes – each in 20-count boxes.
Finally, the sweet-tipped Asylum Insidious Maduro line is receiving a new 48 x 7 Churchill size. This is a size that has already been featured in the Insidious Connecticut and Insidious Maduro lines.
Interview with Christian Eiroa, President CLE Cigar Company
Due to age restrictions, you will need to click on Watch on YouTube to watch this video.
Product Reports
Photo Credits: Erron Nielsen for Cigar Coop