La Aurora has been a company that embraces its history. As 2022 is the first of two major milestones – what would have been the 100th birthday of Don Fernando León – I'd have thought it would be more emphasized. The next milestone is the 120th anniversary of the factory in 2023. While it's premature for the 2023 celebrations, I was expecting a big year at the Premium Cigar Association (PCA) celebrating Don Fernando's 100th birthday. Instead, I was a bit surprised at how low-key it was.
As long as I have been coming to the PCA (and predecessor IPCPR) Trade Shows, La Aurora has always been a part of the Miami Cigar & Company booth. Miami Cigar has handled the distribution of La Aurora. There have been some changes occurring – namely La Aurora has started selling direct to consumer.  At the same time, there have been no new core line releases.  What we have seen over the last two years for La Aurora is a focus on showcasing new limited edition releases for PCA, and leveraging the channel of Miami Cigar to distribute these types of releases.
In addition, La Aurora had a couple of brand owners in the booth that their factory produces cigars for. This includes Miami Cigar and Company, Ken Hamlin's "The Arrival" brand, and Gaby Kafie's Kafie 1901 Cigars. Kafie is currently transferring production of its lines to the La Aurora factory.
La Aurora had one new release for the show, the La Aurora Family Reserve Fernando León Legacy Lancero. It's a cigar that commemorates the 100th anniversary of the birth of Fernando Leon, and it is a limited edition cigar. The La Aurora Family Reserve Fernando León Legacy Lancero features a Corojo wrapper harvested from 2008, a Dominican binder, and a combination of Brazilian and Dominican tobaccos in the filler. The tobacco for the Corojo wrapper is part of the last special project that Don Fernando developed on the experimental farm of Sabana del Puerto in Bonao. The cigar measures 6 7/8 x40. There was a total of 1,000 boxes of ten produced. Pricing is set at $20.00 per cigar.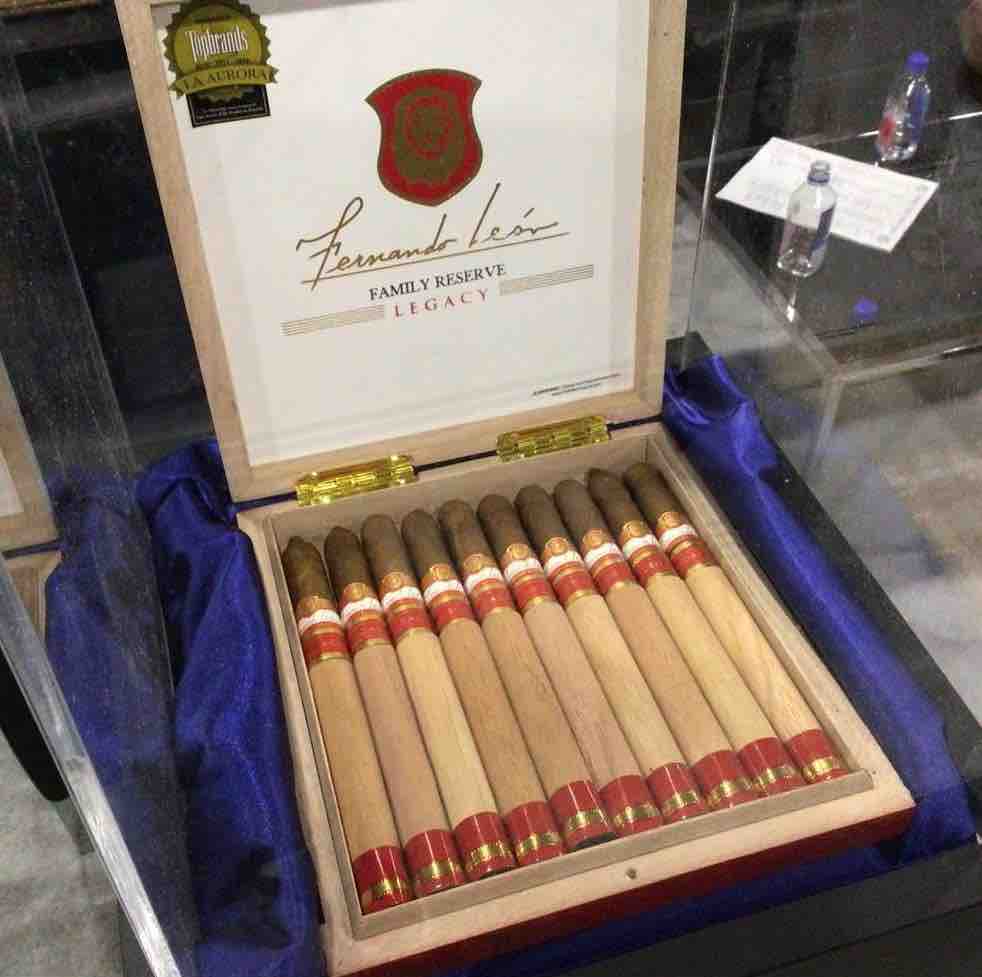 It should be noted that last year, another tribute cigar to Don Fernando, the Fernando León Limited Edition Belicoso, was released.
Product Reports
Photo Credits: Erron Nielsen for Cigar Coop