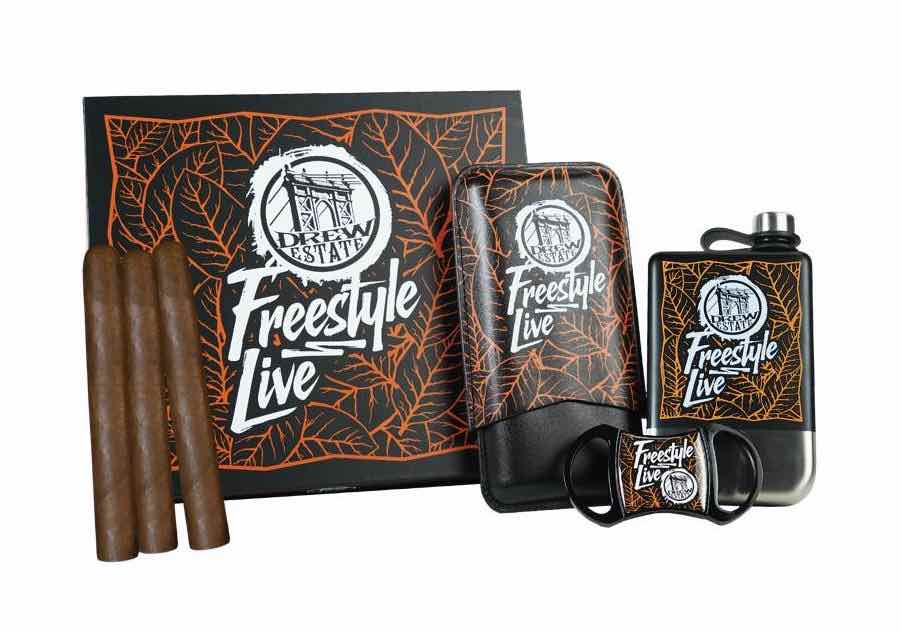 Once again, Drew Estate has announced that they will announce a cigar.
On September 28 on the company's Freestyle Live: Special Edition broadcast, Drew Estate will introduce its newest premium cigar line. And once again, the cigar will be offered as an unbanded pre-release as a part of a new Freestyle Live Event Pack. The event packs are scheduled to be available at participating retailers beginning August 18th.
The company has used this Freestyle Live event pack concept for the unveiling of the Undercrown 10,  FSG 20-Acre Farm, and Nica Rustica Adobe releases.
Drew Estate has prepared a total of 10,000 Freestyle Live Event Packs, which will have an MSRP of $39.99. Every Freestyle Live Event Pack will include three of the new premium cigars [without bands], a Freestyle Live cutter with cigar rest and a Freestyle Live flask. Additionally, each Freestyle Live Event Pack will include a Freestyle Live badge with a QR code, which purchasers and retailers may use to enter a sweepstakes for a chance to win. Participating retailers, prizes and terms can be found on: https://drewestate.com/freestylelive2022
"While all the prizes are definitely dope, the big news is in the new brand release. It's just a different level of mega-excitement when we drop a completely new brand on the Freestyle. It's not a new line extension or something that already exists in the DE brand portfolio, my dudes and dudettes … it's something meatier. This brand is going to change the world. Mark my words."
Photo Credit: Drew Estate