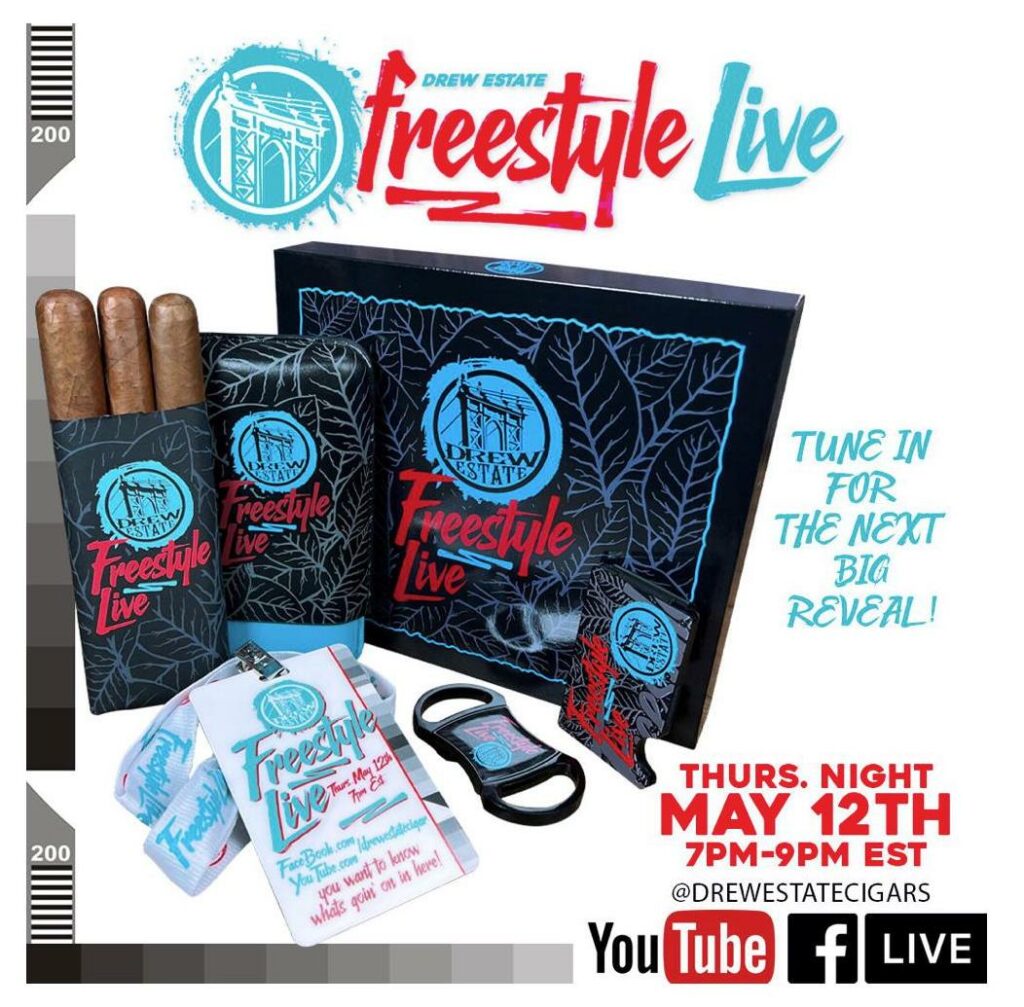 Once again, Drew Estate has announced it has a new cigar.
On May 12th on the company's Freestyle Live: Special Edition broadcast, Drew Estate will introduce its newest premium cigar. And once again, the cigar will be offered as an unbanded pre-release as a part of a new Freestyle Live Event Pack. The event packs are scheduled to be available at participating retailers beginning April 11th.
The company has used this Freestyle Live event pack concept for the unveiling of the Undercrown 10 and FSG 20-Acre Farm releases.
Drew Estate has prepared a total of 10,000 Freestyle Live Event Packs, which will have an MSRP of $39.99. Every Freestyle Live Event Pack will include three of the new premium cigars [without bands], a Freestyle Live three-cigar case, a Freestyle Live cutter with cigar rest and a Freestyle Live wallet.
The Freestyle Live Event Pack includes a Freestyle Live badge with a QR code, which purchasers may use to enter a sweepstakes for a chance to win amazing prizes! The grand prize is a 2022 Jeep Wrangler Sport, valued at $33,000. The second-place prize is a Drew Estate Barrel Bar, valued at $2,000. Or sweepstakes entrants may win one of 25 third-place prizes, a travel humidor adorned with custom artwork by Subculture Studios, valued at $100 each.
Retailers who sell Freestyle Live Event Packs will also be automatically entered to win prizes. The grand prize consists of $7,500 in Drew Estate credit and two Dreamseat recliners; the second-place prize is $2,500 in Drew Estate credit and a Drew Estate Barrel Bar, and the third-place prize is $1,000 in Drew Estate credit and one Mega standing ashtray.
"This Freestyle Live Event Pack is gonna set off a chain reaction for the follow-up Freestyle Live: Special Edition on May 12 due to the increase in packs we puttin' on the street," said Jonathan Drew, President and Founder of Drew Estate in a press release. "Trust me, gonna be a posse tuning in to try and guess what that new cigar could be."
To learn the mystery cigars' identity and experience other surprises Drew Estate is set to debut, be sure to tune in and join the fun on May 12 from 7 p.m. to 9 p.m. for the next "Freestyle Live: Special Edition" broadcast, which is available only through Drew Estate's Freestyle Live YouTube channel (youtube.com/drewestatecigar) and Drew Estate's Facebook Live page(facebook.com/drewestatecigar).
Participating retailers where Freestyle Live Event Packs will be available and contest rules can be found at drewestate.com/freestylelive2022 beginning on April 15.