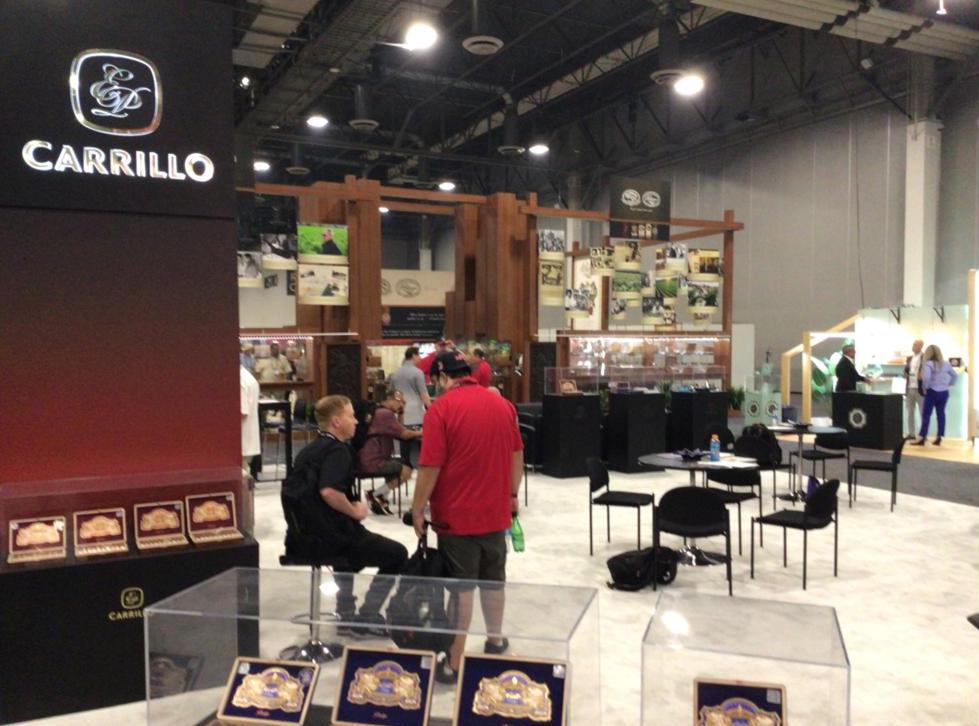 2022 was probably the biggest trade show in terms of new products for E.P. Carrillo since 2016. There were two significant themes going on at E.P. Carrillo. For many years, E.P. Carrillo's factory, Tabacalera La Alianza, has produced cigars for other manufacturers. This year the tables are turning as owner Ernesto Perez-Carrillo Jr. has blended two cigars that will be rolled by other factories. It's also the 10th anniversary of the INCH brand and the company has a new cigar as well as a new design for the rest of the brand. There are some line extensions and a project where E.P. Carrillo will be soliciting input from its consumer base.
Back in June, it was announced that Tabacalera La Alianza would be producing a limited edition of Cubas Aliados for Oliva. Now Oliva's factory will be producing a cigar for E.P. Carrillo called Allegiance. It's a limited edition project that E.P. Carrillo says is part of a bigger initiative where it will partner with other factories to produce blends. The Allegiance features an eighth priming Sumatra wrapper from Quevedo Ecuador over Nicaraguan binder and fillers. It will come in four sizes: Robusto, Toro, Double Corona, and No. 58. The cigars will come in 20-count boxes with a total of 5,000 boxes for the U.S. market and another 20 for the international market. Pricing is set between $12.00 to $14.00 SRP.
The Allegiance was announced the day before the 2022 PCA Trade Show opened. The final bands and box vistas were not available. The cigars were still showcased with paper bands, and orders were taken at the Trade Show. Allegiance is expected to ship this Fall.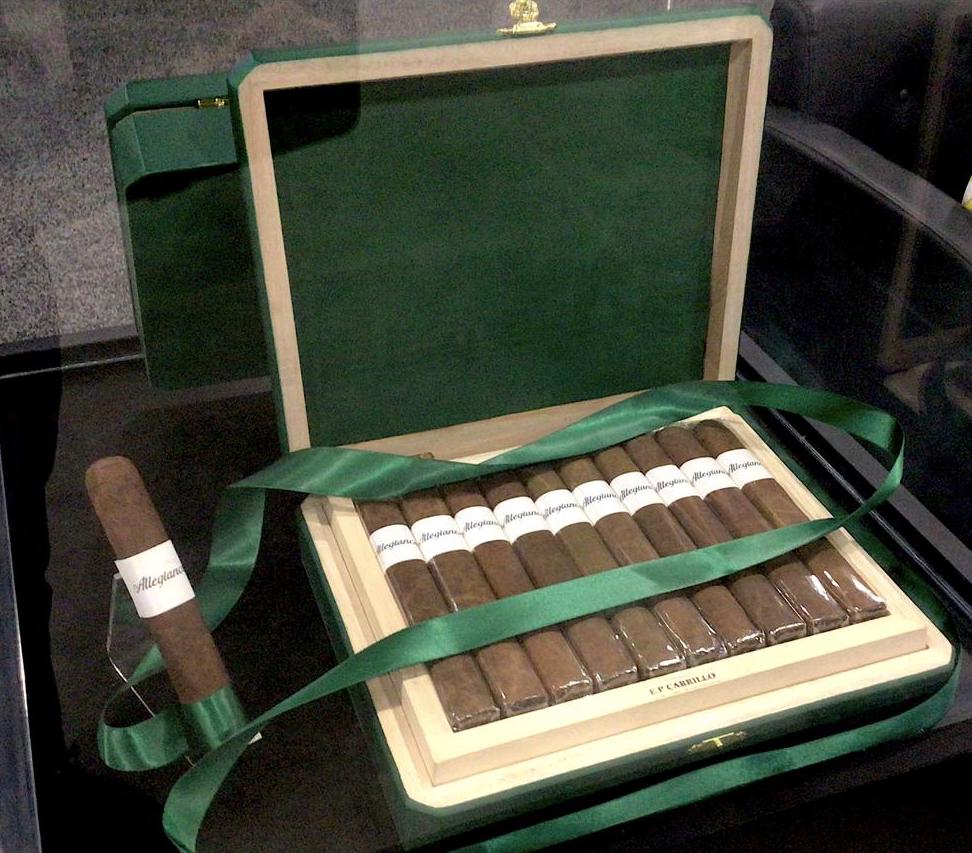 For the 10th anniversary of INCH, E.P. Carrillo is releasing the INCH Nicaragua. This is another cigar being produced outside Tabacalera La Alianza. The INCH Nicaragua is being produced at the Plasencia factory in Estelí, Nicaragua. The INCH Nicaragua features 100% Nicaraguan tobaccos. The cigar is available in three vitolas: No. 60 (5 7/8 x 60, SRP $10.95); No. 62 (5 x 62, SRP $9.95); and No. 64 (6 1/8 x 64, SRP $12.50) – each presented in 24-count boxes.
The INCH Nicaragua features a different band and box design than the previous INCH Natural and INCH Maduro versions.  The Natural and Maduro versions will also receive updated boxes consistent with the INCH Nicaragua. The INCH Nicaragua's band will match its packaging while INCH Natural and INCH Maduro maintain the classic yellow ruler-style bands.
Last year E.P. Carrillo introduced the limited edition La Historia Parientes, a 6 1/2 x 43 limited edition Lonsdale line extension to La Historia. This year, E.P. Carrillo brings back the same size – this time for the Pledge line and it's called the Pledge Lonsdale Limitada. A total of 1,500 20-count boxes of the Pledge Lonsdale Limitada are slated to be released.  Pricing for the Pledge Lonsdale Limitada is set at $12.50 per cigar and it's expected to ship in September.
The Lonsdale Limitada features the same blend as the rest of the Pledge line. This includes a Connecticut Havana wrapper,  Ecuadorian binder, and all-Nicaraguan fillers. The Prequel is a classic 5 x 50 box-pressed Robusto. The cigar is produced at Perez-Carrillo's Tabacalera La Alianza in the Dominican Republic.
E.P. Carrillo is also moving its packaging for its Perez-Carrillo branded cigars (La Historia, Encore, and Pledge) to 20-count boxes.
Earlier this year, a traditional 5 x 50 Robusto called El Futuro was added to the Encore line. It has become the fifth regular production size of the Encore line. This hit the stores earlier this Spring.
There also is one other milestone being celebrated at E.P. Carrillo and that is founder Ernesto Perez-Carrillo's 70th birthday. As part of this celebration, the company has created a three-cigar sampler known as the Platinum Bash. The Platinum Bash will feature three unreleased blends, and consumers will get a chance to select one of the blends as a future E.P. Carrillo limited edition release. The Platinum Bash is being made available at events from September to November as well as with a box purchase of E.P. Carrillo cigars. The blend details of each of the cigars in the Platinum Bash have not been disclosed. Each of the cigars comes in a 6 x 52 Toro.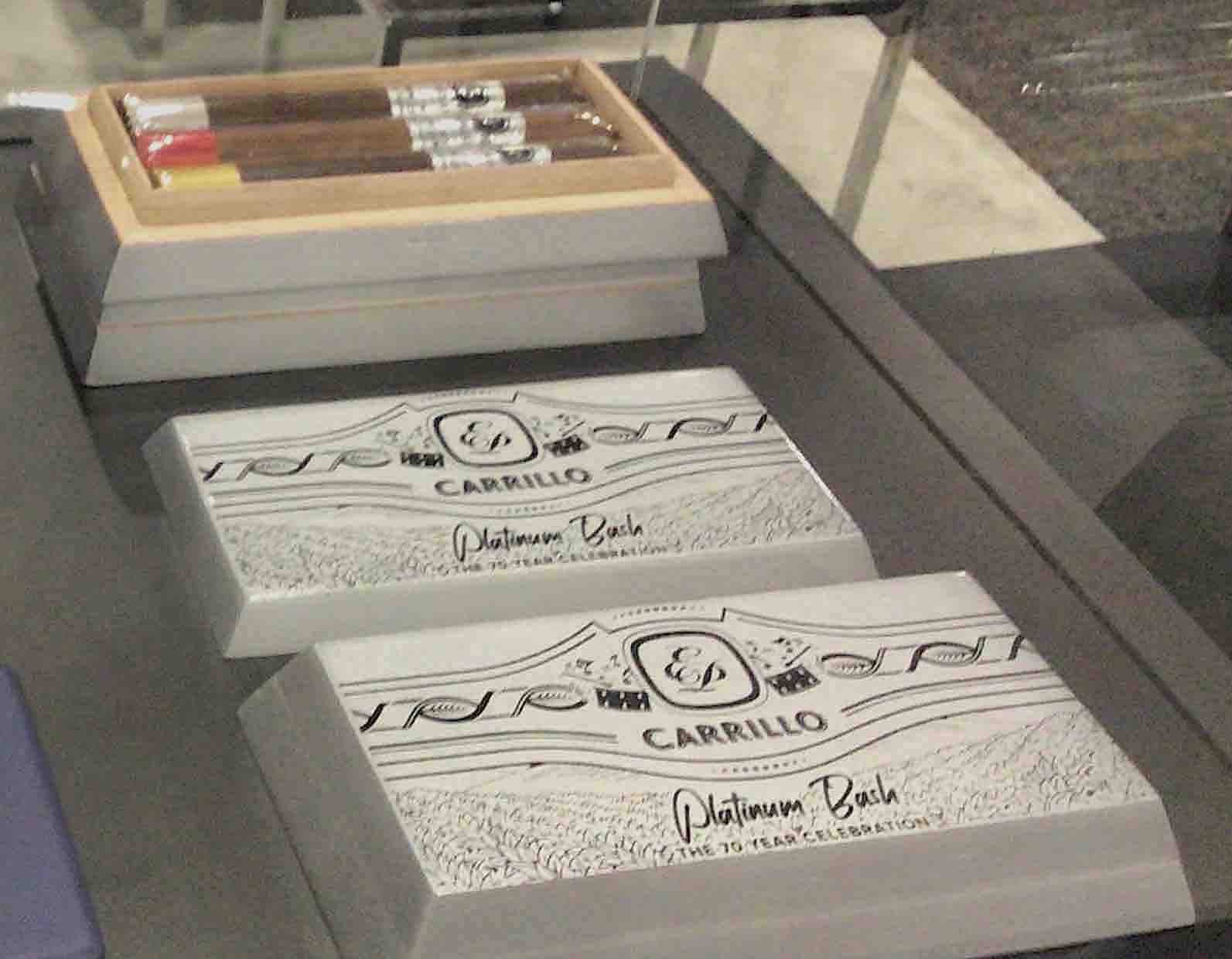 Product Reports
Photo Credits: Erron Nielsen for Cigar Coop, except where noted