Looking back several years ago, it was not unusual for Rocky Patel Premium Cigars to release seven or more new lines at the IPCPR Trade Show. These numbers have been streamlined over the past couple of years. This year the company introduced two new lines at the Trade Show. Leading the pack would be The Edge 20th Anniversary – a line that had been promoted prior to the PCA 2022. The second, with details kept under wraps, is the Rocky Patel DBS. At the same time, Rocky Patel Premium Cigars has been on a roll – delivering some high quality products. This resulted in a #1 Cigar of the Year from Cigar Coop in 2021 with the Rocky Patel Winter Collection; and a Prime Time Award for Best Large-sized company. We would have the opportunity to present owner Rocky Patel these awards at PCA 2022.
First up, there might have been a little confusion on The Edge's 20th Anniversary. The reason is the 10th Anniversary cigar, the Rocky Patel Edge A-10 was introduced in 2015. It turns out the 20th anniversary is referring to the time when Rocky Patel started working on the Edge project.  The Edge was a project where the cigars were packaged in 100-count crates and was originally unbanded. Eventually footer bands were added. Many people told Rocky Patel he was crazy, but the line became a huge success for him.
The 20th Anniversary of The Edge features elegant style packaging and with traditional banding. It also comes in a more traditional 20-count box format. The first Rocky Patel Edge used a Sumatra wrapper and since then there have been Corojo, Connecticut, Maduro, Candela, Habano, and Barber Pole (A-10) offerings added. For the 20th Anniversary, Rocky goes back to the Sumatra wrapper. The rest of the blend consists of a Honduran binder, and fillers from Honduras and Panama. The cigars come in three sizes: Robusto (5 1/2 x 50, SRP $11.00), Toro (6 x 52, SRP $12.00), and Sixty (6 x 60, SRP $13.50). It is expected to reach retail shelves this fall.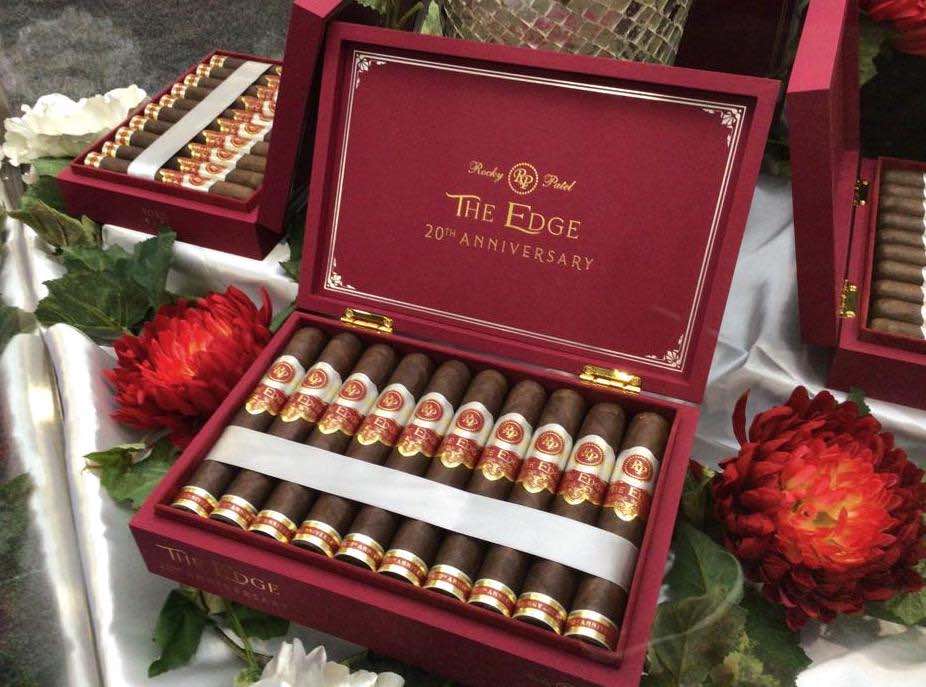 Rocky Patel DBS was pretty much a cigar that was a surprise to most people at the 2022 PCA Trade Show. DBS stands for Double Broadleaf Selection – and as the name indicates, there are two Broadleaf leaves used in the blend.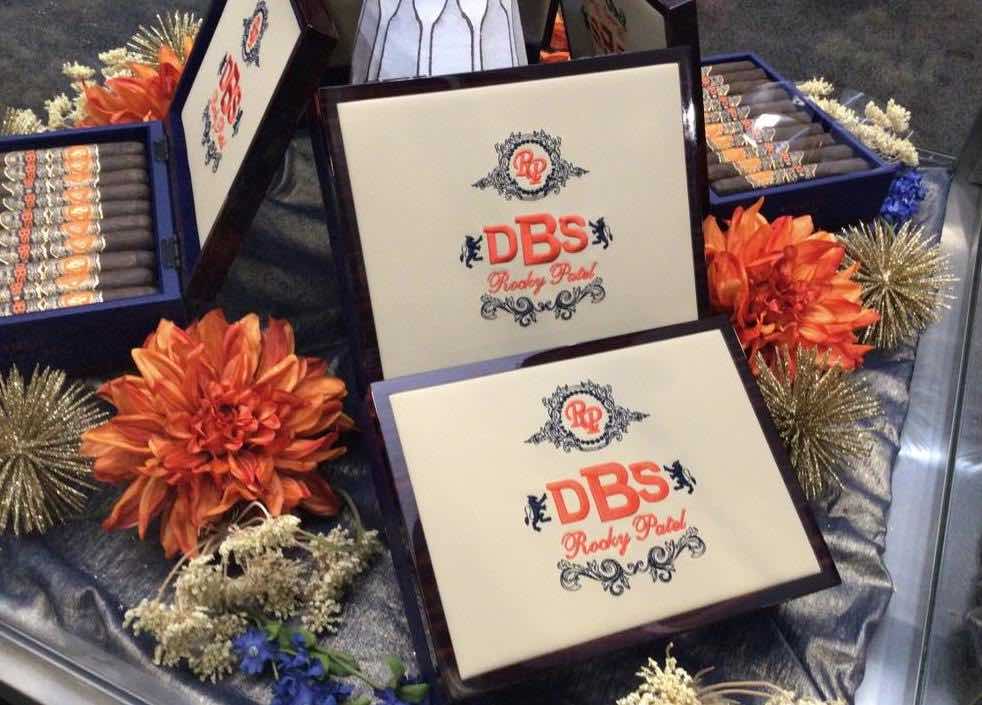 The blend uses a San Andres Mexican wrapper. A double binder uses the Pennsylvania Broadleaf leaf along with a Nicaraguan leaf. There is a Nicaraguan Broadleaf is a part of the filler that also incorporates Honduran tobacco. DBS will come in three sizes and is being positioned as a more-premium offering in the Rocky Patel Premium Cigars portfolio. Sizes and pricing are:  Robusto (5 1/2 x 50, SRP $20.00), Toro (6 1/2 x 52, SRP $21.00), and Sixty (6 x 60, SRP $23.00). The cigars are presented in 20-count boxes and expected to ship this fall.
There was a third release that was featured at the Rocky Patel Premium Cigars booth. This one is in support of the Juneteenth Foundation, and its called the Rocky Patel Juneteenth 1865 Project Inaugural Edition. Rocky Patel is a corporate sponsor of the Juneteenth foundation, and during the Juneteenth Freedom Festival came word of the Rocky Patel Juneteenth cigar, so while Edge and DBS were introduced for the first time, the Juneteenth was being showcased to the cigar industry for the first time.
Once again, Rocky Patel Premium Cigars opted to offer its Rocky Patel ALR Second Edition as an exclusive for PCA attendees. Since this line made its debut in 2019, it has been one of the more limited offerings in the Rocky Patel Premium Cigars portfolio – and has pretty much only been released in small batches. These are still being offered in Robusto (5 1/2 x 50), Toro (6 1/2 x 52), and Sixty (6 x 60)
Also noteworthy, the Rocky Patel Number Six will now have a Tubo offering. This will contain a Toro size of the Number Six blend. While the non-Tubo Toro size of Number Six is 6 1/2 x 52, the Tubo size is a 6 x 50 format. These Tubos will be available in ten-count boxes with pricing set at $12.40 SRP per Tubo.
There are usually a host of accessories from Rocky Patel Premium Cigars. There are two very noteworthy ones. The first is th limited edition ALR Second Edition 100-count humidor. It features two panel doors and four drawers. The cigars are Rocky Patel ALR Second Edition cigars available in a rounded 6 1/2 x 55 figurado (similar to the size in the Rocky Patel Fifty-Five) that are exclusive to this package.
A total of 75 of the humidors were produced – each individually numbered. Pricing is set at $5,000 SRP for one of these units.
The Rocky Patel White Label, a line introduced in 2021, is also getting a limited edition custom humidor. It also contains a 6 1/2 x 55 figurado (also exclusive to this offering), but this time in the White Label blend. A total of 200 numbered units have been made. Pricing is set at $2,900.00 SRP.
Also being introduced is the Rocky Patel White Label Gift Set. This contains 20 White Label Robusto cigars and a rose-gold Envoy lighter. Pricing is set at $440 SRP for the package.
There was also a lot being introduced with the new lighter series. In full transparency, it wasn't until I looked at the show packet that I saw how many new lighters were being introduced. These include:
OneTouch Lighter Series: Black, Gold, Copper/Black (SRP $89.00)
Davenport Lighter Series: Camel, Gunmetal, Navy Blue (SRP $81.00)
Genesis Lighter Series: Brushed Copper, Chrome, Rose Gold (SRP $81.00)
Crest Lighter Series: Chrome/Black, Chrome/Navy Blue, Gunmetal/Burgundy, Gunmetal/Copper(SRP $75.00)
Artisian Lighter Series: Gold, Gunmetal, Silver (SRP $68.00)
Executive Lighter Series:  Gold/Black, Gunmetal/Matte Blue, Rose-Gold/White, Silver/Blue (SRP $68.00)
Statesman Lighter Series: Brushed Nickel/Blue Leather, Brushed Nickel/Camel Leather, Gold/Red Leather, Rose Gold/White Leather (SRP $50.00)
Extensions to the existing Lighter Series include:
Burn Lighter Series: Palm Tree Blue/Gunmetal, White/Rose-Gold (SRP $68.00)
Some other Rocky-Patel branded accessories being introduced include:
Premium Leather Travel Case (SRP $95.00)
Trident Cutter Series: Black/Copper, Rose-Gold/White, White/Navy Blue (SRP $99.00)
Viper V-Cutter Series Rose-Gold/White (SRP $59.00)
Interview with Rocky Patel, President of Rocky Patel Premium Cigars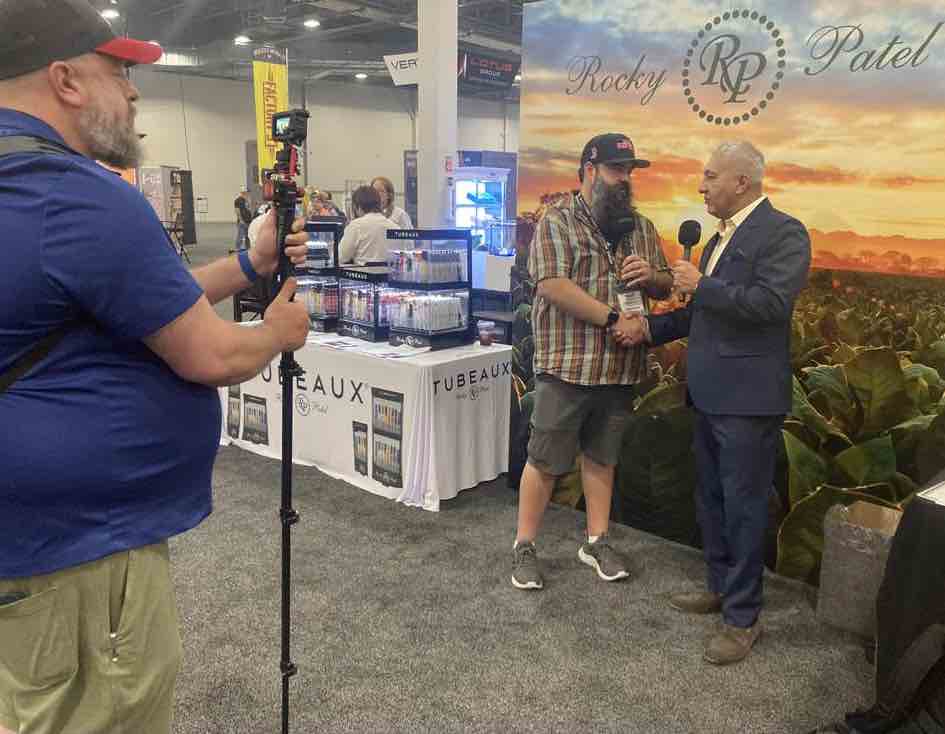 During this interview, Rocky Patel talks about The Edge and DBS projects. We also presented Rocky with the 2021 Cigar of the Year and 2021 Large Company of the Year awards. Due to age restrictions you will need to click on Watch on YouTube:
Product Reports
Photo Credits: Cigar Coop, except where noted