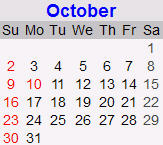 The month of October was probably one of the more exciting months in the cigar industry. This month marked not only the heart of the Fall release cycle for cigars, but some major releases. Overall, this was a great month to be a cigar enthusiast. Let's take a look at some of the releases that were done during the month as well as some other happenings.
New Releases
These were what I consider the highlights for cigars that made its way to the retailer shelves in the month of October.
El Tiante Cigars also re-launched their line. This was carried on national radio on the Dino Costa Radio show on a simulcast from Butthead's Tobacco Emporium in Danbury, Connecticut.
Legislative Front
At the time of this writing, HR 1639 has 98 co-sponsors. Even Charlie Rangel is co-sponsoring this one!
The CRA hired a legislative director. Mike Copperman has been named to this position.
Other News
Sherwin Seltzer, who spent over 50 years in the cigar business has retired as Vice President of Trade Development at General Cigars effective the end of October. A good piece in Cigar Aficionado was done. Cigar Dave also did a great interview and there were some great insights provided (I'll update the link here when the podcast is posted)
Cigar Coop News
Nothing exciting to report this month here.