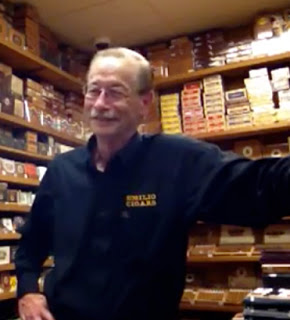 Emilio Cigars Brand Developer Gary Griffith
Emilio Cigars brand developer, and House of Emilio founder Gary Griffith was our special guest on
Episode 91 of Stogie Geeks
. In this conversation, we asked Griffith about some projects that he had announced, but had been on hold: Carpe Noctem, Mia Dora, La Musa and Los Regalos.
Carpe Noctem and Mia Dora
Both Carpe Noctem and Mia Dora were announced to be the fourth and fifth lines to be produced by A.J. Fernandez. Griffith explained that the delay occurred because of the move of the A.J. Fernandez factory. Valuing his relationship with Fernandez, Griffith opted to not create a logistical challenge for Fernandez and opted to hold off on production.

Griffith is planning to visit Nicaragua next week (following the interview) with plans to finalize the packaging. Griffith told us that he plans to go more elaborate with the packaging than he has in the past.
Griffith said he is targeting a release for both of these blends around the time of the 2014 IPCPR Trade Show.
La Musa Cigars
When the La Musa line was announced line was announced, Griffith had announced four blends: La Musa Mousa (the old Grimalkin), La Musa Melete, La Musa Aoide, and La Musa Mneme – all of which are named for Greek muses. While Mousa and Melete have been released, there still are plans for Aoide and Mneme. Griffith told us the blends are complete, but "they will happen when they happen". He is considering an option to beef up the packaging, but no final decision has been made.
Los Regalos
This was a line launched in 2012 and had a planned Mayan theme. Griffith confirmed that the Los Regalos Quetzal will be changing the name because someone else was using it. He indicated he had an agreement where he could continue to use the name until he exhausted the supply. Griffith also said the supply has not been exhausted as of yet, and no new name had been decided.
Griffith indicated there still are plans for three additional blends as well as plans for a limited edition using 2006 tobaccos. He hopes to firm up these plans on his next visit to Nicaragua.
House of Emilio
Griffith indicated that the purpose of building this distribution arm was to find unique brands that he could help through his warehouse and sales force. Griffith said he is continually looking at new brands to bring into the House of Emilio.
In terms of what he looks for with new brands, Griffith said he is looking for good factory, good blending, good cigars, and the right reasons why the cigars exists.
The Conversation
Here is our video of our Cigar Conversation with Gary Griffith. This could be the first cigar podcast which featured our guest in a chapel.