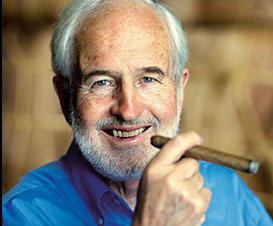 Heinrich Villiger is stepping down as CEO of European tobacco giant Villiger Söhne AG. Robert Suter, a former CEO with Swiss Holding company Conzetta AG will succeed him as company CEO. Villiger will continue to serve as Chairman of Villiger Söhne AG and Villiger Holding.
At 85 years old, Villiger has had a long career with Villiger.  Villiger joined the family business in 1950 and recently has completed 65 years in the tobacco business. Villiger Cigars was founded by his grandfather Jean Villiger in 1888. The family business grew on the strength of its machine made products. It wasn't until 2008 when the company first entered the handmade premium cigar business.
Villiger Söhne AG is the parent company of Villiger North America, the U.S. distribution company for Villiger products. Earlier this year, the Villiger North America announced a restructuring that saw the its U.S. Headquarters move from Charlotte, North Carolina to Miami, Florida.and the naming of Rene Castaneda as its new division president.
Photo Credit: Villiger.ch