It was a little over six years ago when word that the Nosotros, the collaboration between Jonathan Drew of Drew Estate and Dion Giolito of Illusione Cigars would be no more. The project which was considered to be a dream collaboration by many would come to an end fourteen months after its announcement. If you were a cigar fan between July 2009 and September 2010, chances are this was a cigar that you had on your radar. Today, we look take a look back and remember the Nosotros project.
It was on slightly before the 2009 IPCPR Trade Show when the announcement came of Jonathan Drew and Dion Giolito would be collaborating on a brand known as Nosotros. The cigar would be produced at Drew Estate's La Gran Fabrica, and would be the first time Drew Estate would produce a traditional premium hand-rolled cigar for third party. For Giolito, he had been working with the Raices Cubanas factory in Honduras to produce his  brands, so this would also be a new factory for him.
The Principals
2009 was still very much the early days when it came to producing traditional premium hand-made cigars for both Drew and Giolito. At the same time, the two already had established a huge following in the industry.
For Drew Estate, they were a company that was in business over 11 years. The struggle to build the company from a kiosk in the World Trade Center to its huge factory, La Gran Fabrica in Nicaragua is well documented. Back in 2009, there was no Undercrown, no Herrera Esteli, no Nica Rustica, and no MUWAT. At the time, Drew Estate was riding a crest following the enormous success of Liga Privada No. 9. Prior to Liga Privada No. 9, Drew Estate had mixed results with a brand called Chateau Real. Of course, Drew Estate was the market leader in the infused-space with the ACID brand.
Giolito had enormous success as the owner of Reno, Nevada's Fumare retail shop. In 2006, he took on an additional role of brand owner as he launched Illusione Cigars. By 2009, he had a popular line and already had a Top 10 rating in Cigar Aficionado for his Illusione cg4. No doubt, Giolito and Illusione were on the rise.
The Beginnings
It was actually during the early days of Illusione when paths came together for Giolito and Drew Estate. In 2009, Giolito originally had plans to produce his Cruzado brand out of the Joya de Nicaragua factory. In March of 2008 came word that the Joya de Nicaragua would be distributed by Drew Estate. As a result business priorities changed at Joya de Nicaragua and Giolito would was not able to produce his cigar there. A few months later came the 2008 IPCPR Trade Show and Jonathan Drew met Giolito and invited him to visit La Gran Fabrica. Giolito saw the vast inventory of the tobacco Drew Estate and it led to the opportunity to blend a cigar there. Thus, the genesis of Nosotros was underway.
For Drew Estate, while they had already been producing Rocky Patel's Java line, making a traditional cigar for a third party was not something they had done. However, this was a time when Drew Estate was looking to move into the next phase of the company and build up its traditional hand-made core competencies. Bringing in Giolito seemed to be a logical step in his own factory's evolution with the traditional hand made segment.
The Project
Prior to the 2009, IPCPR Trade Show came word of the Nosotros project. The name Nosostros translates to "us".  It was marketed with the moniker "myth, rebel, conspiracy, pioneer, cigar makers" – all terms that could apply to either Giolito and / or Drew personally.
One thing that was different is that Jonathan Drew setup for what he referred to as a "Micro Factory" within the La Gran Fabrica. This "factory within a factory" allowed both Drew and Giolito to operate in a boutique-like setting. The "Micro Factory" featured its own rollers and was adorned with Subculture Studio art reflecting the theme of the project. Giolito had built (even to this day) a reputation as a brand owner who was very hands-on with his cigar production, so this seemed to be an ideal setup.
Drawing from Drew Estate's extensive tobacco reserves, the blend was interesting in itself. The blend consisted of a Nicaraguan Corojo 99 wrapper, a Connecticut Habano binder, and Nicaraguan fillers. It was a very much a different cigar for both Drew Estate and Illusione. Drew Estate had not produced a premium hand-made blend with a Aganorsa grown Nicaraguan Corojo 99 wrapper, but this is a type of tobacco Giolito had worked with on his blends.  At the same time, working with U.S. grown Connecticut Habano was something Giolito had not worked with (and would be something seen on the upcoming Drew Estate T52). By building a blend with some of the different tobaccos Drew Estate offered, it gave Giolito an opportunity to blend beyond what was his comfort zone.
Eight sizes of the line were planned: Corona (4 x 46), Robusto (5 x 50), Robusto Larga (5 1/2 x 54), Corona Larga (6 x 46), Toro (6 x 52), 660 (6 x 60), Torpedo (6 1/2 x 54), and Churchill (7 x 48). It was one of the few times, Giolito has ever worked on a major 6 x 60 release.
The bands even had a look that were a cross between Drew Estate's style and Illusione's.
The Release
Nosotros definitely had a deeper marketing campaign than Illusione had seen before. This kicked off at the 2009 IPCPR Trade Show in New Orleans. Much was made of the two principals, Giolito and Drew throughout the process. While seeing Jonathan Drew as a part of marketing was not unusual, it was the first (and possibly only time), I remember seeing Giolito on the marketing. Once the cigar was actually released, Giolito also did several events promoting the cigar.
The news of the project was extremely well received at the 2009 IPCPR Trade Show by the industry as a whole. Plans were for a Fall, 2009 release, but that did not happen. Toward the end of 2009, it was announced the release was being delayed until March, 2010.
Ultimately, the cigars did reach the shelves in the Spring of 2010. It was met by consumers and media with some mixed reviews. When I personally smoked the cigar when it was initially released, I felt it was a good cigar, but needed some time. I did feel that time was kind to this cigar. At the same time, I was just expecting more from the cigar, but that's subjective.
When the 2010 IPCPR Trade Show came around, Nosotros was there – promoted at both the Drew Estate and Illusione booths. On the surface, the state of the project seemed healthy and the excitement of the project never faded from both the principals involved and the retailers at the show.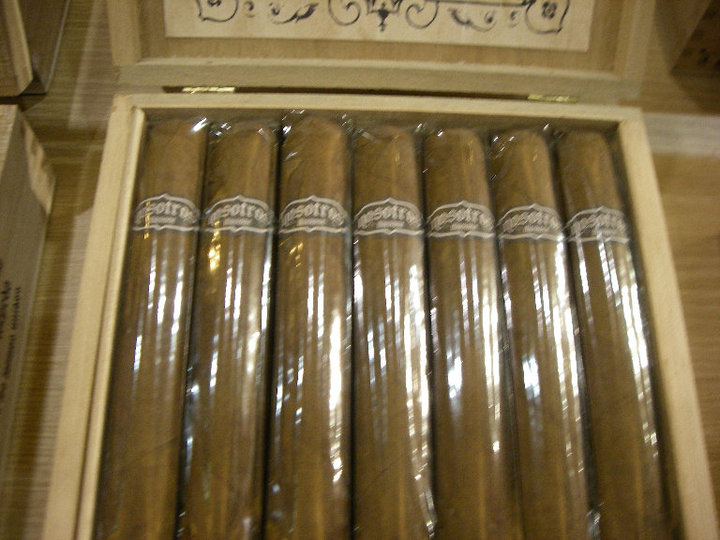 The End
On September 27th 2010, word came out that the plug was being pulled on the Nosotros project. Despite some of the mixed reviews, this came as a big shock to many – especially since the 2010 IPCPR Trade Show had just ended a little over a month before-hand.
The announcement the project was done was made in a statement was issued by Giolito:
"Illusione cigars will no longer participate in the Nosotros brand project with Jonathan Drew DBA Drew Estate. After two and a half years, terms for a product delivery date still could not be negotiated. The Nosotros brand/trademark dies in the Drew Estate Factory as per contractual agreement, and will not be made outside of the factory where it originated."
In terms of what went wrong, we really don't know all the details – and probably never will. However, some bits and pieces have come out. In a 2015 interview we did on Stogie Geeks with former Drew Estate CEO and President Steve Saka, he commented that the original blend was using some 3 year old aged tobaccos integral to the blend, but to get the product out there, they just didn't have the 3 year old tobaccos available to create the magic of when the Nosotros blend. Ultimately the decision was made to pull the plug as opposed to mustering on.
In 2013, Jonathan Drew commented online to an article written Cigar Aficionado that happened to be on his Herrera Esteli brand:
"A few years back, there was a very special brand, ILLUSIONE, which I was and continue to be enamored with – and spent a lot of time working on a brand with the owner called Nosotros. While the brand was beautiful, Dion and I missed the mark because the consumers wanted something that would be "in between Liga Privada and Illusione" – but instead we made brand with a whole different character. Dion and I continue to be friends till this day – and I consider him to be one of the best brand builders and people in the industry today. We both learned a lot from the Nosotros experience. I know that the things we learned made both of our companies stronger for different reasons."
Following the end of the announcement, there was talk that a batch of the Nosotros cigar was sold to Outlaw Cigar in Kansas City. Supposingly, it would be marketed as Outlaw Cigar's "13", but it never was officially confirmed on whether this was the cigar or not. The "13" happened to be sold in the same eight sizes as the Nosotros. In addition, Outlaw marketed it as:
Outlaw's newest cigar "13" is shrouded in mystery. The origin and history of this great full-bodied cigar cannot be disclosed without unleashing the wrath of the gods. But the story goes something like this… Somewhere deep in the fields of Nicaragua, this cigar was developed by two cigar gods from a secret stash of the best tobaccos known. It was anticipated that once released, it would become the new coveted cigar to cigar enthusiasts. However, one of the cigar gods dared to use an abundance of strong tobaccos, making it unruly and untamable. The cigar gods parted ways in dismay… Now after much time has passed the ill-fated cigars somehow ended up in the hands of the renegade Outlaw. The extra time of aging has made them what the cigar gods dreamed that one day they would be… A smoking experience reserved for the greatest of cigars!
Epilogue
It has been six years since the plug was pulled on Nosotros. Both Giolito and Drew have since gone on to achieve incredible levels of success in the cigar industry. Giolito returned to working with Casa Fernandez, first continuing at Raices Cubanas, then working with TABSA.  Drew has gone on to do several collaborations: Nirvana Cameroon Selection for Swisher International's Royal Gold Cigars, which would eventually be absorbed back into the Drew Estate portfolio following the Swisher acquisition of Drew Estate. Another collaboration was the recently launched All Out Kings with Robert Caldwell of Caldwell Cigar Company. Finally, a collaboration has been done with Ventura Cigar Company on two blends in its Archetype Series.
Revisiting this collaboration was inspired recently by a conversation I had with a younger cigar enthusiast in his early 20s who had told me he was a fan of Drew Estate and Illusione Cigars. When I asked him about Nosotros, he did not know about the cigar. I was surprised, yet not surprised.  While today you might still be able to find some Nosotros tucked away at some retailers, time has passed and a new generation of cigar enthusiasts have emerged. At the same time cigar enthusiasts who remember Nosotros have moved on.
The past eight to ten years are long going to be remembered as one of the most creative periods in the cigar industry. While Nosotros didn't work out in the end, the creativity and efforts behind this project should not be forgotten. Ultimately, I found revisiting this important part of modern cigar history something worth doing.
Photo / Image Credits: Cigar Coop, except where noted