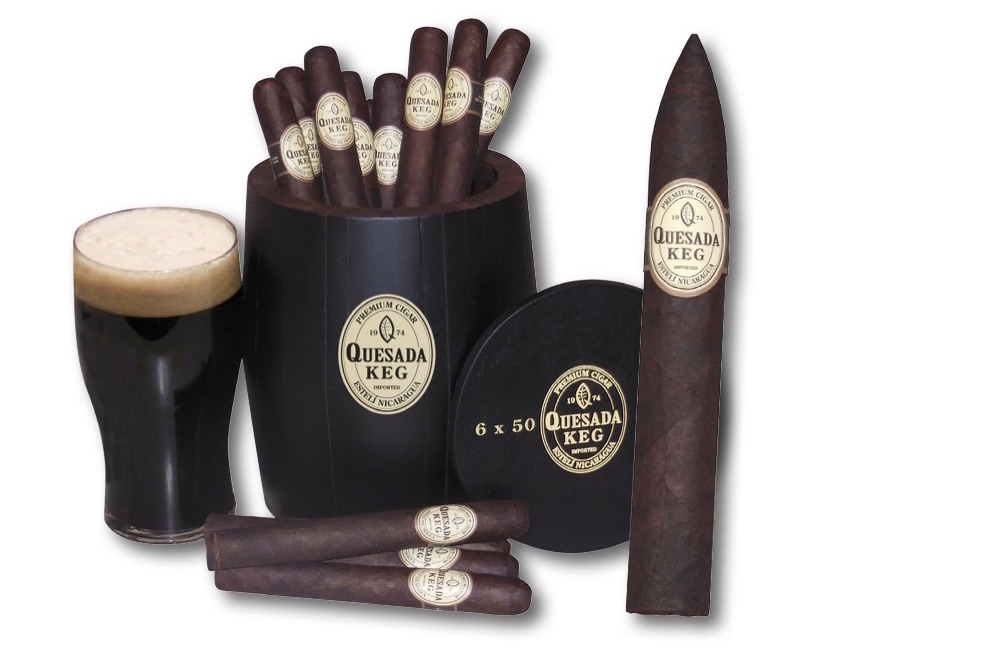 Quesada Cigars has announced details around its 2017 edition of the Quesada Keg – a seasonal release for the St. Patrick's Day celebrations.
While the Quesada Keg 2017 still uses a Pennsylvania Broadleaf wrapper over Nicaraguan tobaccos, the company says the blend has been tweaked to be stronger. The use of a stronger blend is meant to match the imperial stouts that many beer enthusiasts enjoy – particularly around the festivities.
In addition, a new size is being introduced with with the Quesada Keg 2017 edition in the form of a 6 x 54 belicoso. In addition to the Belicoso, the three sizes offered with the Quesada Keg 2016 are also returning: Lonsdale, Toro, and Gordo. The new barrel packaging introduced with the 2016 edition also returns.
"As beer lovers continue to demand stronger 'high gravity' beers, we felt it was necessary to provide a blend this year that could be paired with these potent brews as well as those traditional Irish stouts we all know and love. Consequently, the Quesada Keg 2017 is a more intense version of the 2016 edition while still maintaining the general pro le of last year's blend. Enjoy!", commented Terence Reilly of Quesada Cigars.
It was in 2015 when the Pennsylvania Broadleaf version of the Quesada Keg made its debut in the form of a Toro.  The Quesada Keg returned last year and was expanded to three sizes. In addition to the Pennsylvania Broadleaf version, Quesada Cigars introduced another seasonal "Keg" release with the Quesada Holiday Keg. The Holiday Keg is a Dominican Corojo wrapped blend which is meant to coincide with the end of year holidays.
Photo Credit: Quesada Cigars