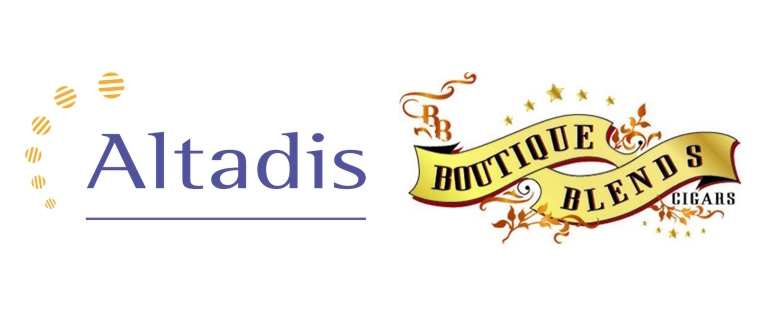 Rafael Nodal and Hank Bischoff were guests on the May 20th edition of the Smooth Draws Radio Show and spoke openly about the recent partnership their company Boutique Blends has taken with Altadis U.S.A.
On May 15th Boutique Blends and Altadis USA announced a strategic alliance between the two companies. Under the agreement, Altadis U.S.A. will handle sales and distribution of the brands in the Boutique Blends portfolio. These brands include Aging Room, La Bohème, Oliveros, and Swag. In addition, Nodal will take on a role directly in Altadis U.S.A. focusing on quality and product innovation across all of the Altadis U.S.A.'s portfolio.
Nodal told Smooth Draws Radio the seeds for this arrangement go back a couple of years ago when he collaborated with Altadis U.S.A. on the Romeo by Romeo y Julieta Aging Room Small Batch F25. This was a project that was an extension of the Romeo brand that was made at Jochy Blanco's Tabacalera Palma, the factory Boutique Blends' partners with for production of many of its lines.
In terms of the roadmap forward, Boutique Blends will leverage Altadis' channels to market (field sales team, Casa de Montecristo, JR Cigar, etc.) both domestically and internationally. Bischoff will handle infrastructure and logistics on the Boutique Blends end. Nodal's son, Rafael Nodal Jr. will handle the integration and training of the Boutique Blends portfolio into Altadis.
As for Boutique Blends, Bischoff emphasized production will remain the same despite the change in distribution.  "Our cigars are not going to change. Our cigars are still going to be the same tobaccos coming out of the same factories made by the same hands," commented Bischoff.
Meanwhile Nodal will focus on innovation. He mentioned the Aging Room Cigars brand will now be considered one of Altadis' strategic brands along with Montecristo, Romeo y Julieta, and H. Upmann. As a part of product innovation and development for Altadis, Nodal will not only leverage Altadis' Tabacalera de Garcia (Dominican Republic) and Flor de Copan (Honduras), but will continue to leverage partner factories both companies have used including Tabacalera Fernandez, Plasencia, and of course Tabacalera Palma.
In another piece of news first heard on the Smooth Draws Radio Show, Nodal and Bischoff both confirmed that Boutique Blends will be a part of the Altadis U.S.A. booth at the 2017 IPCPR. Bischoff described the arrangement as a "store within a store". The Boutique Blends area will feature a similar color scheme and design as in the past – with the big difference being that Boutique Blends will now house their operation in the confines of the Altadis U.S.A. operation.
For the interview with Nodal and Bischoff, click here. The full show can be heard below.