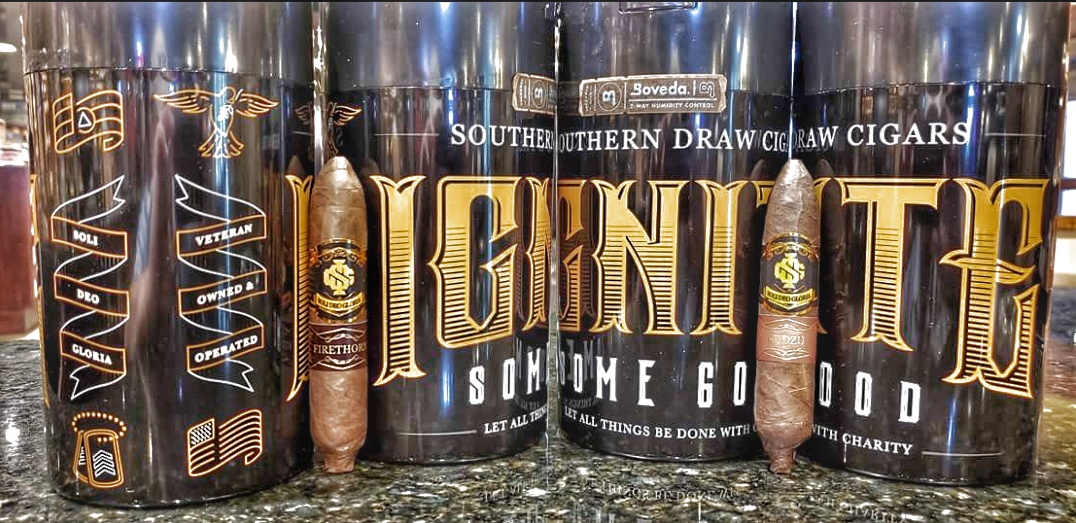 Southern Draw Cigars has announced that rounded perfectos of its Kudzu and Firethorn blends will be the third installment of IGNITE, the company's collaborative charity project. The IGNITE Kudzu and Firethorn Perfectos will be done in collaboration with Cigars International in support of Cigars for Warriors. The cigars will make their debut at a launch event hosted at Cigars International MegaStore in Hamburg, Pennsylvania on Friday, June 15th.
Kudzu and Firethorn were the first two regular premium offerings released by Southern Draw Cigars. While they have been released in perfecto sizes before, those previous versions were box-pressed using tweaked blends. The IGNITE offerings introduce rounded perfectos based off the original blend.
Kudzu features a Nicaraguan Habano Oscuro wrapper over Nicaraguan binder and filler tobaccos. The Firethorn features a Nicaraguan Habano Rosado wrapper over a San Andres binder and Nicaraguan fillers. The new IGNITE Perfectos for the two blends measure 5 x 58. Like the previous two IGNITE offerings, both the Kudzu and Firethorn IGNITE Perfectos are packaged in commemorative jars offered in either white or black colors. Each jar contains ten cigars. There will be a total 500 jars produced for each blend (250 white and 250 black per blend). Pricing is set at $99.99.
"We are pleased to release an exclusive new size in both of our original blends, the rich medium to full-bodied Kudzu – Oscuro and the clean-burning medium+ flavor of the Firethorn – Rosado as we celebrate the IGNITE project together with Cigars International," said Southern Draw Cigars Founder Robert Holt in a press release. "While there are no significant changes to the original blends, the new perfectos are likely to excite the palates of those new to our brand that most likely have been smoking the 2017 releases, Jacobs Ladder and Rose of Sharon blends and the loyal consumers who have smoked these flavorful and award-winning blends since 2014."
The release of the IGNITE Kudzu and Firethorn Perfectos are the third of five planned installments of the IGNITE Series. Back in April, the IGNITE Top Rung – the Jacobs Ladder Lancero was introduced as the first installment of the IGNITE Series. That release was a collaboration done with Casa de Montecristo. Earlier this month, the Rose of Sharon Perfecto became the second installment and was done in conjunction with Famous Smoke Shops. Like the Kudzu and Firethorn perfectos, the previous two installments were done in support of Cigars for Warriors. Southern Draw Cigars is also working to select retailers and charities for the fourth and fifth installments of IGNITE.
Photo Credits: Southern Draw Cigars