---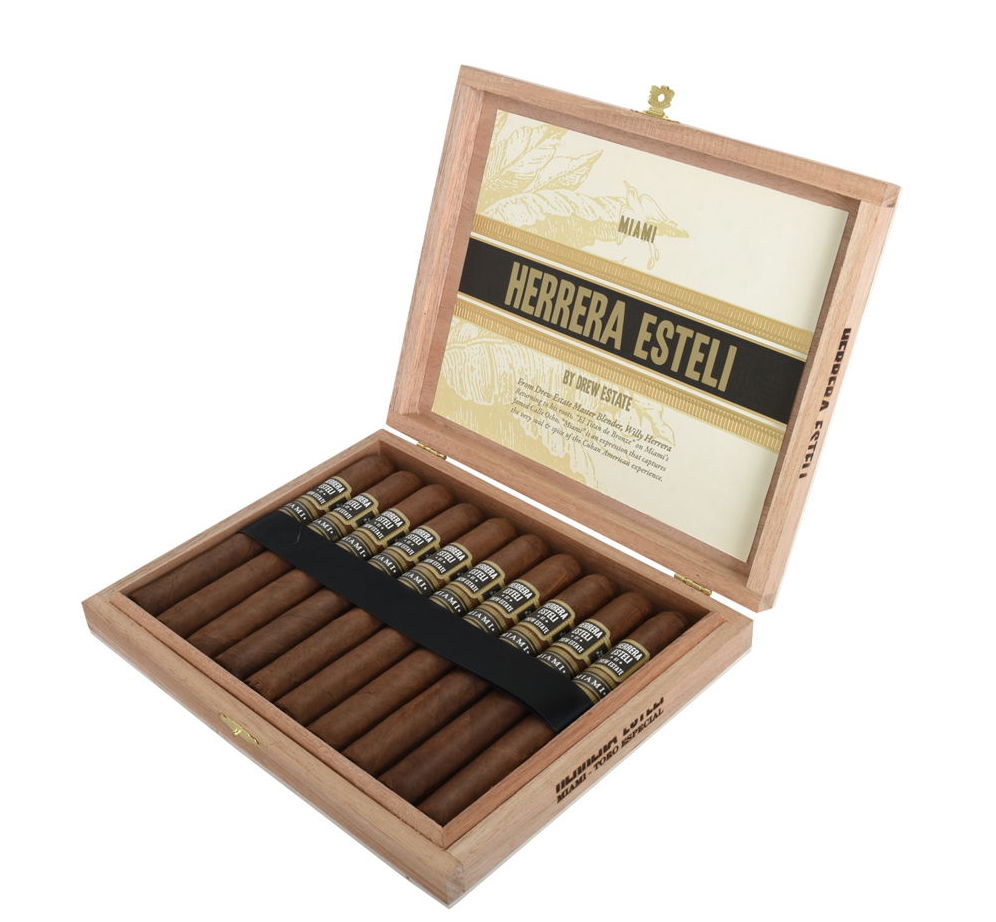 At the 2018 IPCPR Trade Show, Drew Estate will introduce an expanded version of its Herrera Esteli Miami line – a line produced in the United States at the El Titan de Bronze factory located in Calle Ocho in Miami, Florida.
Prior to joining Drew Estate in 2011, Drew Estate Master Blender Willy Herrera ran the El Titan de Bronze factory. In 2016, Herrera would return to the Cache Ocho factory to produce the first Herrera Esteli Miami cigar for Drew Estate. This was a small batch limited edition cigar that was available in one size – a Corona Larga.n
Now Herrera Esteli Miami returns – becoming an ongoing part of the portfolio.  Although the Corona Larga is not part of the return, Drew Estate is introducing five new sizes of the Herrera Esteli Miami: Robusto Grande, Toro Especial, Lonsdale Deluxe, Piramide Fino, and Short Corona Gorda – the sizes that were the original five vitolas of the Herrera Esteli Habano.
Herrera Esteli Miami is also getting new packaging – consistent with what Drew Estate is doing across all of its regular production Herrera Esteli branded cigars. This includes Herrera Esteli Miami also receiving its own banding with a unique color scheme. The one major difference – Herrera Esteli Miami will be available in ten-count boxes while the other offerings under Herrera Esteli are offered in 25-count boxes.
"I really like the black and gold color tone of the Herrera Esteli Miami and how it fits into the brand portfolio with multiple vitola expressions in the Miami blend. Working with my family on this brand takes me back to my blending roots and sincerely excites me." commented Willy Herrera in a press release.
The expansion of Herrera Esteli Miami is part of a major revamping of Drew Estate's Herrera Esteli line – including the introduction of the Herrera Esteli Brazilian Maduro and standardizing packaging across the line. The Herrera Esteli and Norteno lines have also been renamed Herrera Esteli Habano and Herrera Esteli Norteño respectively.
At a glance, here is a look at the Herrera Esteli Miami line:
Blend Profile
Wrapper: Ecuadorian Habano
Binder: Ecuadorian Sumatra
Filler: Nicaraguan, Dominican
Country of Origin: United States (El Titan de Bronze)
Vitolas Available
Robusto Grande: 5 1/4 x 52 (SRP $109.87/ Box of 10)
Toro Especial: 6 x 52 (SRP $117.47/ Box of 10)
Lonsdale 6 x 44: (SRP $112.97/Box of 10)
Piramide Fino: 6 x 52 (SRP $127.47/ Box of 10)
Short Corona Gorda: 5 3/4 x 48 (SRP $97.97/ Box of 10)
Photo Credit: Drew Estate