---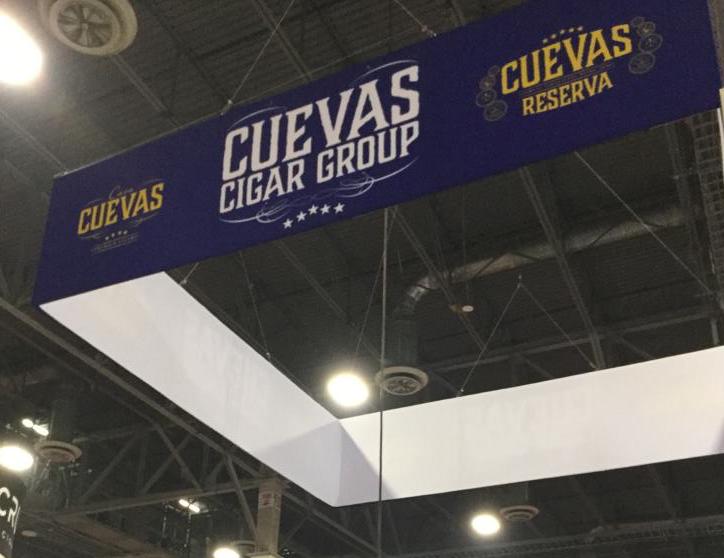 The 2019 IPCPR saw Cuevas Cigar Group make their debut as an exhibitor, but there is nothing newcomer about this company. The Cuevas family has been making cigars for many leading brands for quite a while out of their Las Lavas factory in the Dominican Republic. In 2016, the Cuevas family opted to create their own brand and distribute cigars under their own name. Excellent products combined with an excellent presentation at the booth (with plenty of traffic for a slow show), made Cuevas Cigar Group a bright spot at the 2019 IPCPR.
Cuevas Cigar Group is a family-run company, highlighted by the father and son team of Luis Cuevas Sr. and Luis Cuevas Jr. Luis Jr. handles the company's distribution operations in the U.S. and also worked with his father at the Las Lavas factory. Also present was Luis Jr.'s wife Denise, and their son. Alec. Industry veteran Gabriel Alvarez serves as the company's Director of Sales.
One thing that was different was the name. While many were familiar with the name Casa Cuevas Cigars, the company came into IPCPR under the name Cuevas Cigar Group. The company focused on two brands, its existing Casa Cuevas brand, and its new Cuevas Reserva brand. This IPCPR gave many attendees a chance to see the Casa Cuevas brand in the spotlight – highlighted by their core brands: Casa Cuevas Connecticut, Casa Cuevas Habano, and Casa Cuevas Maduro.
The Casa Cuevas brand received a limited edition line extension known as La Mandarria. Earlier this year, the company was a victim of a well-publicized warehouse robbery. A sledgehammer (La Mandarria in Spanish) was used to break into the warehouse.  As Luis Jr. said in a recent press release, "The Mandarria represents the principal tool used against us, but also represents the strength and will of my father. We look forward to sharing 'La Mandarria' with the public in Las Vegas at the 2019 IPCPR." La Mandarria is highlighted by an unfinished footer and it allows a consumer to really experience the transition from an unfinished binder and filler to the effect a wrapper can have on a cigar.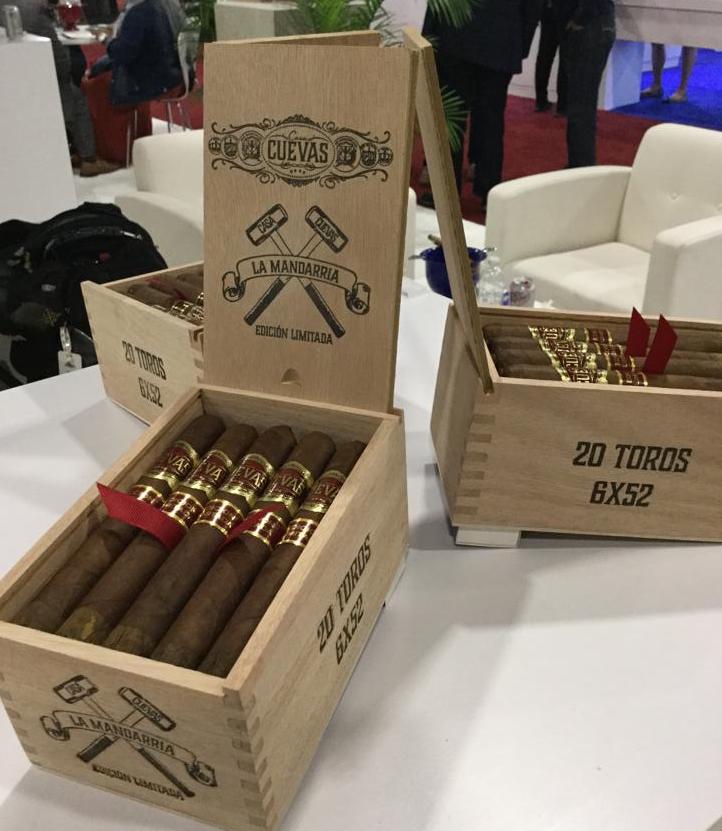 A "mandarria" was also present at the booth and Luis Jr. showcased it as a figure of the company's strength.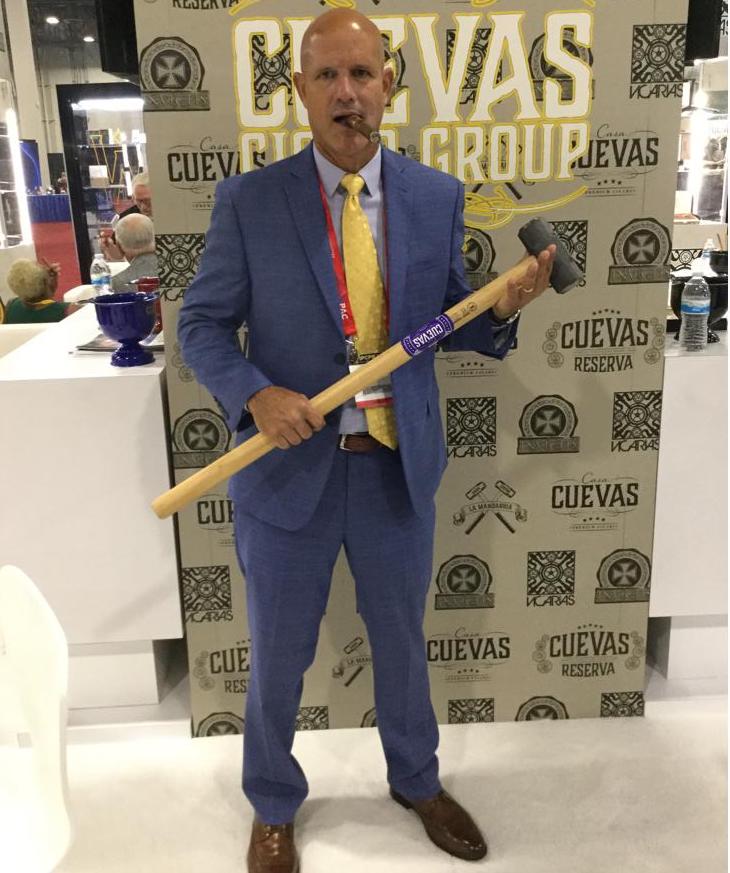 The big launch was the Cuevas Reserva brand. Cuevas Reserva was released by Luis Cuevas Sr. over a decade ago. With the business at the Las Lavas factory growing, Luis Sr. faced a huge dilemma -either invest in the time and resources needed to introduce his own brand or focus on the family's factory operation in the Dominican Republic where he was making cigars for other people.  Cuevas Sr. made the decision to focus on his factory. With the Cuevas family now making its own brand, Luis Jr. convinced his father it was time to bring back Cuevas Reserva.
There are two offerings with he Cuevas Reserva – a Connecticut and a Maduro.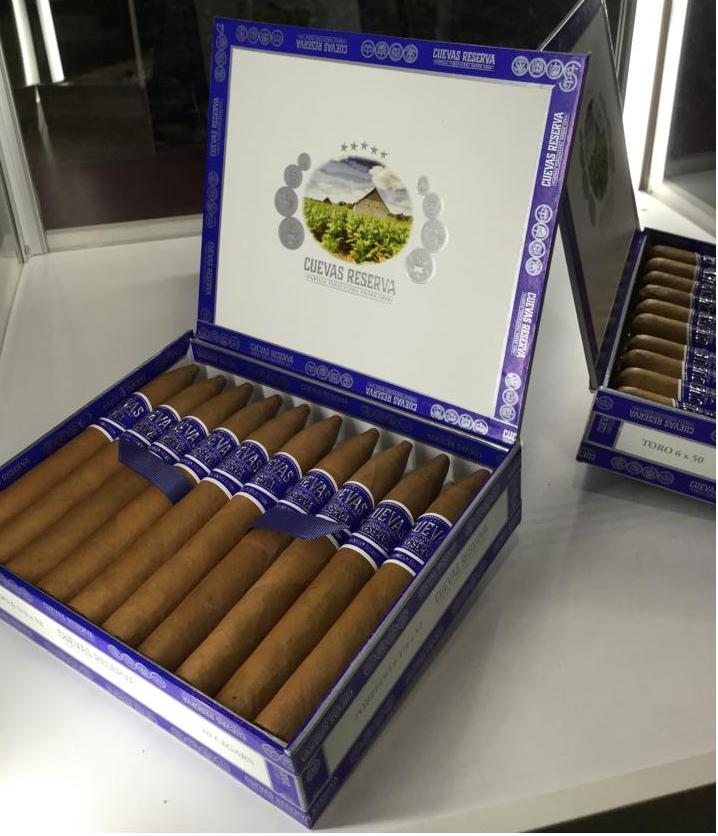 For years, many have questioned if blue-colored bands on cigars work. In recent years, I think that negative stigma has gone away. What particularly impressed me was how well it worked on both Cuevas Reserva cigars – especially with the wrap boxes used.
IPCPR Product Reports
Bear Duplisea delivered content and photography for this report.
Photo Credits: Cigar Coop