Agile Cigar Reviews are cigar assessments where we use a lightweight, shorter format. These will never take the place of our comprehensive reviews. They are only used on blends we have previously assessed. This might be a blend we are rescoring or giving a score for the first time. It might be a blend we are looking at in a different size. Today we look at the RoMa Craft Tobac Wunder|Lust in the Gran Perfecto size. This is a cigar we previously assessed back November 2017 in the Robusto size.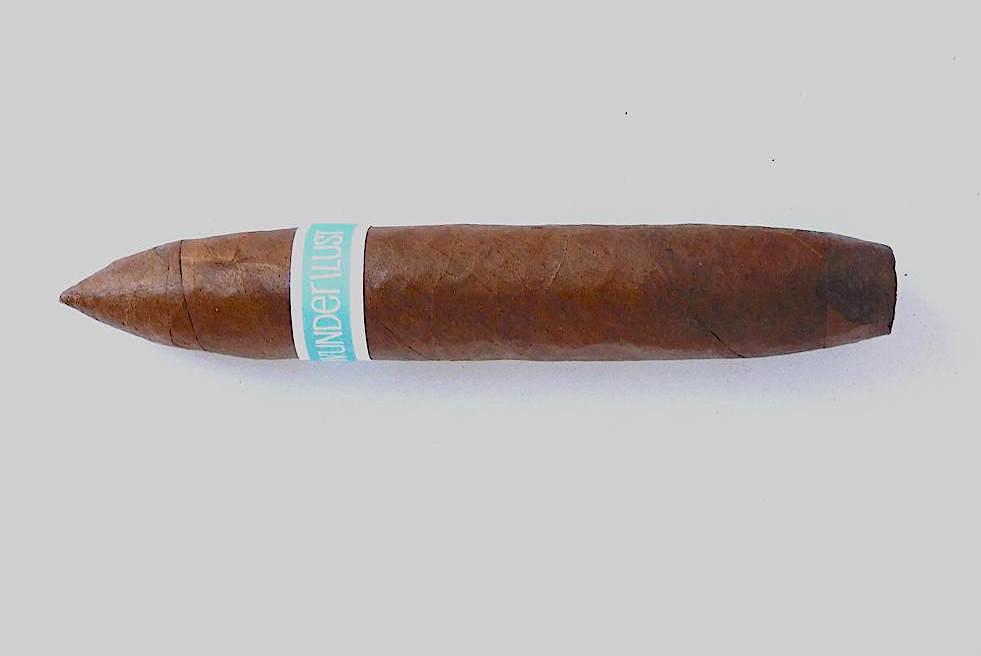 Wrapper: Brazil Mata Fina (Castano Oscuro)
Binder: Indonesia (Besuki)
Filler: Undisclosed
Country of Origin: Nicaragua
Factory: Fabrica de Tabacos Nica Sueño S.A
Gran Perfecto: 5 5/8 x 60
In 2020, RoMa Craft Tobac announced a sampler called El Catador de Los Gran Perfectos. The sampler consisted of eight cigars, one from each of RoMa Craft Tobac's ongoing production lines in a 5 5/8 x 60 Gran Perfecto. The sampler was to commemorate ten years of business for RoMa Craft Tobac and was going to be made available at the company's inaugural WeaselFest event. While the COVID-19 pandemic postponed the 2020 event, El Catador de Los Gran Perfectos was still made available to ticketholders and select retailers. Since the releases, these sizes have now become available to retail stores. Today we take a closer look at the Wunder|Lust blend, the Gran Perfecto size.
The eight cigars included in the sampler are:
CroMagnon Gran Perfecto
Aquitaine Gran Perfecto
Intemperance BA XXI Gran Perfecto
Intemperance EC XVIII Gran Perfecto
Intemperance Whiskey Rebellion (WR) 1794 Gran Perfecto
Wunder|Lust Gran Perfecto
Wunder|Lust has been one of the most sought-after RoMa Craft Tobac lines – mostly because for nearly five years the company has only distributed the line to retailers in Germany. At the same time, some of the cigars have made it back to U.S. soil for the cases when U.S. retailers procure them from Germany or when consumers make a direct purchase overseas. The Gran Perfecto was a unique size in that it was made available to folks who wanted to attend the planned WeaselFest 2020 event.
Blend-wise, the Wunder|Lust features a dark priming Brazilian Mata Fina wrapper over an Indonesian binder and undisclosed fillers. Not much has been revealed about the fillers, although RoMa Craft Tobac co-founder Skip Martin has said the fillers contain tobaccos that the Schuster family (who distributes RoMa Craft Tobac in Germany) has worked with in their own brands.
The Wunder|Lust Gran Perfecto kicked off with quite an assortment of flavors that included: cream, oak, coffee, natural tobacco, dried fruit, red pepper, and salt. There was no dominant note during the early stages, but the coffee, cream, and oak notes eventually took over as the primary flavors. These notes continued to be the dominant notes well into the second third. There was also a touch of cedar on the retro-hale. Later in the second third, the red pepper notes increased, and in the final third they closed in on the forefront.
The flavors produced were medium-bodied and countered by medium strength. The strength and body balanced each other nicely. The draw was excellent and included a touch of resistance that I liked. The burn was somewhat high maintenance requiring frequent touch-ups to maintain a straight burn path.
OVERALL ASSESSMENT
Final Thoughts
Wunder|Lust remains one of my favorite RoMa Craft Tobac blends to date. With the exception of the burn which required more attention than I prefer, the Gran Perfecto format does justice to this blend. This is a complex blend that delivers a nice assortment of flavors, and it's one to keep my attention. This is the third of the Gran Perfecto series I have smoked (Baka and Neanderthal are the others), and it was my favorite. In the end, this cigar had more positives than negatives and it's one I would recommend to any enthusiast. This is a cigar that I would definitely buy and smoke again. At 90 points, this cigar scores just enough to reach the Cigar Coop Standard of Excellence.
Summary
Key Flavors: Crea, Oak, Coffee, Natural Tobacco, Dried Fruit, Red Pepper, Salt, Cedar
Burn: Good
Draw: Excellent
Complexity: Medium to Full
Strength: Medium
Body: Medium
Finish: Very Good
Rating
Value: Buy One
Score: 90
Cigar Coop Standard of Excellence
References
Previous Assessment: RoMa Craft Tobac Wunder|Lust Robusto
News: RoMa Craft Tobac WeaselFest Event Slated for Labor Day Weekend
Price: €13.50
Source: Purchased
Brand Reference: RoMa Craft Tobac
Photo Credits: Cigar Coop