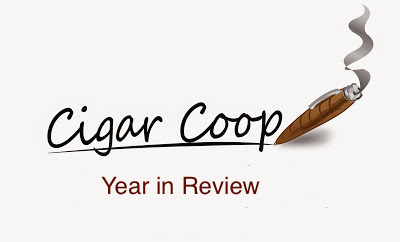 Last year, we started tracking a very simple metric on Cigar Coop – how do cigar companies rate in terms of the readership on Cigar Coop. This year, we rank the 25 "most-read" companies on Cigar Coop.
To determine this, a report was run on the 500 most-read articles on Cigar Coop. These articles are not 2020 specific, but are the 500 most-read articles regardless of publication year. Articles considered included news, reviews, feature stories, podcast articles, and events. Articles that were not specific to a company were removed from the dataset. Then each article was sorted by company.
The Smoking Syndicate's content published on Cigar Coop was included in this data set.
The total page views related to a specific company were tabulated. Once the tabulations were completed, the results were sorted by which company had the most page views.
For this exercise, we considered only the top 25 companies ranked on page views.
NOTE: This reflects ARTICLES and does not include banner advertising.
| | | | |
| --- | --- | --- | --- |
| 2021 Rank | Company | TAA Release? | 2020 Rank |
| 1 | STG (x) | Yes | 2 |
| 2 | Drew Estate | Yes | 1 |
| 3 | Tabacalera USA (Altadis, et al) | Yes | 5 |
| 4 | Davidoff | Yes | 3 |
| 5 | Rocky Patel Premium Cigars | Yes | 7 |
| 6 | Alec Bradley | Yes | 4 |
| 7 | Tatuaje | Yes | 12 |
| 8 | Arturo Fuente | Yes | 13 |
| 9 | CLE | Yes | 22 |
| 10 | DTT | No | 15 |
| 11 | Micallef | No | 9 |
| 12 | JC Newman | Yes | 18 |
| 13 | Perdomo | No | 10 |
| 14 | AJ Fernandez | Yes | 8 |
| 15 | My Father | Yes | 6 |
| 16 | JRE Tobacco Co | No | 11 |
| 17 | Room101 | No | 55 |
| 18 | Foundation Cigar Co | No | 28 |
| 19 | Crowned Heads | Yes | 29 |
| 20 | Ferio Tego (*) | Yes | 19 |
| 21 | Oscar Valladares | No | 27 |
| 22 | La Flor Dominicana | Yes | 48 |
| 23 | Joya de Nicaragua | Yes | 16 |
| 24 | Oveja Negra Brands | No | 25 |
| 25 | Padron | Yes | 32 |
x – Includes General and STG
* – Compared to Nat Sherman's 2020 date
General Findings
A total of 91 companies had cigar articles read in 2021.
The Top Ten consists of nine companies that have been in business for ten years or more.
The "Big Four" (Drew Estate, General, Davidoff, and Altadis) occupied the top four spots.
Drew Estate and STG continue to be the top dogs in the rankings – and very close in number of views. Last year Drew Estate took the title by 1,000 views. This year was even tighter with STG winning by 30 views. (see below).
Rocky Patel Premium Cigars was the most read company outside the TAA
The other strongest two companies with less than ten years being existence were Dunbarton Tobacco & Trust, and Micallef Cigars.
In 2021 17 of the Top 25 companies released cigars to the TAA, including the Top 9 in the rankings (more below)
Room101 took a major leap up from 55 to 17 in 2021.
Ferio Tego, a company that didn't ship product until the last 4 months of the year still finished #20 in readership. This was on the strength of the Nat Sherman brands.
Like last year, the only company in the Top 10 for 2021 that had a Cigar of the Year was Davidoff (AVO LE 10 (Limited Edition 2010) – 2010 Cigar of the Year
The TAA Releases
I'll contend that the high-profile TAA releases just aren't resonating well with the Cigar Coop audience – despite our extensive coverage over the years.
As mentioned above, there were 17 companies listed in the Top 25 that have released cigars to the TAA, including the top 8 companies ranked.
Here is where things get interesting. Out of the 500 most read-articles, only SIX were related to TAA cigars – that translates to just over 1%. Like last year, two of the cigars were La Palina Cigars, a company that ranked 34th in audience readership. All six of the TAA stories that landed on the Top 500 were cigar reviews and not news. The highest-ranked TAA cigar was the return of the TAA Karloff for TAA retailers that finished #207!
This reaffirms my message from last year – our audience is not interested in TAA cigars – something that is disappointing since we have put a lot of effort into covering each and every release since 2014 and look forward to these cigars coming out.
I attribute this to the TAA and many of its manufacturers have done a poor job at marketing these cigars. With 17 companies delivering cigars to the TAA listed in our Top 25, I would expect these numbers to be higher than what has been shown here.
The Shop Exclusives
While Shop Exclusives fared a little better, they still didn't perform great in terms of audience readership Of the 500 most read-articles, there were only 15 related to single store releases.
There were three factors at play here:
Dunbarton Tobacco & Trust had two shop exclusives that we covered and both landed in the Top 500 read articles (this company was red hot in 2021 and climbed into the Top 10)
JR Cigars had a high profile 50th-anniversary set resulting in 3 cigars making the Top 500
Protocol Cigars landed five cigars in the Top 500.
Let's give a huge hand to Protocol Cigars. Overall they had a good year, just missing the Top 25 in readership and coming in at #30. At the same time, this is the company that other companies and retailers should be looking to in terms of how to market a store exclusive. For a company of this size, this is an incredible feat.
There was one shop exclusive that did quite well in terms of readership – the Brotherhood No. 1 by Oscar Valladares for The Cigar Shop. This story came in at #57. In 2020, this was also our most-read Shop Exclusive Story (coming in at #26). This might be on the strength that The Cigar Shop is a "home" shop for me combined with a very passionate group of cigar enthusiasts in Charlotte that supports these cigars.
While 15 single-store articles in the Top 500 is low, it's an impressive number considering we rejected a great number of single-story releases due to non-compliance with our news policies.
STG and General
This year STG and General had a close battle again and it was a narrow victory for STG by 30 views – a margin of 0.005% in terms of overall views for the calendar year 2021.
STG's numbers included General and Forged (last year the grouping was the same). The two companies could not have been more different on media communications. Drew Estate has maintained consistent communications in terms of press information. STG has been quite haphazard with their timing and often press information was provided after product arrived on shelves. The interesting thing is I think if STG improved the way it distributes press information, they could be leading this category by a more sizable margin.
Speaking of Press Releases…
Four companies did exceptionally well despite being more difficult to cover in terms of press information. Rocky Patel (#5), Tatuaje (#7), Arturo Fuente (#8), and CLE (#9) all have been for the most part non-existent in the press release game. The fact that they placed in the Top 10 speaks for the strength of these brands where audience readership has come organically. Still, I wonder what the numbers would be if they did invest in press information.
Micallef
Last year Micallef Cigars came in at surprising #9 in terms of readership. This year, the company followed it up with a #11, but even at #11, their readership numbers were up from last year. It's still an amazing statistic as we only have covered the brand for two years. Like last year, I can attribute this to an excellent marketing campaign combined with the strength of the Micallef Ambassadors program.
Overall Growth
Cigar Coop's readership was up 3.8% from 2020. January (End of Year Coverage/Cigar of the Year Countdown completion), July (PCA Trade Show), and December (Cigar of the Year Countdown) remained our strongest months. While last year's readership increased 11.48%, that spike was likely largely influenced by many people being home more due to the pandemic.