The Prime Time Awards are voted on by members of the Cigar Coop team. The awards look at the impact on the cigar industry. Today, we unveil our choice for the 2021 Small/Medium Company of the Year. This award factors in things such as innovation, continued quality, and impact to the industry.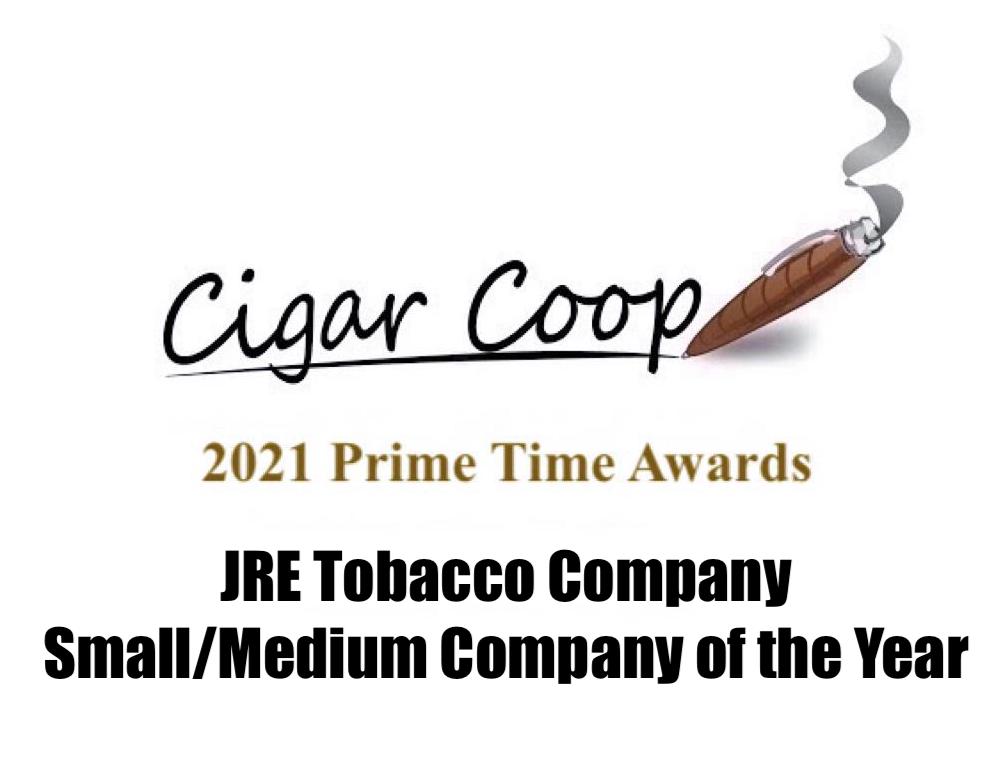 JRE Tobacco wins the Prime Time Award for 2021 Small/Medium Company of the year.
JRE Tobacco Company launched in 2016 to focus on a series of products created by the legendary Julio R. Eiroa. Julio would bring in son Justo Eiroa as the company President and work on building these brands as well as expanding his footprint. Since 2016, Julio and Justo would work hard on brand development, creating many critically acclaimed and commercially successful releases.
2021 was a most interesting year for JRE Tobacco Co. The previous three years had seen several new blends by JRE Tobacco Company come into the market. That would not be the case in 2021. Instead, JRE Tobacco Company focused on line extensions to its Aladino Cameroon (Elegante – which is a lancero size), Aladino Vintage Selection (Toro, Elegante), and Aladino Corojo Reserva (Figurado). Perhaps the most interesting thing is that while sizes such as lancero and figurado aren't the most popular ones these days, these seemed to really click with many cigar enthusiasts. These sizes were just what the portfolio needed, and elevated the brand as a whole.
The company also has a strong partnership with United Cigars – collaborating on United's Abuelo and 2021 Cigar Bar releases.
Five years ago, JRE Tobacco Co was the new company on the block, but that is no longer the case. What is perhaps a rarity these days, it has been a vertically integrated company from day one. 2021 showed this company is a true player in the industry. It's delivering consistent, high-quality, and innovative products that have many consumers coming back over and over again. JRE's market penetration was noteworthy and shined in a competitive year of growth for the premium cigar industry.
For more details on our selection process, click here.
The full vote results appear here.
Complete List Winners (Previously Awarded as Small Company of the Year until 2019)
2017 Southern Draw Cigars
2018 Crowned Heads
2019 Southern Draw Cigars
2020 Oveja Negra Brands
2021 JRE Tobacco Company