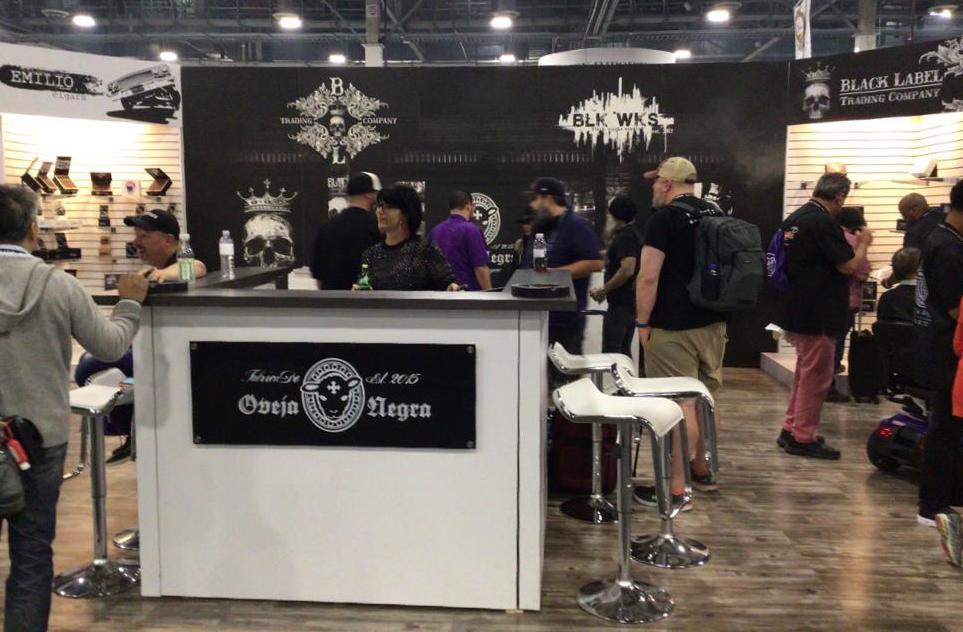 Oveja Negra Brands is an umbrella for four brands: Black Label Trading Company, Black Works Studio, Emilio Cigars, and Dissident Cigars. James and Angela Brown own three of the brands while the fourth brand, Dissident, is owned by Joshua and Cynn Coburn. As it has since 2019, the Oveja Negra Brands booth had four corners – each dedicated to one of the brands. This year, Oveja Negra Brands had more of a focus on the Emilio brand as it had two new offerings. There were also new offerings under Black Works Studio and Dissident. Meanwhile, a couple of favorites return to Black Label Trading Company.
Emilio Cigars
Ever since James Brown became a partner in Emilio, this has provided a sandbox for Brown for both his blending and his artwork. This year, Emilio had a new regular production offering and a limited edition offering.
The Emilio Suave Maduro is the new regular production line. The Maduro joins the current Connecticut Shade Suave offering. Suave is a line that goes back to 2012 and was introduced long before Brown became a partner in the brand. After Brown became a partner, he gave the Emilio Suave a makeover in terms of blend and packaging.
Emilio Suave Maduro features an Ecuadorian Maduro wrapper over a Nicaraguan binder and a combination of Nicaraguan and Dominican fillers. It will be available in three sizes: Robusto, Toro, and Churchill – each packaged in 20-count boxes.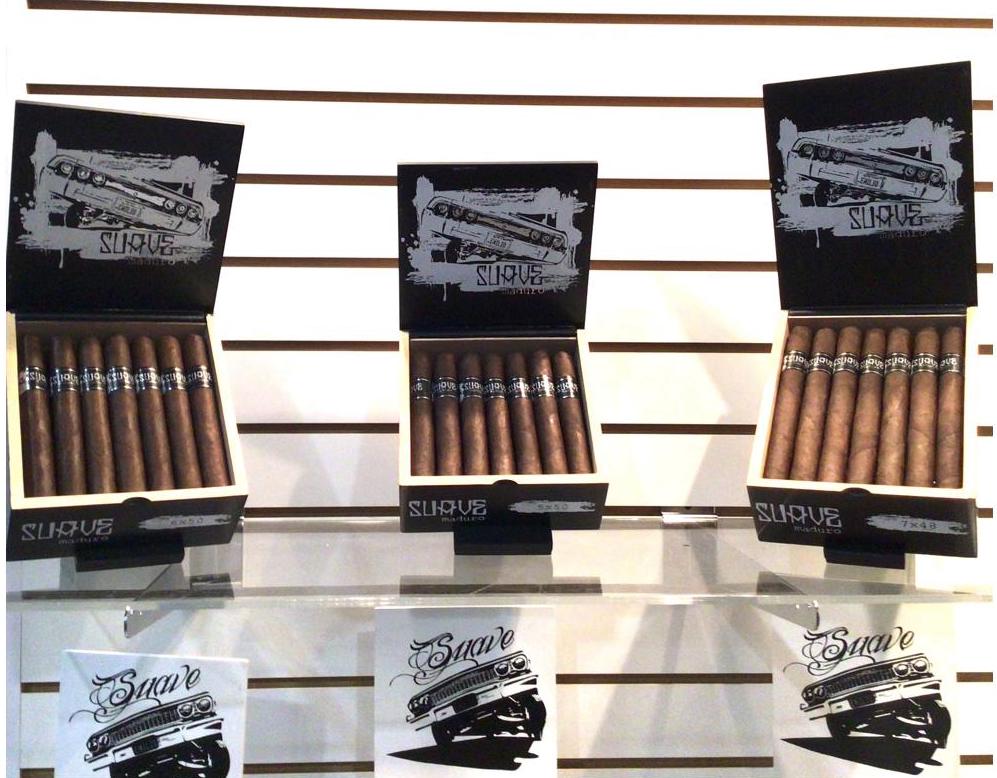 In addition, a new limited edition line called Emilio Audiophile was previewed. It has a music theme – which is seen in other Emilio offerings. The blend uses Ecuadorian Maduro wrapper over Nicaraguan and Dominican fillers. It will be offered in a Robusto size. It is intended to be more amped up than many of the current Emilio offerings.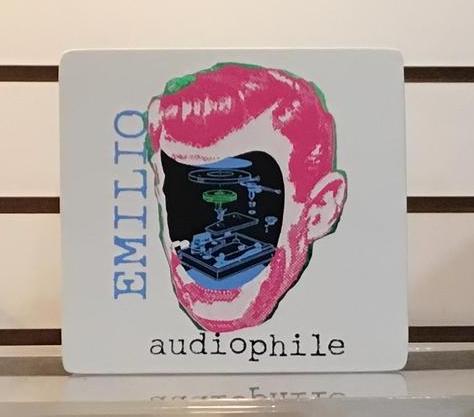 Black Works Studio
In 2018, Oveja Negra Brands introduced a couple of limited edition Connecticut Shade lines, the Black Label Trading Company Porcelain and Black Works Studio Killer Bee Connecticut. A year later, Porcelain moved to regular production and it became one of the most successful lines in the Oveja Negra portfolio. Now Oveja Negra Brands brings the Killer Bee Connecticut to regular production.
The Killer Bee Connecticut features an Ecuadorian Connecticut wrapper with Ecuadorian Maduro used on the footer and swirl cap. The binder is Nicaraguan Habano and the filler is also all-Nicaraguan. it will be offered in one size – a 4 1/2 x 46 petite corona. The cigars will be presented in 24-count boxes. Pricing is set at $11.00 MSRP. The cigar has already started shipping to retailers.
Over the years, Killer Bee has had a lot of iterations, some of which came to market. Others had been put on the back burner. One of those cigars that had been on the back burner was Killer Bee Shaolin. It's a limited edition cigar that was offered to retailers attending the PCA Trade Show as an exclusive. Black Works Studio Killer Bee Shaolin features a barber-pole of three wrappers: Mexican San Andres, Connecticut Shade, and Candela, over a Honduran Habano binder and Nicaraguan fillers. The cigar comes in one size – a 5 1/2 x 46 belicoso. It is available in 24-count boxes with pricing set at $13.50 per cigar.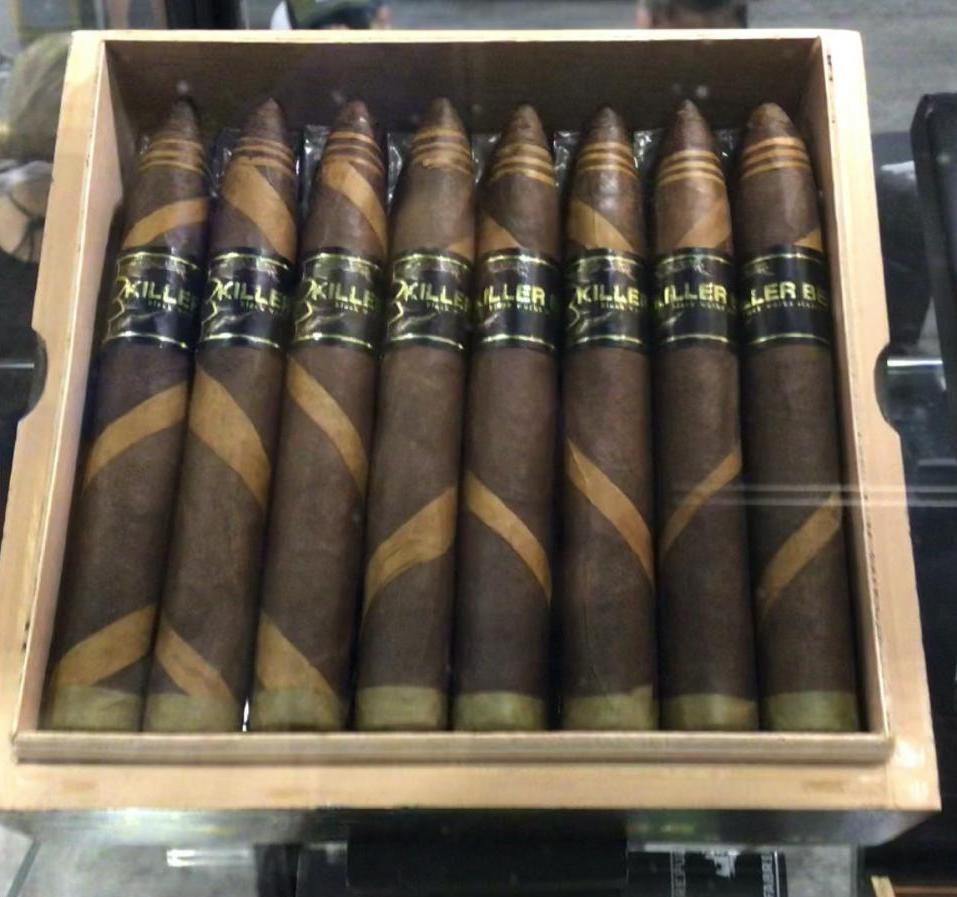 Finally, there is a new size for Rorschach (*). This wa  one of the first lines that was released when the Black Works Studio brand was launched in 2015. It was originally released in a 5 x 38 Petite Panatela. Now there is a 4 1/2 Short Robusto that is being introduced. The story behind the brand is that "each batch is unique and up for interpretation – much like a Rorschach image." Blendwise the Rorschach consists of an Ecuadorian Habano wrapper over Nicaraguan binder and fillers. The new Short Robustos will be sold in 50-count boxes with each cigar priced at $7.00 SRP.
Black Label Trading Company
There wasn't anything new being introduced from Black Label Trading Company, but two limited edition favorites are coming back. Bishops Blend, one of Oveja Negra Brands' most popular limited editions is slated to return this summer. Meanwhile, Morphine will also be making a return. Morphine is one of the oldest limited edition lines in the Oveja Negra Brands' portfolio. It was first released in 2014 and was an annual release until last year when it was given a year off to make room for other offerings. This year Morphine returns in a Corona, Lancero and the 5 x 54 Box Pressed Torpedo Robusto (making its first return since 2016).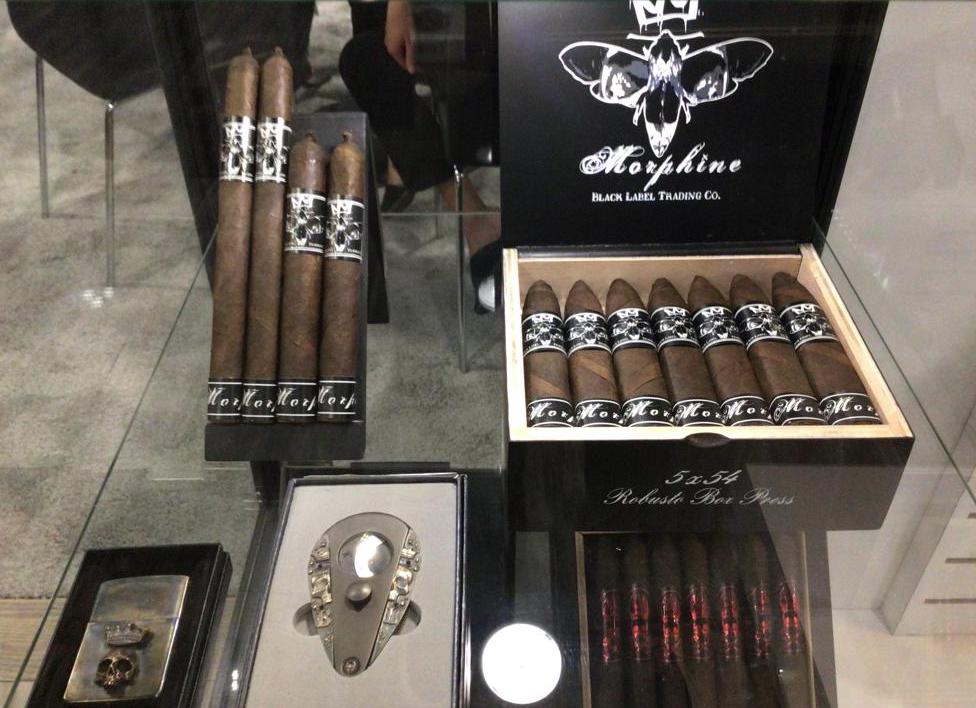 Dissident Cigars
Dissident Cigars unveiled the new limited edition Dissident Molotov. We covered this in a separate PCA Report.
Interview with James Brown, Oveja Negra Brands
Due to age restrictions, you must click Watch on YouTube to watch this interview
Product Reports
Photo Credits: Erron Nielsen for Cigar Coop, except where noted
* Rorschach was added on 8/31. We missed this when the covered the booth.