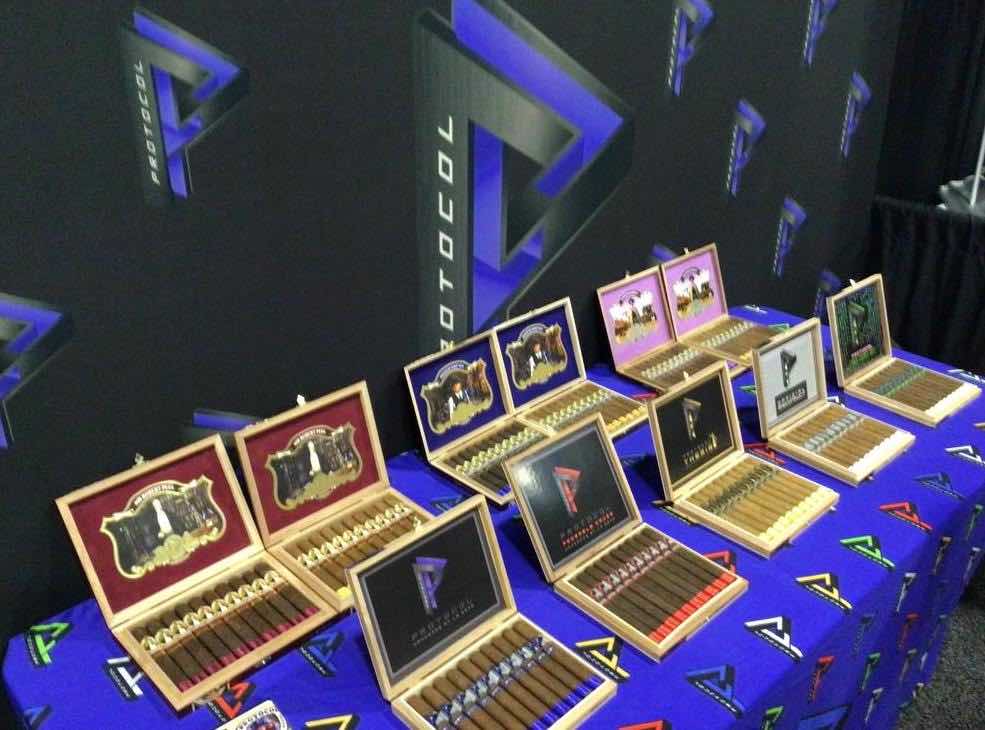 For 2022, Protocol Cigars returned to having its own booth at the Premium Cigar Association (PCA) Trade Show after sharing the Espinosa Cigars booth the past few years. While Protocol Cigars has also had its own booth in the past, it was always in close proximity to the Espinosa booth. This year, Protocol was on the other end of the Trade Show floor. Protocol continues a very strong partnership with Espinosa and La Zona cigars. This year, there are a couple of new releases coming through the Espinosa/La Zona connection. One is the sixth installment of Protocol's core series, and the other is the fourth installment of the Protocol Lawman Series. Because the packaging was delayed, Protocol was unable to show the finished versions of these new releases at this year's Trade Show. At the same time, Protocol proudly displayed the eleven blends it currently makes.
The new addition to the core series will be the Protocol Crime Scene Unit. This goes back to the roots of Protocol and is intended to deliver the boldest cigar in the portfolio to date. The company's strongest/boldest cigar was its original release, Protocol Blue. While Protocol Blue is a Habano, Crime Scenes Unit is a Maduro. It is slated to be released in one size – a 6 1/2 x 50 Toro. Pricing is set around the $10.00 range.
Protocol Phoebe Couzins is the fourth installment of the Protocol Lawmen Series. The Protocol Lawmen Series pays homage to those men and women in law enforcement who work hard fighting criminals. Last year Protocol introduced Protocol Bass Reeves to honor Bass Reeves, the first black U.S. Marshall.  Phoebe Couzins pays homage to the first female appointed to the U.S. Marshall service. Like the previous installments, Protocol Phoebe Couzins will be available in a natural and a maduro. It is being released in a 6 x 52 box-pressed Toro. Both cigars will be Nicaraguan puros. While the packaging was not on display, the company says it will have pink incorporated into the design. Production comes out of AJ Fernandez's San Lotano factory. Pricing is set around the $12.50 range.
Also seen at the Protocol booth was the Protocol F-Train. This is a cigar developed for Johnny Smokes Uncut social media cigar group. It was originally released to New Tobacco Village in Pennsylvania, but a limited amount of these cigars were made available for national release and could be ordered at the PCA. F Train is a Nicaraguan puro highlighted by a Nicaraguan Habano Rosado wrapper. It is available in one size -a. 5 x 52 Robusto. It is sold in ten-pack bundles with pricing set at $95.00 per bundle.
Interview with Juan Cancel and Kevin Keithan, Co-Owners of Protocol Cigars
Due to age restrictions, you might have to click on Watch on YouTube to play the video:
Product Reports
Photo/Image Credits: Erron Nielsen for Cigar Coop, unless otherwise specified