For the 13th year, the Cigar Coop brand will be providing coverage of the Premium Cigar Association (PCA) Trade Show and Convention. This is also the 13th consecutive trade show we are covering and are proud to be a part of a very small group of media to say that. Our four-part series for the 2023 PCA Trade Show has you covered whether you are going to the show or following from home.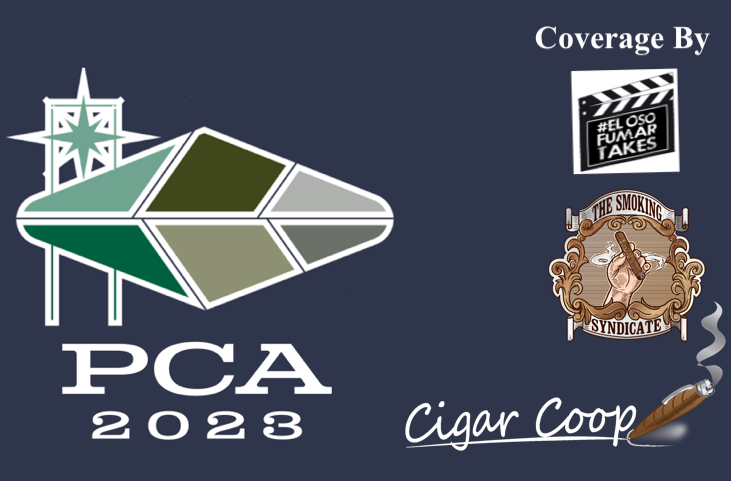 I'm not sure if people saw this coming or not.  Altadis USA and Forged Cigar Company are my co-selections for my prediction of "Company of the Show."
In 2018 I started a tradition on Cigar Coop of selecting one company that I felt would be poised to have a big trade show. This has often been judged on product innovation and building momentum going into the show. This year, it's changed. First up as you can see there are two companies selected. Second, as you will see, product innovation was not the deciding factor here.
As I started evaluating candidates I would designate for this honor, I really wasn't seeing a company stand out over the others. I didn't want to get into the game of who had the most releases. I was looking for something more intangible. That intangible was the fact that two of the biggest cigar companies in the world were returning to the PCA Trade Show for the first time since 2019. Those companies are Altadis USA and Scandinavian Tobacco Group (STG). STG will be represented by the Forged Cigar Company division. More on that later.
These are big companies with big sales teams that will write plenty of orders at this trade show. Even though General Cigar won't be there for STG, Forged will carry its weight. Like anyone, I get giddy over a sexy limited-edition cigar, but there is nothing more important than orders being written at a trade show.
Second, call me a romantic, but it's great to have heritage brands back at the PCA Trade Show. These brands include:
H. Upmann (Altadis U.S.A.)
Henry Clay (Altadis U.S.A.)
La Gloria Cubana (STG/Forged)
Montecristo (Altadis U.S.A.)
Partagas (STG/Forged)
Romeo y Julieta (Altadis U.S.A.)
Trinidad (Altadis U.S.A.)
There are also newer brands like Diesel and Aging Room Cigars that are returning as well.
Both companies are launching products at the show. Both companies are taking different approaches to what is being launched. Unless a surprise is pulled, most of Altadis USA's releases are out. Altadis' big release is the Montecristo 1935 Anniversary Diamante. This has seen a small release to Casa de Montecristo and now will be generally available. There is also the Aging Rook Quattro Nicaragua Sonata that just hit the market that will get considerable attention. The Diamonte-Sonata combination is intriguing. These are sequels to two of the most critically acclaimed releases by Altadis – the Montecristo 1935 Anniversary and the Aging Room Quattro Nicaragua. Both cigars got the big ranking from Cigar Aficionado with #2 for Montecristo and #1 for Aging Room. Ironically this is the first PCA Trade Show where Altadis can boast about these high rankings.
Forged has a few things that are intangible. First, this is the first PCA Trade Show since STG spun off Forged from General and created a separate distribution company. Forged has benefited from bringing the acquired Alec Bradley and Room101 brands into this portfolio. Now we get to see Forged at a PCA Trade Show for the first time. We also get to see Alec Bradley for the first time at a trade show post-acquisition.
Forged has been slowly making product announcements over the past few weeks. One interesting note is that there are multiple releases that are targeting under $10.00. Forged has done a good job at spreading the love among its brands.
Finally, in the past, I've limited "Company of the Show" to one company. While that changed this year, I envision this more as the exception than the norm going forward.