---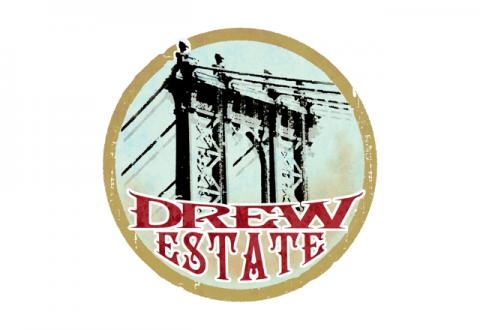 This year, there will be one company that will be the talk of the show – and it's a company poised to have what could be its biggest IPCPR to date. That company is Drew Estate.
Nearly four years ago, Swisher International acquired Drew Estate. At the time, the reaction was polarizing and many wondered if Drew Estate would ever be the same again. While in a lot of ways Drew Estate is a different company, I felt from my vantage point, Drew Estate did a very good job at preserving the culture it built. However, Drew Estate didn't rest on its laurels and made a series of management changes internally – including bringing in a new CEO in Glenn Wolfson and Jonathan Drew returning as the President.
Fast forward to 2018, the company has fired on all cylinders going into the IPCPR Trade Show. This was supplemented with a strong effort by both executive management and marketing teams.
There are five reasons why Drew Estate will shine at the 2018 IPCPR Trade Show:
1. Product Innovation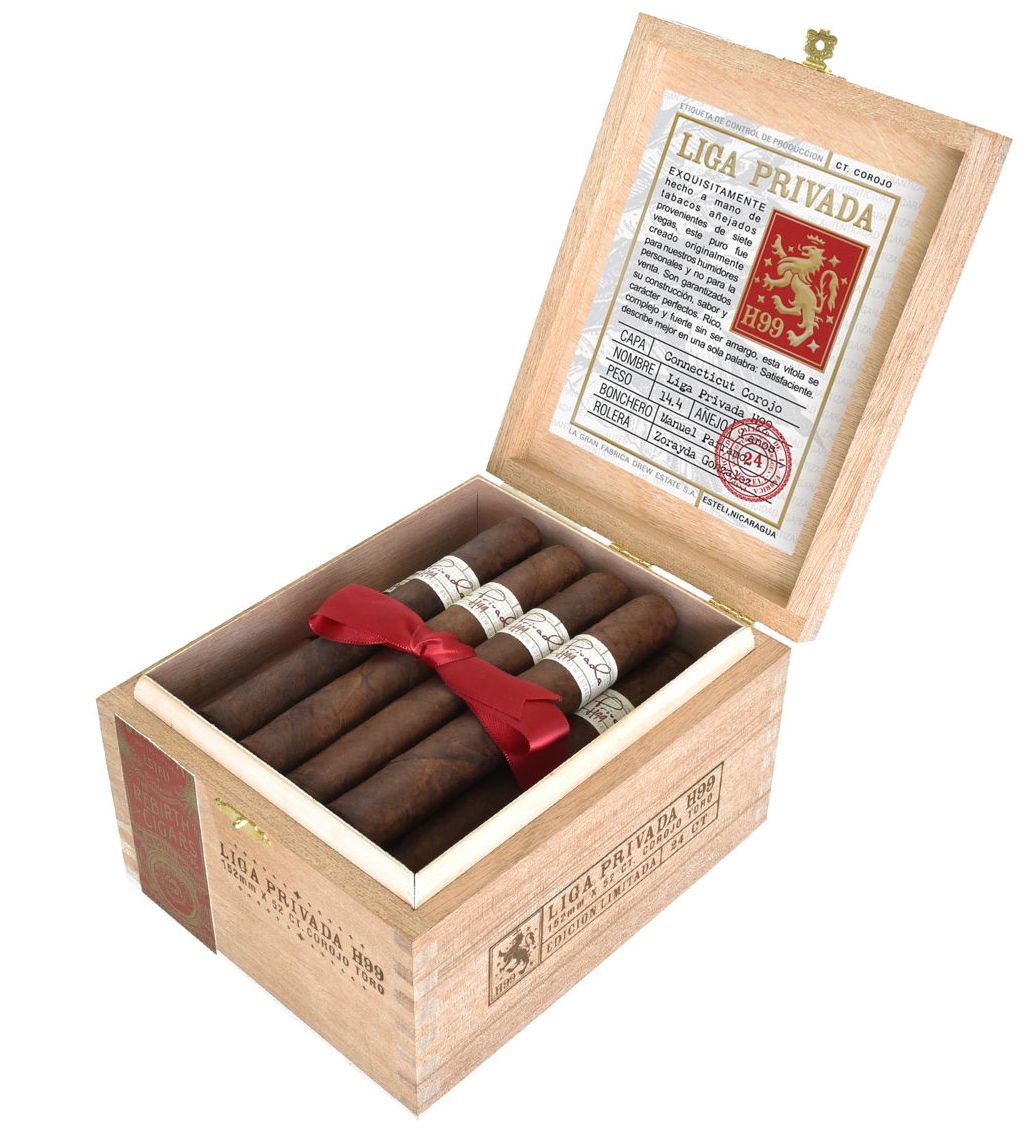 Drew Estate has always prided itself on being an innovator, and no doubt going into the 2018 IPCPR Trade Show, innovation is alive and well. The company is introducing a Corojo and Criollo wrapper grown in the state of Connecticut for its Liga Privada H99 Connecticut Corojo and Liga Privada – 10 Year Aniversario releases – a region not known for growing those types of wrappers.  These two innovations are center stage for two of Drew Estate's most high-profile releases in a long time. And it's not just Liga Privada – there are other things that might seem small like putting a sweet tip on its Kentucky Fire Cured brand (i.e. Kentucky Fire Cured Sweets).
2. Tuning Up Existing Brands
It's hard to believe that the original Herrera Estelí and Undercrown Maduro are turning six and seven years old respectively this year. As such, sometimes as brands mature, they made need a little tweaking. These are exactly the two areas where Drew Estate is doing some tweaking in the portfolio.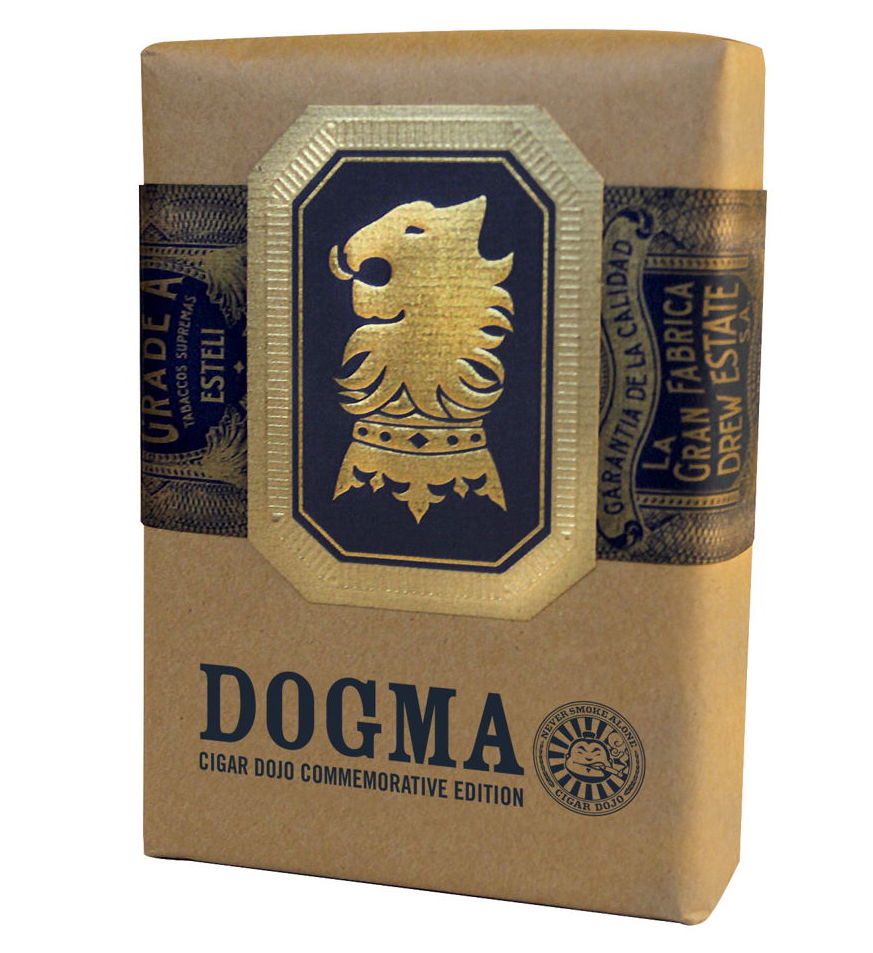 First, Undercrown has certainly been a popular line in the last three years with the launch of Undercrown Shade and Undercrown Sun Grown. One could certainly argue with Shade and Sun Grown in the spotlight, the original Undercrown Maduro took a back seat. This year, Drew Estate decided to bring the Undercrown Dogma into the fold. It's a box-pressed version of the Undercrown Maduro with a modified blend that was originally a collaboration with Cigar Dojo and Smoke Inn. The Dogma sold out quickly and has achieved somewhat of a cult status. Drew Estate will make this available to its Drew Diplomat retailers and is just what the doctor ordered.<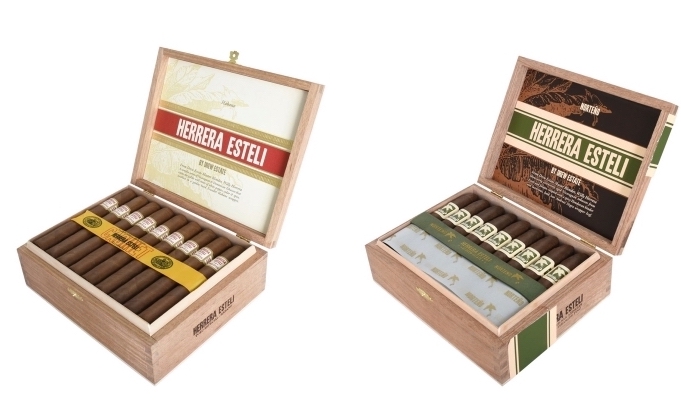 Herrera Esteli is getting a little polishing and some new additions. The original Herrera Esteli line is now the Herrera Esteli Habano. The Norteño officially joins the Herrera Esteli family as it is now the Herrera Esteli Norteño. Herrera Esteli Miami returns with five new sizes as an ongoing production. Finally, there is a new Brazilian Mata Fina Herrera Esteli called Herrera Esteli Brazilian Maduro. All of the Herrera Esteli brands will now have common packaging and each will have a unique color scheme on the bands.
3. A New Brand to Fill a Gap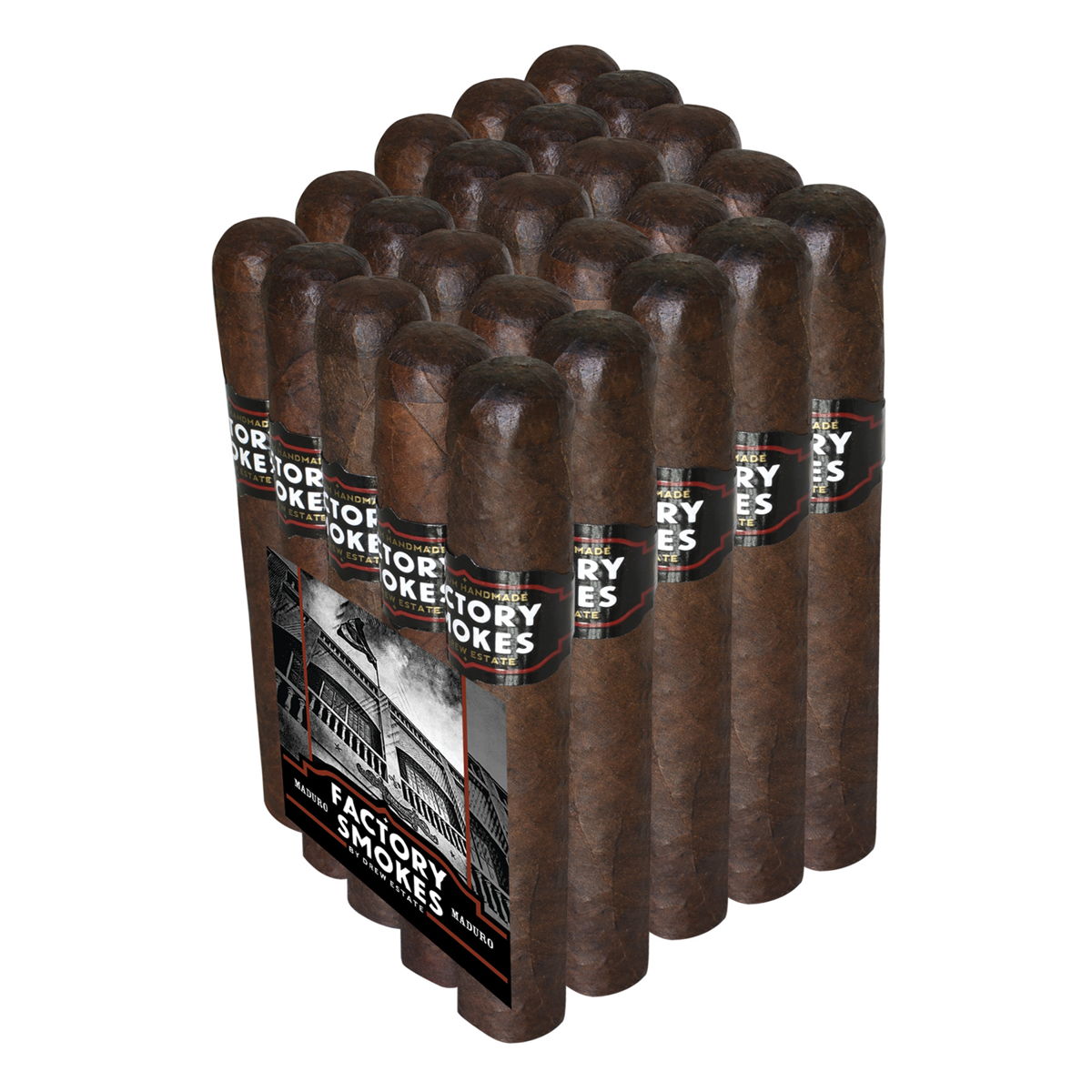 Seven years ago Drew Estate created Undercrown to have a regular production offering alongside Liga Privada. Six years ago, the original Herrera Esteli was created to introduce a Cubanesque style smoke into the Drew Estate profile. This year, Drew Estate has a new value-priced brand called
Factory Smokes
. This is a space that Drew Estate hasn't played in until now.As Jonathan Drew said when Factory Smokes was announced, "Bundles aren't glamorous and the efficiency required to produce them effectively is not easily reached, which is why there aren't a ton of entrants innovating in the value-priced space." He definitely is right here, but Drew Estate is going for a large market here as there are plenty of consumers looking for an inexpensive smoke.
Factory Smokes introduce 20 to 25-count bundles in the $36.00 to $52.50 range – which is going to be a magnet for the value-priced cigar smoker. If these cigars deliver as promised, this could be a potential monster for Drew Estate.
The bottom line – this brand wasn't created for the sake of creating a brand.
4.  Liga Privada's 10th Anniversary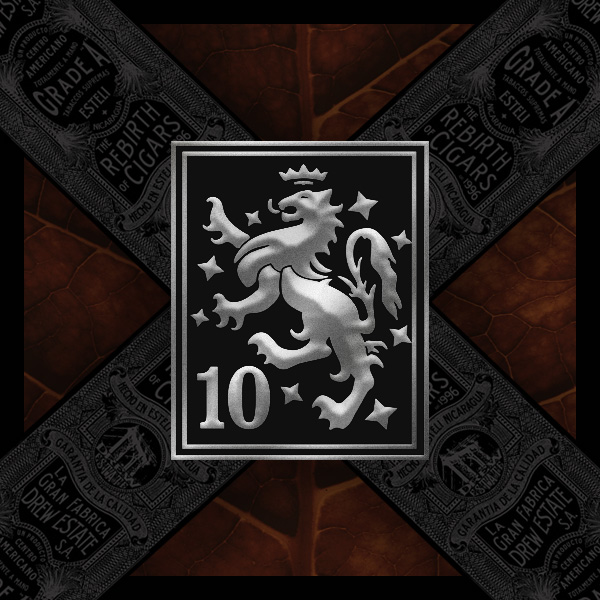 One can argue that Liga Privada is to Drew Estate what OpusX is to Arturo Fuente. It's the flagship brand, and Drew Estate is going all out with the Liga Privada H99 Connecticut Corojo and Liga Privada – 10 Year Aniversario releases. While we mentioned innovation at the top, it is important that these releases are tied in with Liga Privada's 10th anniversary. Liga Privada not only introduced a premium cigar into the market, but it was Drew Estate's gateway into traditional handmade cigars. It's an important part of Drew Estate and it's important to celebrate 10 years.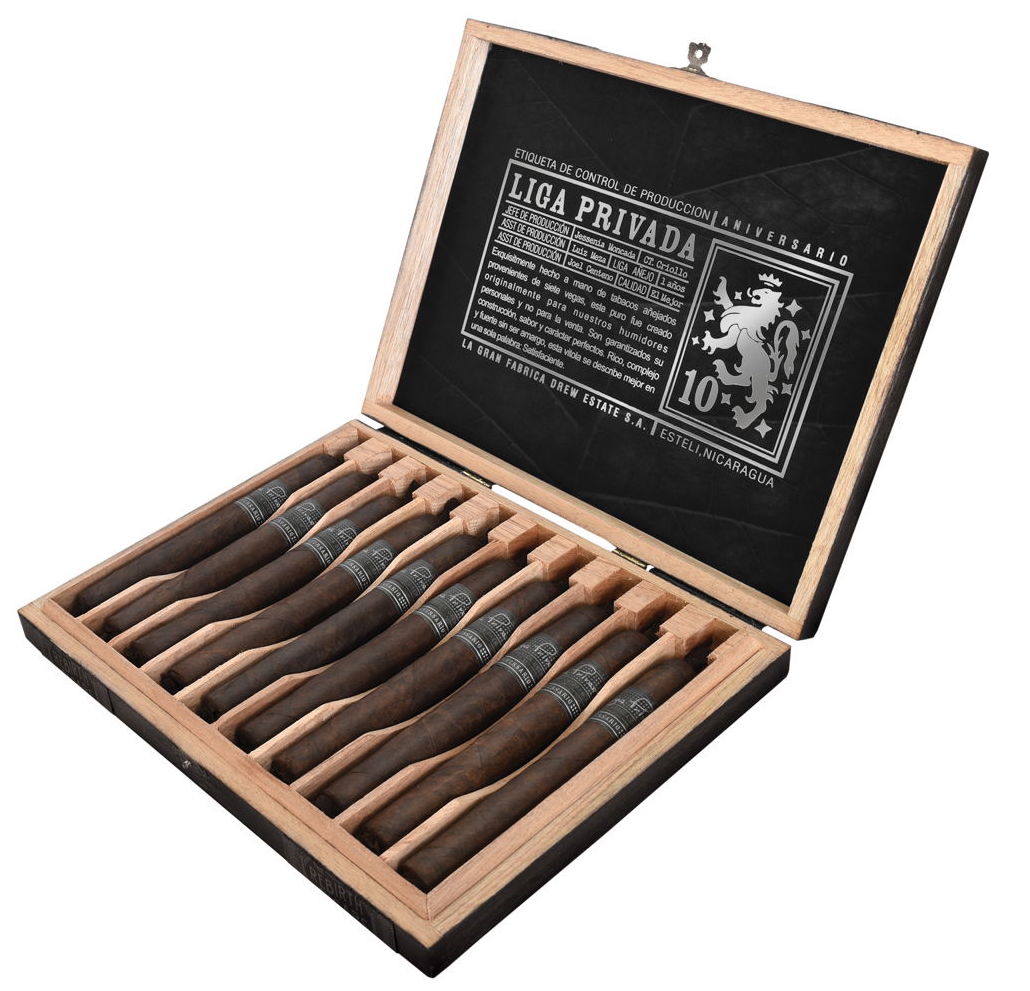 Drew Estate as a whole benefits from celebrating this milestone. The fact they didn't just slap a band on a cigar and call it an anniversary cigar is even more impressive
5 Joya de Nicaragua 50th Anniversary
There have been few success stories where one company handles distribution for another.  One of those success stories has been the Drew Estate/Joya de Nicaragua partnership. It was considered the oddest of pairings when it happened – namely the mavericks of Drew Estate teaming up with the brand of the oldest cigar factory in Nicaragua. However, it's worked and over the years Drew Estate has driven sales and marketing for Joya, and Joya has lent the factory to Drew Estate when needed
Just like Drew Estate is embracing Liga Privada's 50th anniversary, Joya de Nicaragua is embracing its 50th anniversary. They have done a year-long celebration that has included two new releases making a debut at IPCPR – the Cinco Décadas and Joya Silver. There is also the repackaging of Joya de Nicaragua Clasico (going to Santa Clara) and the Joya de Nicaragua Antaño Gran Reserva Presidente TAA Release.<
This isn't a case of Drew Estate riding coattails. It's  Drew Estate benefiting from one of the strongest partnerships the industry has seen over the past decade
Photo Credits: Drew Estate, except where noted.