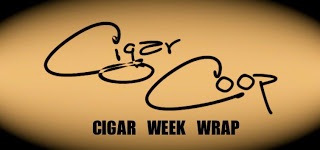 The Cigar Week Wrap is a one stop place to catch up on the activity here at Cigar Coop.  It is a combination of our news reports, cigar reviews, and assessment updates we do throughout the week.  We will throw in a few bonus items from time to time as well. Our intent is to publish once a week on Saturday mornings.  Note: We have decided to label our posts as "Volume 2" to be consistent with the monthly "Editor's Corner".

News and Previews

Legislative News
Arkansas: Governor Mike Beene signed H.B. 1531 into law. This caps the OTP (Other Tobacco Products – which includes cigars) excise tax at 50 cents per cigar.  The legislation passed the state Senate 34-0 as well as the state House 87-1.  Arkansas becomes the ninth state with an OTP excise tax cap on cigars.
California:  The Santa Monica City Council has opposed a bill that would have made it illegal to smoke indoors on a muli-unit property.
FDA: This week an additional two co-sponsors have signed on to HR 792 – making for a total 41 co-sponsors.
Reviews
On this date March 30th..