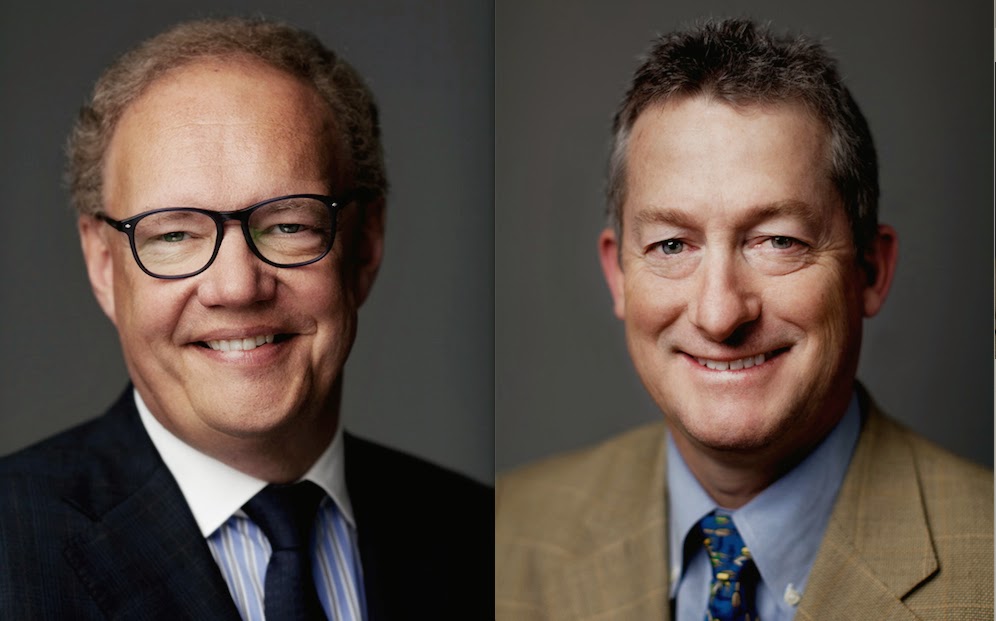 Hans-Kristian Hoejsgaard (Left) and Jim Young (Right)
(Photo Credit: Davidoff.com)
This year, we introduce a new category for our Year in Review postseason recognition.  The award is for Cigar Industry Person of the Year.  The purpose of this award is to look at a person(s) in the cigar industry that has made a significant impact, for better or for worse.  This could be over the course of a year, but we also reserve the right to look at this from a lifetime achievement perspective.  This year, the recipients are from Oetteinger Davidoff: Davidoff Chief Executive Officer Hans-Kristian Hoejsgaard and Davidoff North America President Jim Young.

The selection of Hoejsgaard and Young are because of the results the duo has had with establishing and executing on Davidoff's strategy of seed to store.  Davidoff is perhaps working "seed to store" like no other company has done before. Simultaneously, this is a duo that champions innovation as a part of its strategy. This innovation has done a great job at addressing the "What's New?" segment of the cigar market while keeping true to the core tradition of Davidoff.
The list of achievements this company has done has been outstanding. While it's totally fair to say the wheels have been in motion for some time now, it just seemed like Davidoff pushed all of the right buttons in 2014.  While some of the changes happened prior to 2014,  it would have been easy for Davidoff to rest on its laurels.  Instead it has been full stream ahead.
While an argument can certainly be made for Davidoff being Cigar Company of the Year, the leadership of Hoejsgaard and Young cannot be overlooked.  There is no doubt this success is because of the solid leadership coming from this duo at a worldwide level, and in the all-important U.S. market.
Davidoff Nicaragua was by far the most talked about cigar in 2013.  This was an innovative project in terms of bringing a Nicaragua puro with Davidoff character into the portfolio. The momentum from this project continued strongly in 2014, and the company added a new Diadema Fina frontmark to the line.
Camacho underwent a revolutionary transformation in 2013.  This continued in 2014.  Retailers continue to order and re-order Camacho.
Camacho's Board of the Bold haven't just launched with star-power, but produced cigars that back it up.  Matt Booth, Mike Ditka, and Rob Weiss are well-known names, but their cigars are backing their reputations – becoming some of the best enjoyed cigars by consumers.
In 2014, the framework was established for revamping the Avo and Winston Churchill lines in 2015
In 2014, the company launched the VivaDavidoff campaign.  This campaign was brilliant in paying homage to classic Davidoff cigars such as Davidoff Aniversario No. 3, Davidoff 2000, and Davidoff Special R.  In a market where its "What's New?", the company built a whole campaign to some of its best work.
The company's Yamasa tobacco isn't just any proprietary tobacco leaf  -it's a game-changing one.  It's been used on some of the best blends the company has done.  It's a testament to innovation not just being in marketing, but right down to the tobacco level.  The company is continuing to invest in exploring many new hybrid seeds.
The commitment to its appointed merchants is second to none.  This is evident not just from its Golden Band Awards program, but also the establishment of more Davidoff lounges and planned new Davidoff flagship stores.
The company has executed on its Davidoff Art Initiative and has incorporated it into its overall strategy.  The Davidoff Art Initiative helps promote and develop emerging artists through grants and residencies.  The program also provides an opportunity to create artwork for packaging among Davidoff products.
The Davidoff portfolio has proven to be one of the most diverse in the industry. Cigar Consumers talked about everything from the value-priced Room 101 Big Payback to the recently released $500.00 Davidoff Oro Blanco.
The company has maintained solid factory operations in the Dominican Republic and Honduras.
Hoejsgaard recently commented the company has plans to for big social media initiative going forward to fully engage its consumer base.
Hoejsgaard joined Davidoff in 2011.  He serves as its Chief Executive Officer and recently has been appointed to the board of directors of Davidoff's parent company, Oettinger Davidoff.  Prior to joining Davidoff, he served as President and CEO of Timex.Young also joined Davidoff in 2011.  He serves as the President of Davidoff, North America.  Prior to joining Davidoff, he was President of Diageo Guinness USA.