Agile Cigar Reviews replace what we termed "Assessment Updates". The concept is the same, but the name is different. Agile Cigar Reviews use a lightweight, shorter format. These will never take the place of our comprehensive reviews. They are only used on blends we have previously assessed. This might be a blend we are re-scoring or providing a score for a first time. It might be a blend we are looking at in a different size. Today we look at the Roberto P. Duran Signature Santo Cardenas Edition. This is a cigar we previously assessed back in October 2015.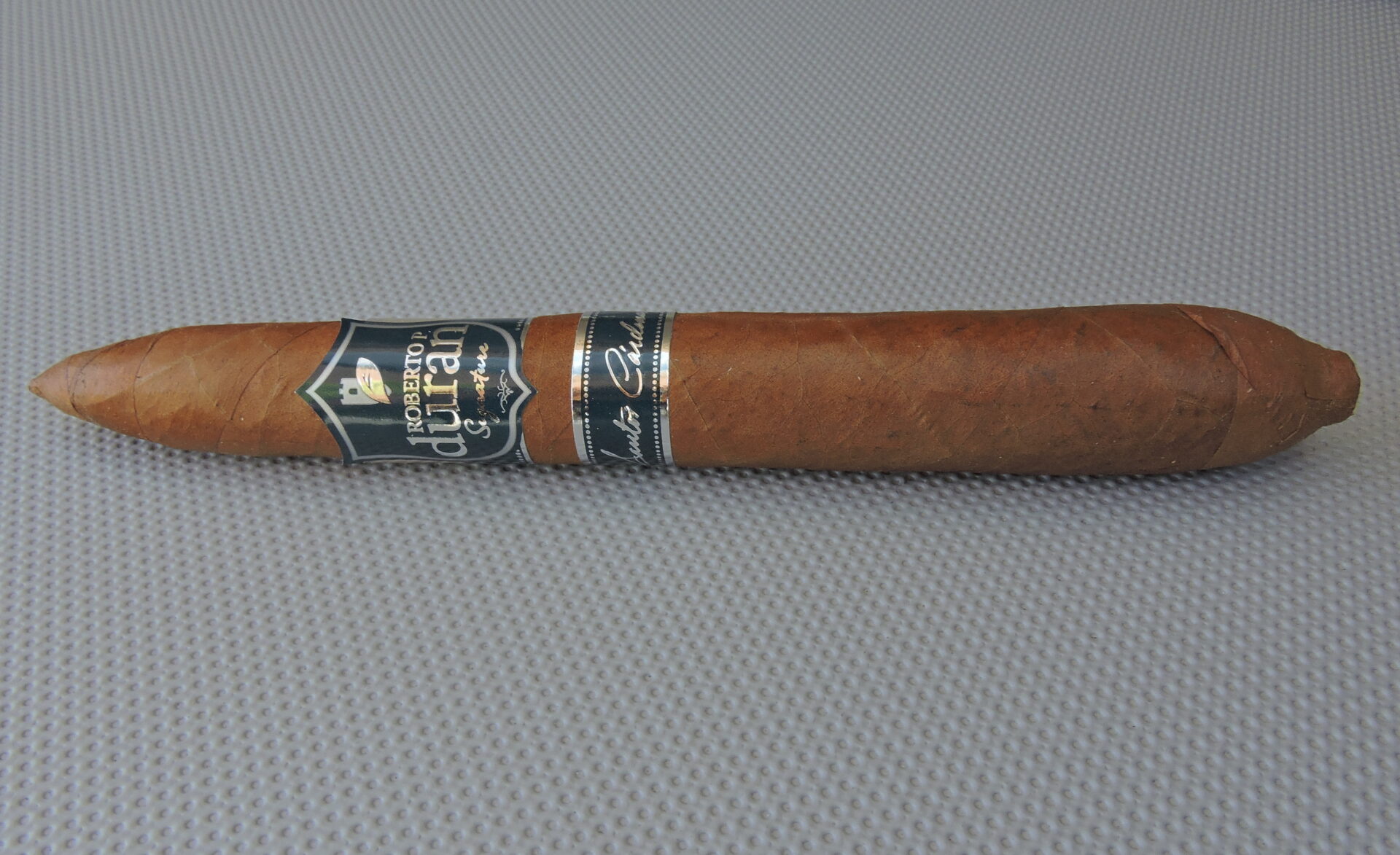 Wrapper: Ecuadorian Habana Criollo
Binder: Not Disclosed
Filler: Not Disclosed
Country of Origin: Nicaragua (Nicatabaco SA)
Salomon: 7 1/4 x 57
In 2015, Duran Cigars announced Cristano "Santo" Cardenas as its new master blender. Over a career that spanned 55+ years, Cardenas built what can only be considered a legendary career as one of Cuba's key cigar rollers and blenders. Cardenas' first project with Duran Cigars would be a limited edition line extension to the Roberto P. Duran Signature line in the form of a salomon known as the Roberto P. Duran Signature Santo Cardenas Edition. It was a cigar that was launched at the 2015 IPCPR Trade Show and shortly afterward was released to select retailers.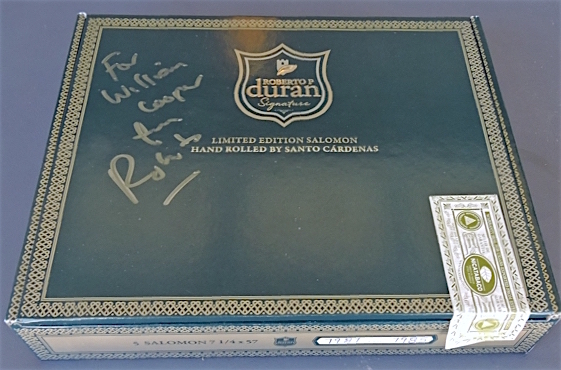 Not only did the Santo Cardenas Edition mark Duran Cigars' first true limited edition, but it would also mark the first salomon vitola the company would release as well as the company's first coffin-packaged release. Each salomon was rolled personally by Cardenas and is housed in an individual coffin. Each of the coffins is individually numbered and personally signed by Cardenas. The coffins are packaged five per box with a total of 600 boxes (3,000 cigars produced).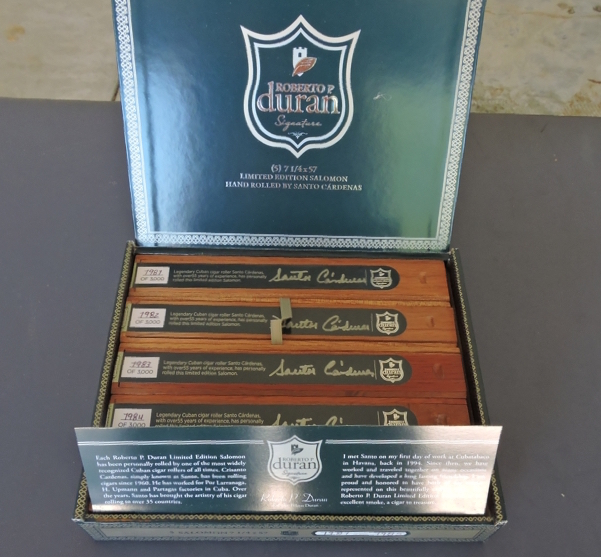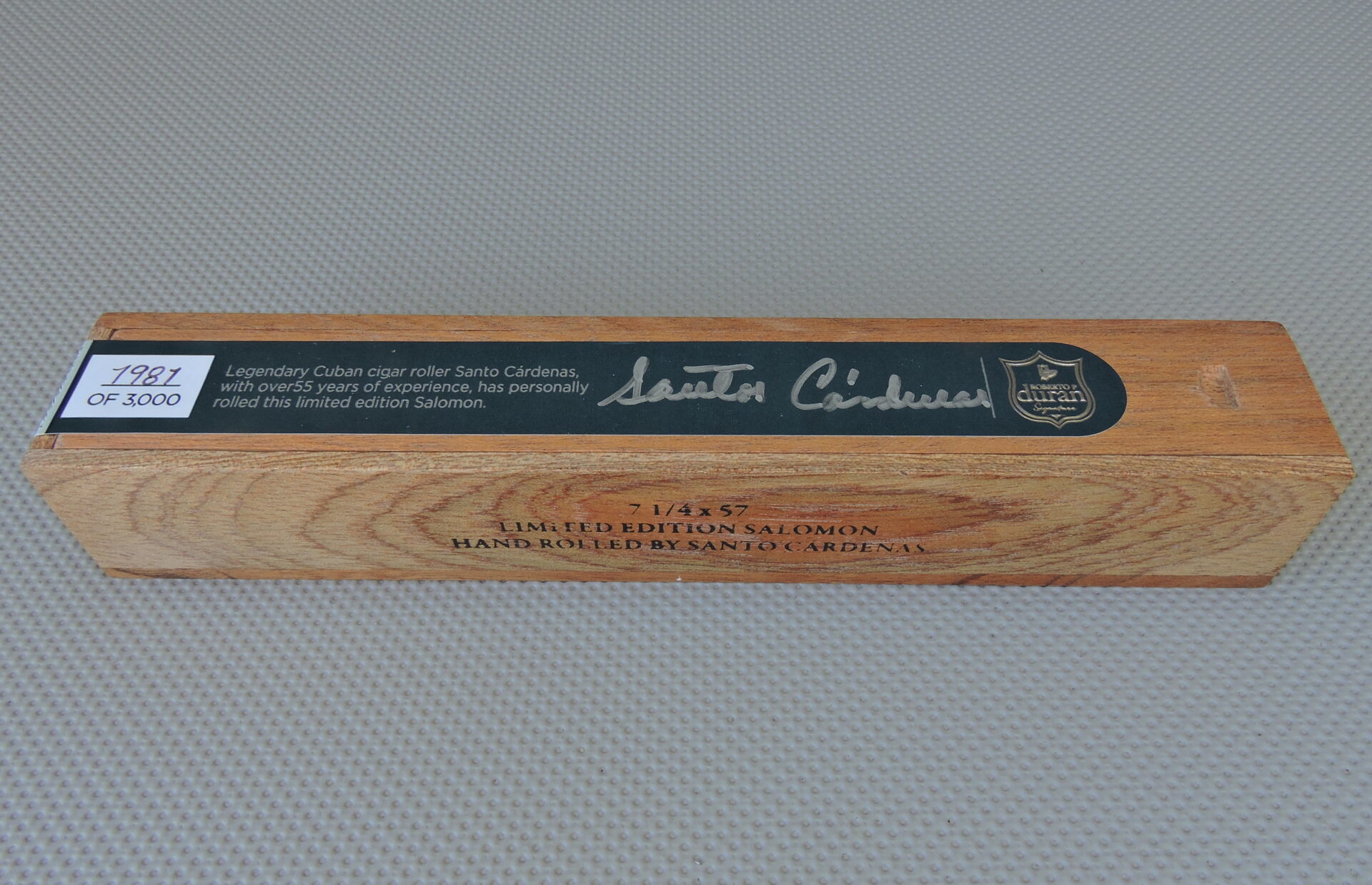 The blend for the Santo Cardenas Edition is a tweaked version of the Santo Cardenas Edition and features an Ecuadorian Habana Criollo wrapper that was grown at owner Roberto Pelayo Duran's plantation located in Ecuador. The salomon itself is a full-sized one – measuring 7 1/4 x 57.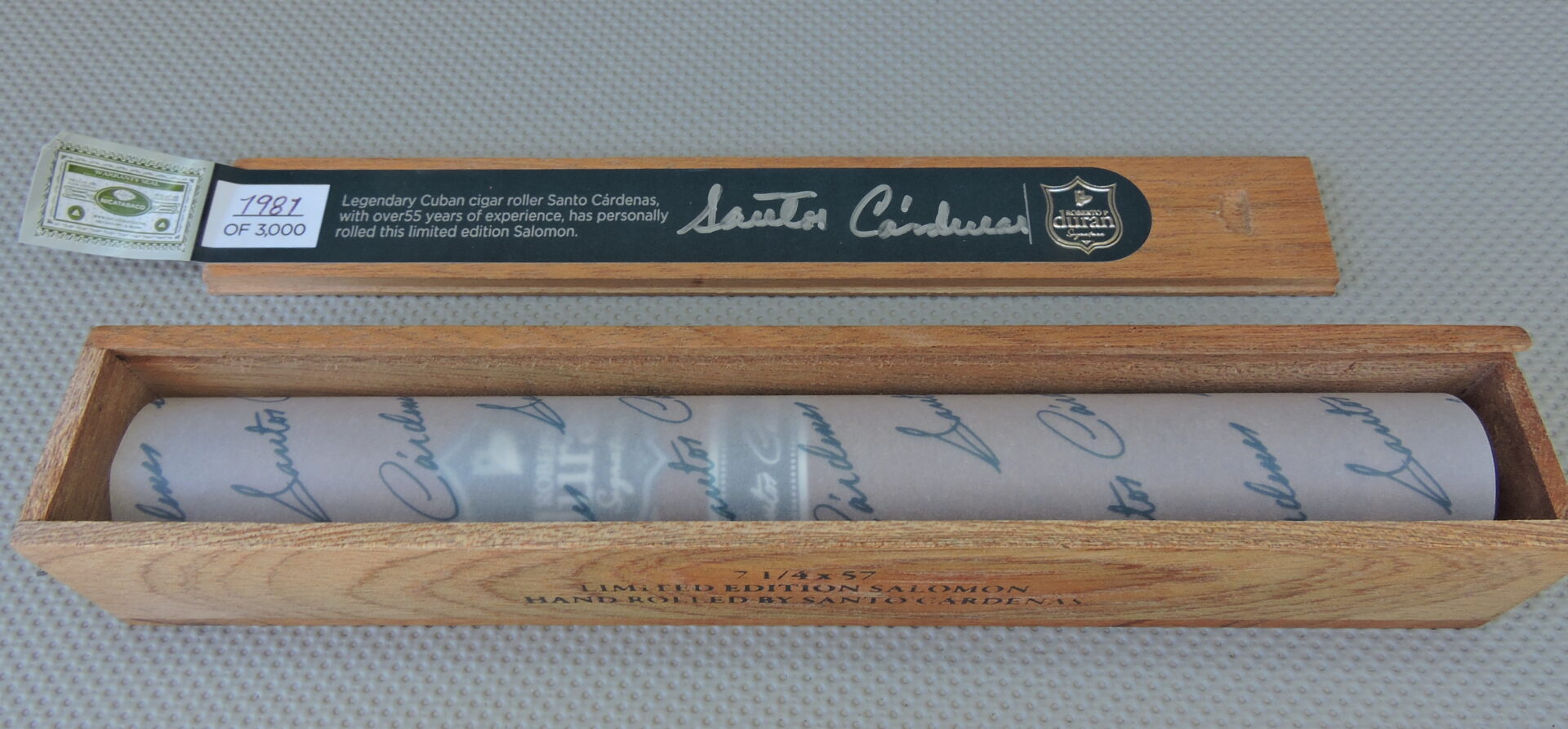 The Roberto P. Duran Santo Cardenas Edition stared out with notes of cedar, nut, black pepper, natural tobacco, and apricot. I found the apricot flavors to stand out early on. As the cigar experienced progressed, the natural tobacco notes fused with the apricot notes and that combination eventually morphed into a nougat-like flavor. By the last third, I found the cedar and pepper components to be more prominent. Flavor-wise the Santo Cardenas Edition started out medium-bodied before progressing to medium to full. These flavors were countered by medium strength. Meanwhile for a salomon , the Santo Cardenas Edition burned and drew like a champ.
Overall, I found the Roberto P. Duran Santo Cardenas Edition to be an outstanding offering. It's a cigar that I first smoked nine months ago, and it is one that continues to perform at a high level. It offers the total package of great flavor, complexity, and excellent construction.  At $25.00, the Santo Cardenas Edition is not an inexpensive cigar, but its certainly a special occasion cigar.  I would recommend this to either an experienced or novice cigar enthusiast to enjoy. As for myself, this is a cigar I would smoke again. While it does have a higher price point, it does come in 5 count boxes and based on that, it makes this a box worthy selection in my book.
Summary
Burn: Excellent
Draw: Excellent
Complexity: High
Strength: Medium
Body: Medium
Finish: Good
Assessment: 4.0-Box Worthy
Score: 92
References
Original Assessment: Roberto P. Duran Signature Santo Cardenas Edition
News:  Roberto P. Duran Signature Santo Cardenas Edition
Price: $25.00
Source: Cigar Provided by Manufacturer *
Stogie Geeks Podcast: Episode 144, Episode 160
Stogie Feed: Roberto P. Duran Signature Santo Cardenas Edition
Brand Reference: Duran Cigars
* Duran Cigars is a sponsor of Cigar Coop / Stogie Geeks