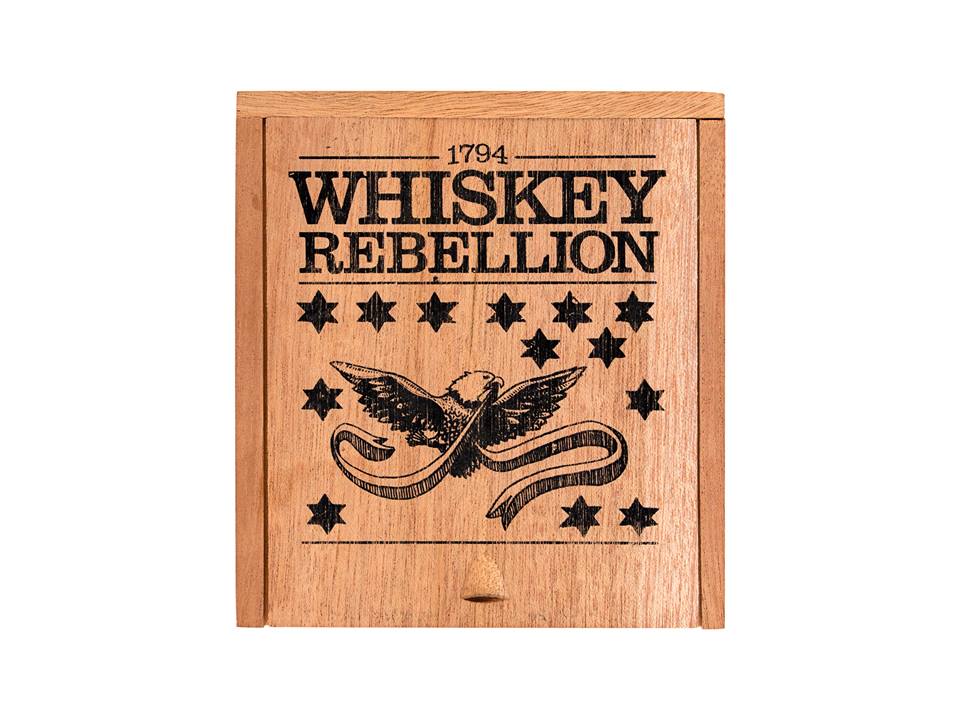 RoMa Craft Tobac is the latest company to team up with Cigar Dojo to produce an exclusive product. Today, the it was announced the Intemperance Whiskey Rebellion 1794 would be a project produced by RoMa Craft Tobac for the Cigar Dojo community. While the cigar is designed as an extension to RoMa Craft Tobac's Intemperance brand, the blend is an all-new one and features a new vitola for the Intemperance line.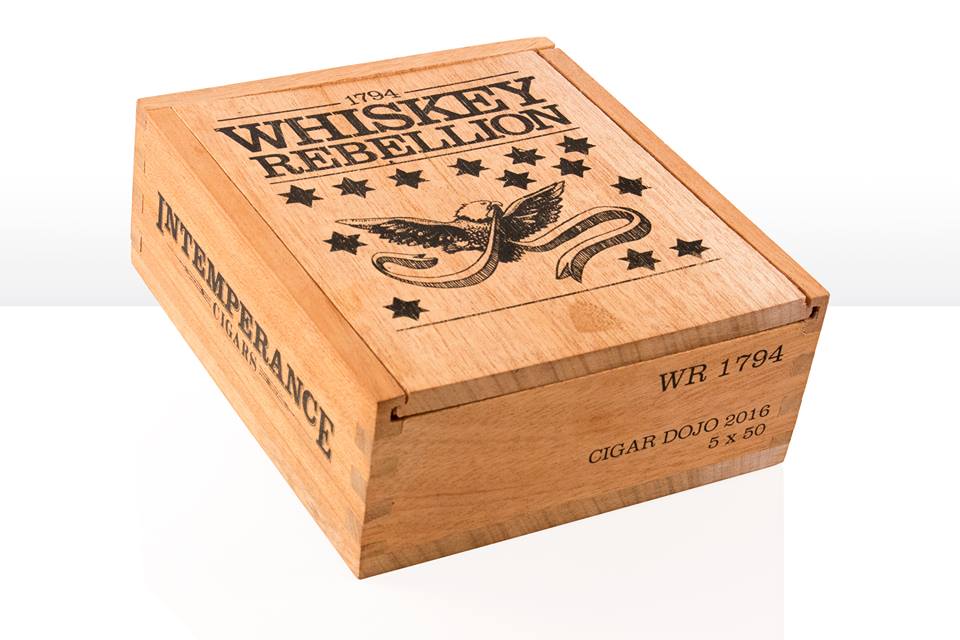 The new Intemperance Whiskey Rebellion 1794 will feature an Ecuadorian Habano Ligero wrapper, Indonesian Besuki binder, and a combination of Nicaraguan and Dominican long fillers. The cigar will be available in one size, a 5 x 50 robusto – a new frontmark to the Intemperance brand. The cigar is described as a full-bodied smoke.

The cigar name pays homage to the Whiskey Rebellion of 1794. It was in 1791 when the first tax on any product was imposed by the United States federal government on whiskey. When farmers in Western Pennsylvania protested the team, this led to the Whiskey Rebellion of 1794.
The concept for the Intemperance Whiskey Rebellion 1794 cigar took place in New Orleans, Louisiana when RoMa Craft Tobac co-owner Skip Martin and the Cigar Dojo crew were enjoying whiskey on a balcony overlooking Bourbon Street.
"When Skip approached me with his idea for the Whiskey Rebellion cigar, I couldn't have been more excited. I love the cigars Skip and Michael (Rosales) produce and tying this release to the Whiskey Rebellion seemed like the perfect fit in today's battle over government overreach," said Eric Guttormson, owner of Cigar Dojo in a press release.
"Intemperance represents the idea that life without pleasure is no life at all. Tobacco. Whisky. In moderation these make life interesting. They are an integral part of many people's quality of life, enjoyed in their pursuit of happiness," commented Skip Martin.
Martin added, "Taxes are nothing new. Taxing vice is nothing new. We can tolerate a certain amount as our quality of life in itself has a value worth securing, however, what we cannot abide is excessive taxes and regulations. This is also nothing new. What the Whiskey Rebellion of 1794 represents, for me, is two things. First, that we must resist tyrannous taxes and regulations, and second that this resistance is not futile. The message that the patriots of the Whiskey Rebellion sent was received. The taxes were ultimately moderated after Jefferson's election. I hope that our rational and logical resistance to the current regime of taxes, regulation, and the anti-tobacco temperance movement will also be successful."
The Intemperance Whiskey Rebellion 1794 will be packaged in 12 count boxes with a total production of 500 boxes. Pricing will be $99.95 per box. The cigar will go onside exclusively to Cigar Dojo members on July 7th through Famous Smoke Shop. Any additional boxes that remain will go on-sale to the general public on July 9th.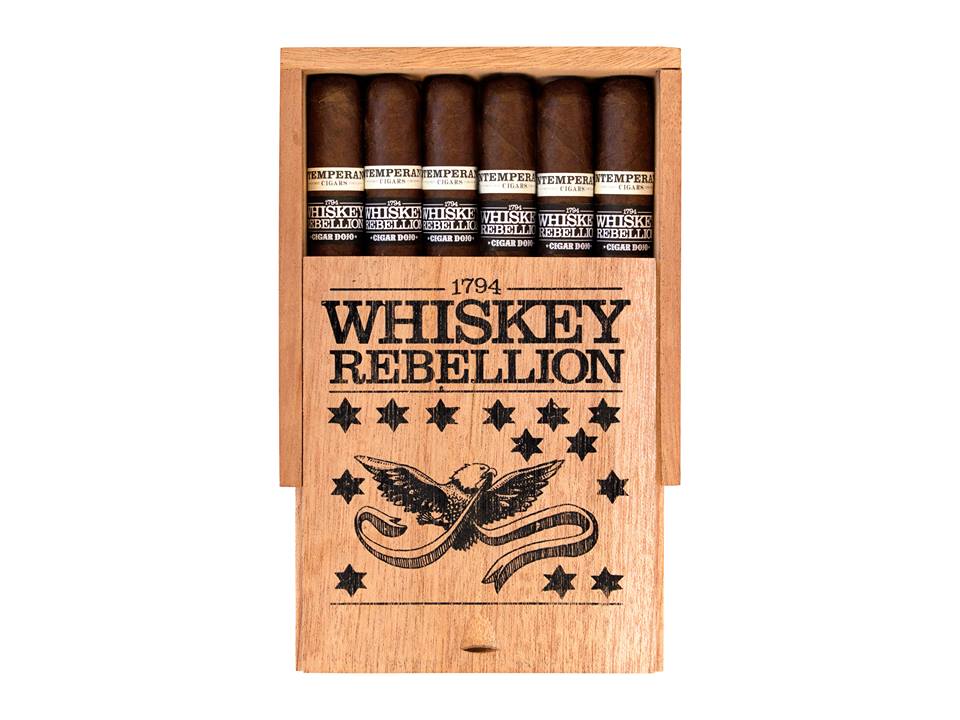 The Whiskey Rebellion is the latest in a series of exclusives where Cigar Dojo has teamed up with various manufacturers. In 2014, Cigar Dojo teamed up with Drew Estate to produce the Undercrown Dogma. Later that year, Cigar Dojo collaborated with Espinosa Cigars on Sensei's Sensational Sarsaparilla. Last year, Cigar Dojo teamed up with Cigar Federation and Viaje Cigars on a project called Throw Down.  MoyaRuiz Cigars has also produced its Nunchuck and Chinese Finger Trap releases as tributes to the Cigar Dojo community.
At a glance, here is a look at the RoMa Craft Tobac Whiskey Rebellion 1794:
Blend Profile
Wrapper: Ecuadorian Habano Ligero
Binder: Indonesian Besuki
Filler: Dominican and Nicaraguan
Country of Origin: Nicaragua (Nica Sueno)
Vitolas Available
The Intemperance Whiskey Rebellion 1794 will be available in one size – a 5 x 50 Robusto.
Photo Credits: Photos supplied by Cigar Dojo