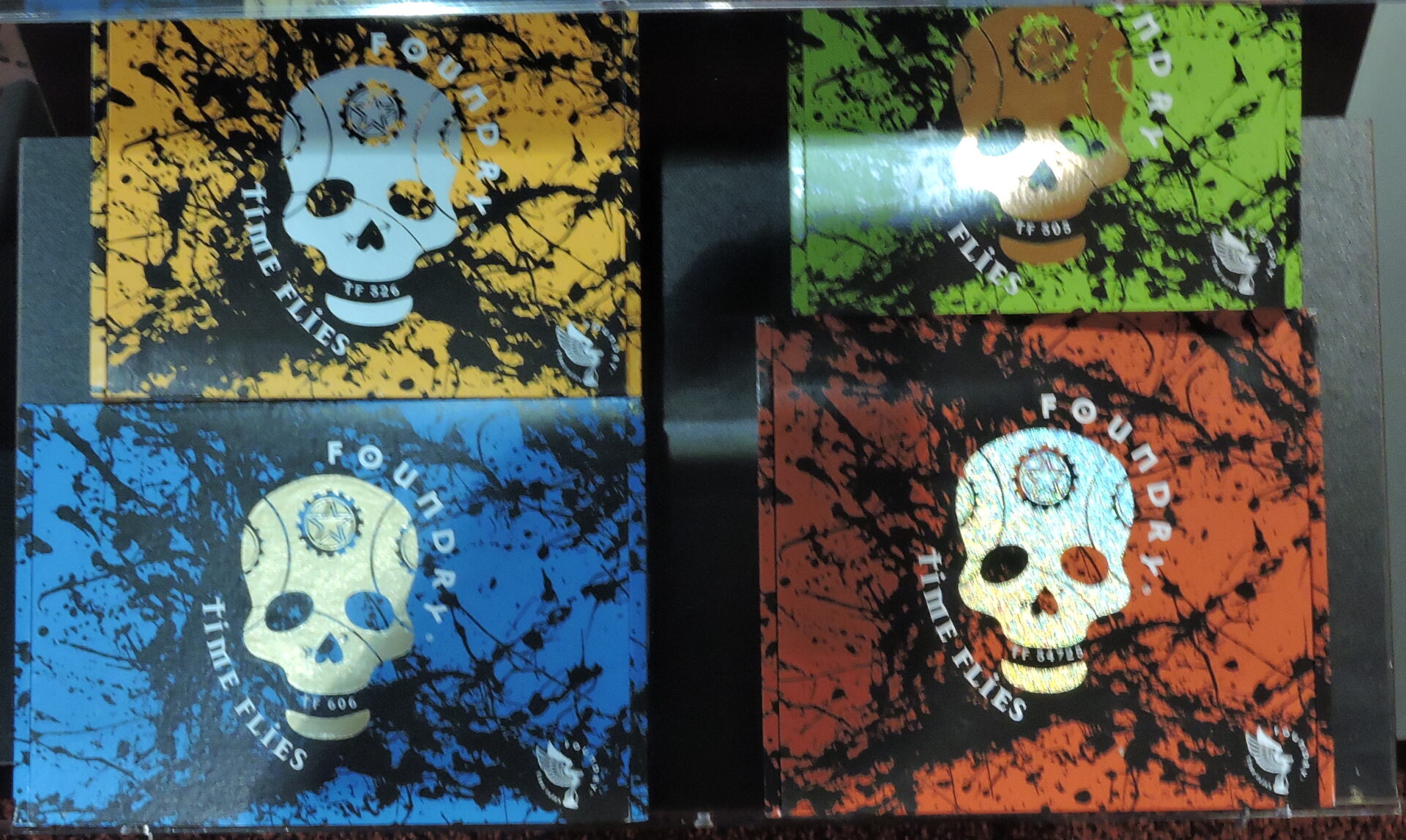 "There are so many beats in your chest and only so many words in your head".  That is what General Cigar's Michael Giannini said to me this year at the 2016 IPCPR Trade Show when it came to this year's theme for Foundry Tobacco Company's releases. It was this theme that led him and Foundry into pursuing collaborations and the result is Foundry's 2016 release called Time Flies.
Foundry was established as a boutique-style subsidiary under General Cigar back in 2012. In the past year, Foundry has made two key moves. First up, Justin Andrews, formerly of Lou Rodriguez Cigars joined the creative team reporting into Giannini. Secondly, Foundry has begun to incorporate brokers in a move to develop its own unique sales force.
Foundry has always been known to be creative sandbox under the General brand. While this year was no exception, the collaborations provided another avenue to accomplish this – thus it was a way to obtain those additional "beats and words". As far as the collaborations, front and center was one with A.J. Fernandez. Fernandez worked to develop several blends for the Time Flies series. In addition, Fernandez worked with General's Hoyo de Monterrey brand to develop Hoyo La Amistad.
"I couldn't think of anyone else I would rather have collaborated on this project with than AJ Fernandez. Not only does AJ have great talent and passion for tobacco, but he also has the energy of someone we'd all love to sit and enjoy a cigar with. To me, that's what Time Flies is all about – enjoying a cigar while enjoying the company of the people around you," commented Giannini in a press release.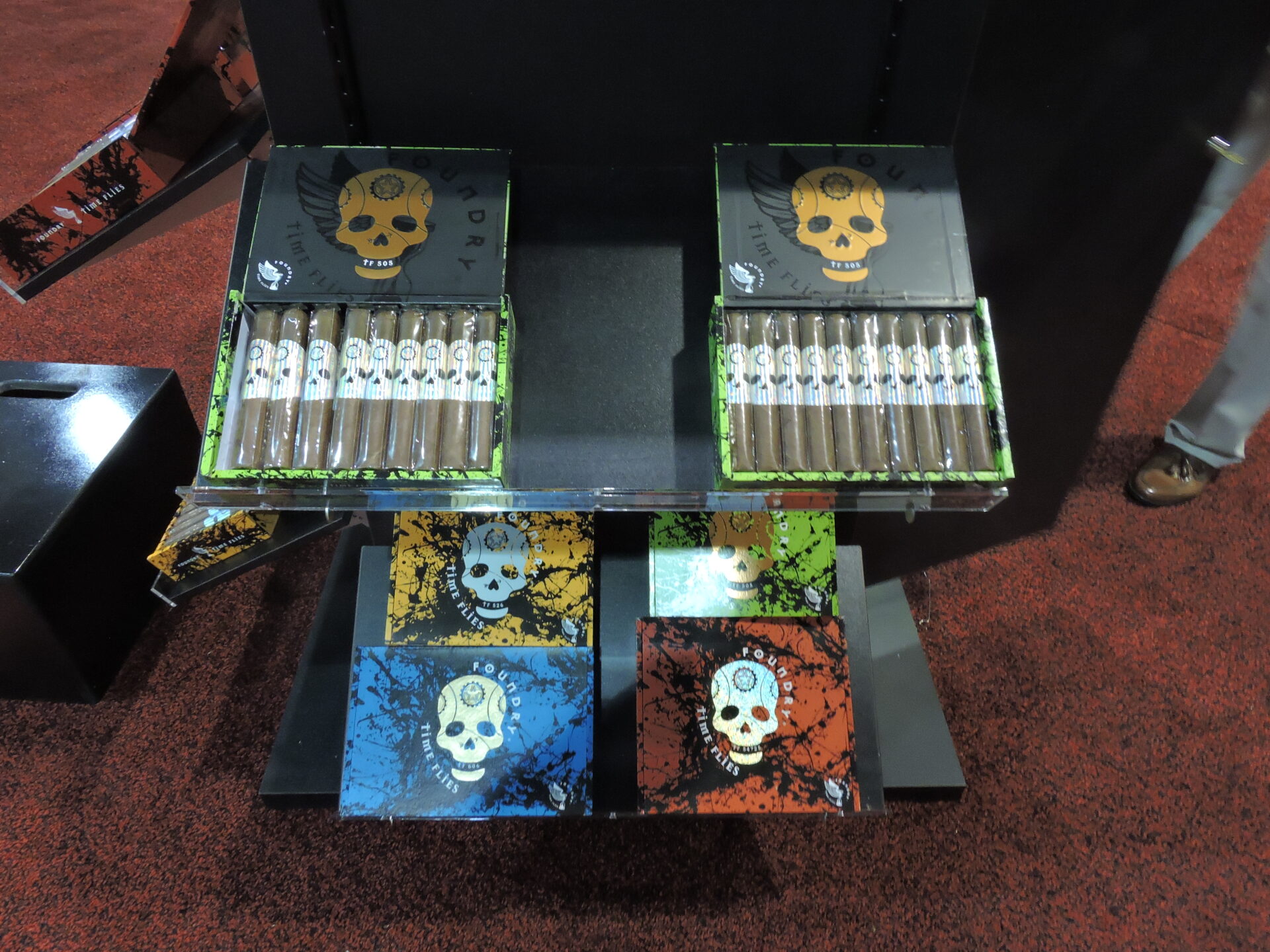 In terms of the blends, there will be a regular production offering of Time Flies. The cigar consists of a Habano 2000 wrapper over Nicaraguan binder and fillers featuring Corojo and Criollo tobacco grown on Fernandez's farm. The cigar is available in four sizes. Each size has a different color for its packaging: Green (Robusto), Yellow (Toro), Red (Churchill), and Blue (Gigante).
Each of the bands of the regular production Time Flies has a holographic style band. One the back side of the band are a list of expressions tied to the theme of "Time Flies". These expressions include: "leave a mark", "start something", "call your mother", "finish something", "help a friend", "make a statement", "set a goal", "raise eyebrows", "challenge the world", "exceed expectations", "just go", "seize the day", and "expect the unexpected".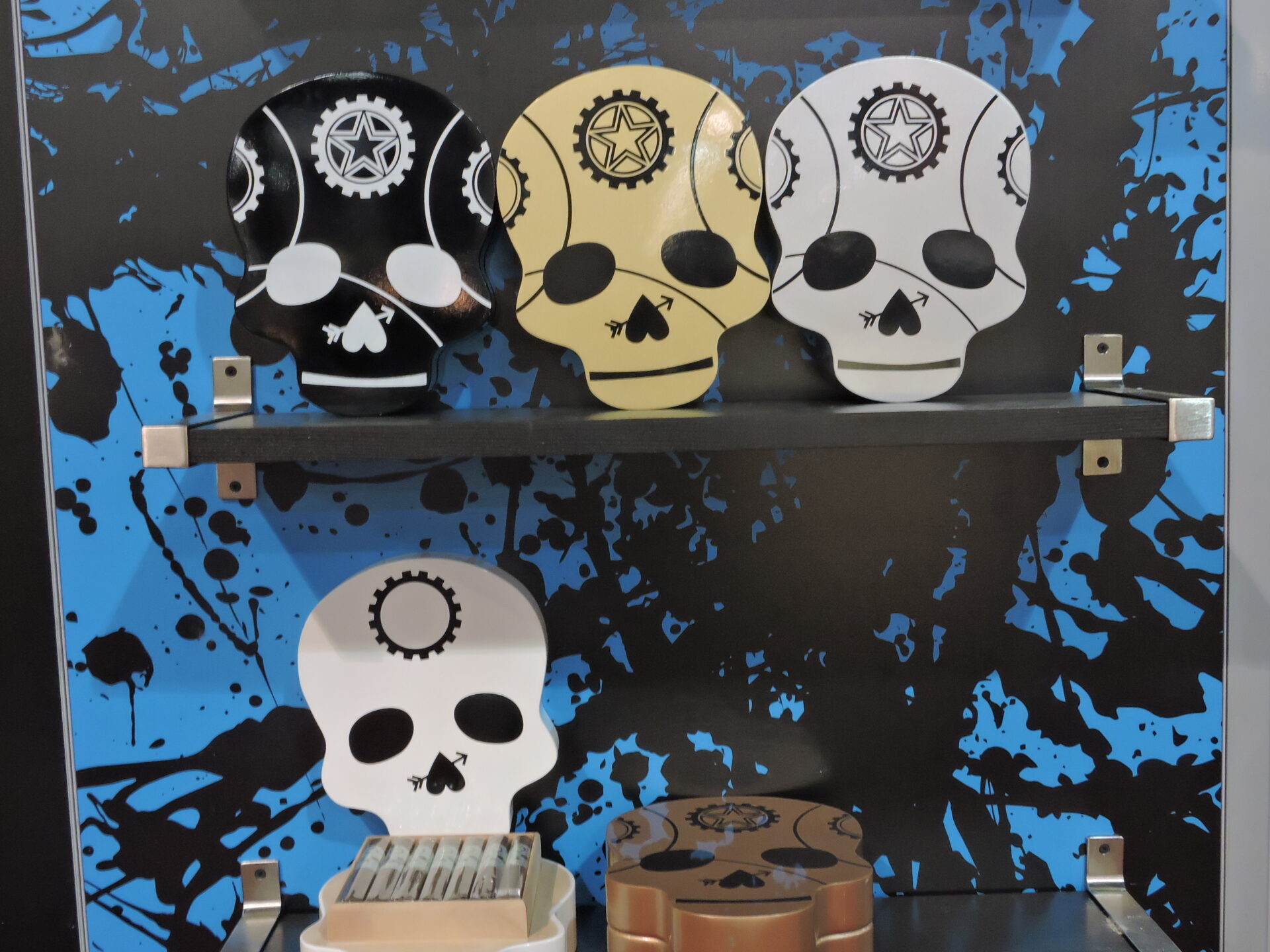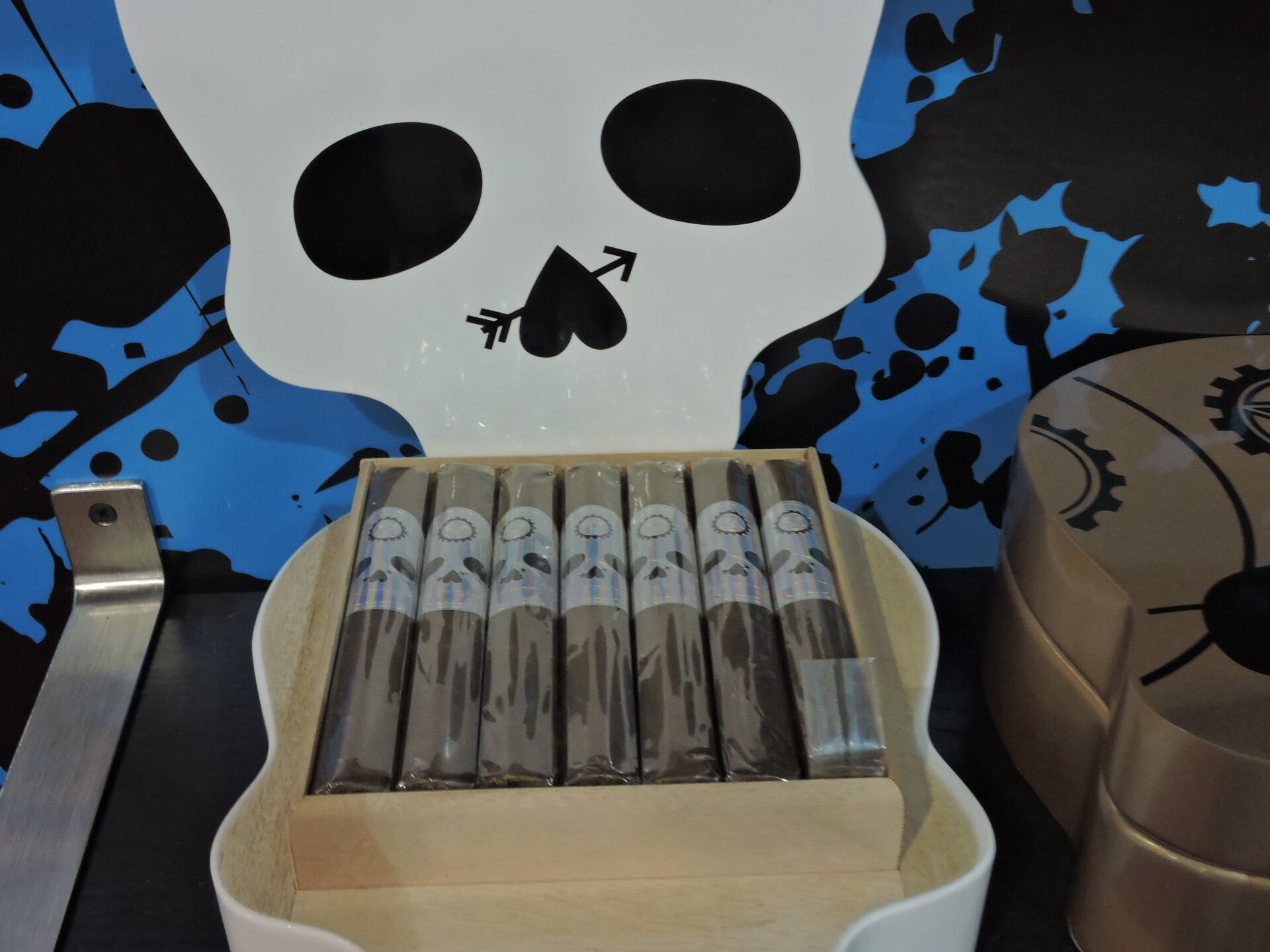 In addition, a limited edition blend was also showcased. The limited edition blend was also produced by Fernandez and consists of a Sumatra wrapper over Nicaraguan binder and fillers. The cigar itself is a 5 1/2 x 50 Robusto. For this cigar, Foundry collaborated with a master box maker to develop the skull shaped boxes. The boxes come in five colors (Black, Silver, White, Gold, and Bronze), but the blend and the sizes are the same. The boxes contain 28 cigars and there have only been 50 boxes per color made. We were told these cigars sold out at the trade show.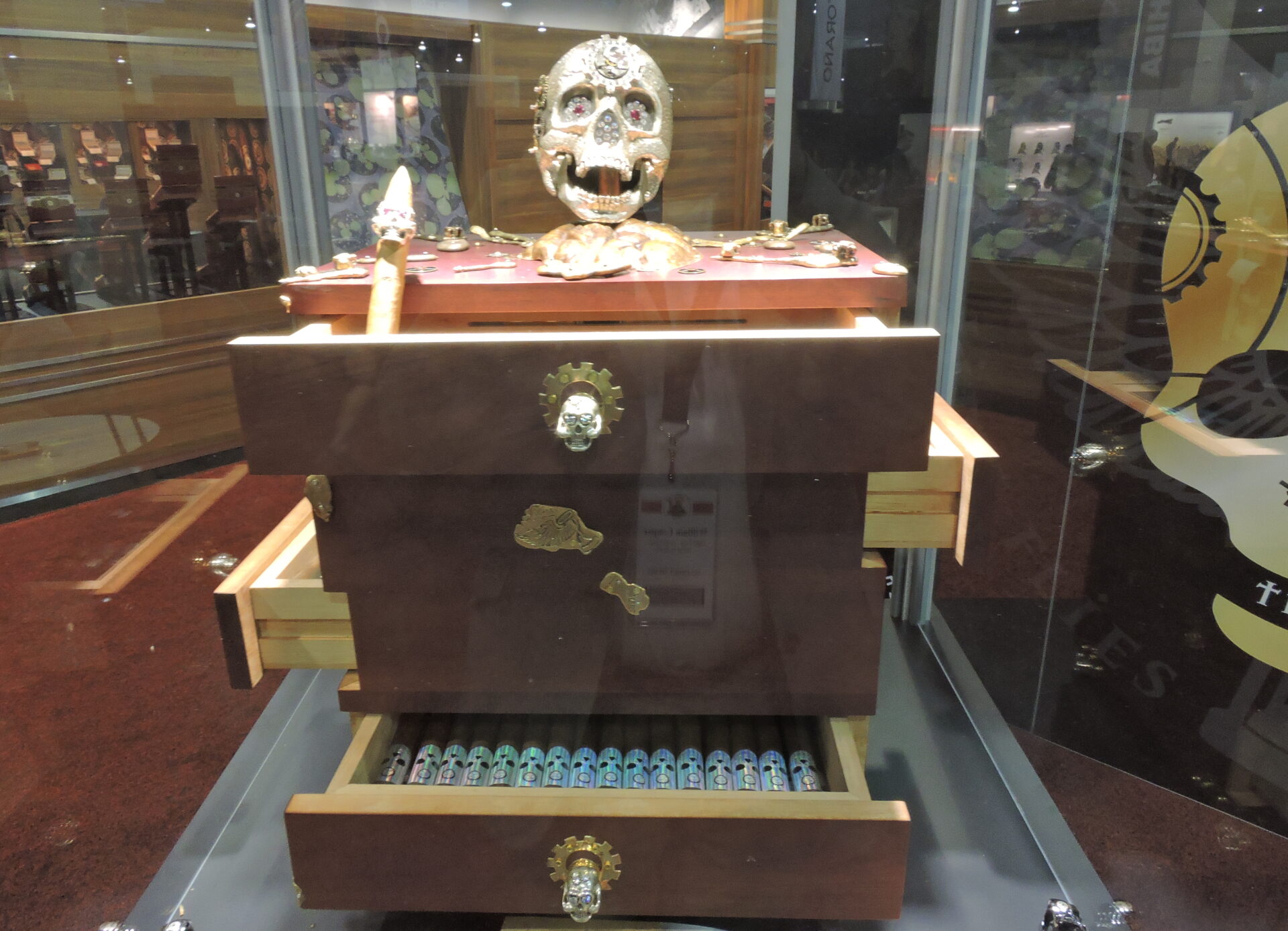 Finally, Foundry unveiled what Giannini described to me as a "one of a kind humidor" priced at $35,000.00.  To build this humidor, Giannini collaborated with both a master cabinet and a master jeweler. Giannini commissioned the master cabinet maker to design 80 pound asymmetrical humidor using rare woods.  At the top of the humidor is a 30 pound Sterling Silver hand-casted skull designed by Ginny Benton, the master jeweler. The skull also features rubys and diamonds on it.. Benton also designed two skull rings – one of which Giannini is keeping and the other is a part of the humidor package.
The humidor features 99 cigars that divided evenly among three sizes. The blend to these cigars are unique to the humidor.
At a glance, here is a look at the Foundry Time Flies:
Time Flies (Regular Production)
Wrapper: Habano 2000
Binder: Nicaraguan
Filler: Nicaraguan
Country of Origin: Nicaragua (Tabacalera Fernandez)
550 (Robusto, Green): 5 x 50 (SRP $7.50)
526 (Toro, Yellow): 6 x 52 (SRP $8.00)
54725 (Churchill, Red): 7 1/4 x 54 (SRP $8.50)
606 (Gigante, Blue): 6 x 60 (SRP $9.00)
Time Flies (Limited Skull Boxes)
Wrapper: Sumatra
Binder: Nicaraguan
Filler: Nicaraguan
Country of Origin: Nicaragua (Tabacalera Fernandez)
Robusto: 5 1/2 x 50
Time Flies (One of a Kind Humidor)
Details undisclosed
Photo Credits: Cigar Coop