---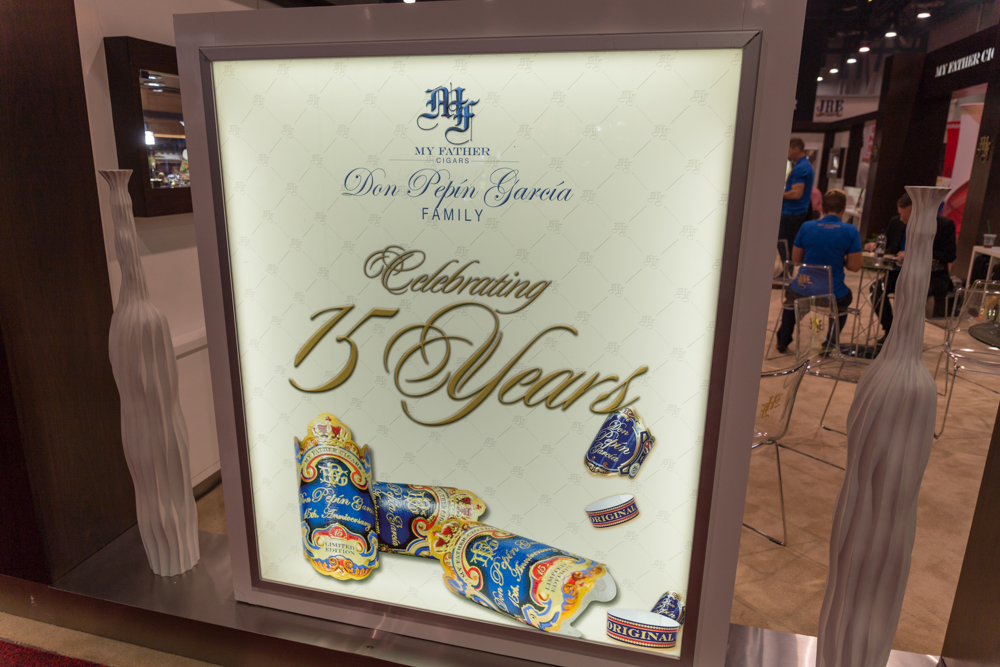 2018 has been a big year for anniversaries in the cigar industry. In the case of My Father Cigars, the company is not celebrating one, but two huge milestones.
First up, it is the 15th anniversary of company patriarch Don José "Pepin" Garcia's of the El Rey de los Habanos factory in Little Havana as well as the creation of the Don Pepin Garcia brand. A few years later, Pepin's son Jaime Garcia went to Nicaragua and started work on a blend unbeknownst to his father. Eventually, he would give the cigars to his father, who would fall in love with the cigars. Jaime decided to name the brand "My Father" and the rest became history. Today, My Father Cigars is an enormous operation making 12 to 18 million cigars annually, yet keeping true to its boutique roots in its culture. Meanwhile, the Garcias would go on to capture two #1 Cigar of the Year awards from Cigar Aficianado, one of three companies to do so.
With two big anniversaries, My Father Cigars had two limited cigars being showcased as well as a new regular production line. The cigar had been released earlier this spring, but still was showcased at IPCPR. It's the first limited edition Don Pepin Garcia cigar since 2013's 10th-anniversary cigar, the Don Pepin Garcia 10th Anniversary Limited Edition 2013.
To commemorate the 15th anniversary of Don Pepin Garcia, there is the Don Pepin Garcia 15th Anniversary. The cigar features a 100% all Nicaraguan blend highlighted by a Nicaraguan Habano Rosado Oscuro wrapper and some Pelo de Oro in the blend – which is something that has been a staple of all My Father limited edition cigars. The Don Pepin Garcia 15th Anniversary comes in the 6 1/2 x 52 Toro that has also been common with My Father limited edition cigars. However, for the first time, a My Father limited edition will feature a second size – in this case, a 5 3/4 x 50 Robusto. Each cigar is packaged in an individual coffin – yet another commonality of most My Father limited editions.
As for the 10th anniversary of My Father Cigars, there also is a limited edition cigar. This one made its official debut at the Trade Show and it's called the My Father 10th Anniversary Limited Edition 2018.
The My Father 10th Anniversary Limited Edition 2018 features an Ecuadorian Habano Rosado wrapper over Nicaraguan binder and filler. As typical with many of the My Father anniversary cigars, the blend incorporates Pelo de Oro tobacco. The cigar features the standard 6 1/2 x 52 Toro packaged in coffins that are seen across most limited editions.
This year saw the introduction of a new regular production My Father Cigar known as La Gran Oferta (the Great Offering). It is the sixth regular production My Father branded cigar joining My Father, My Father Le Bijou, My Father Connecticut, My Father The Judge, and My Father Opulencia.
La Gran Oferta features an Ecuadorian Habano Rosado wrapper over a Nicaraguan Cuban Seed binder and fillers that come from the Garcia family farms in Nicaragua. It is available in five sizes: Robusto (5 x 50), Toro (6 x 50), Torpedo (6 1/8 x 52), Toro Gordo (6 x 56), and Lancero (7 1/2 x 38). Each size is packaged in 20-count boxes. This cigar has recently shipped to retailers.
Finally Tabacos Baez Serie SF, the Cuban sandwich mixed filler line has received a packaging update.
2018 Product Reports