---
For the tenth consecutive year, the Cigar Coop brand will be providing coverage of the International Premium Cigar and Pipe Retailers (IPCPR) Association Trade Show and Convention. We are proud to be a part of a very small group of media to say that. Our four-part series for the 2019 IPCPR Trade Show has you covered whether you are going to the show or following from home.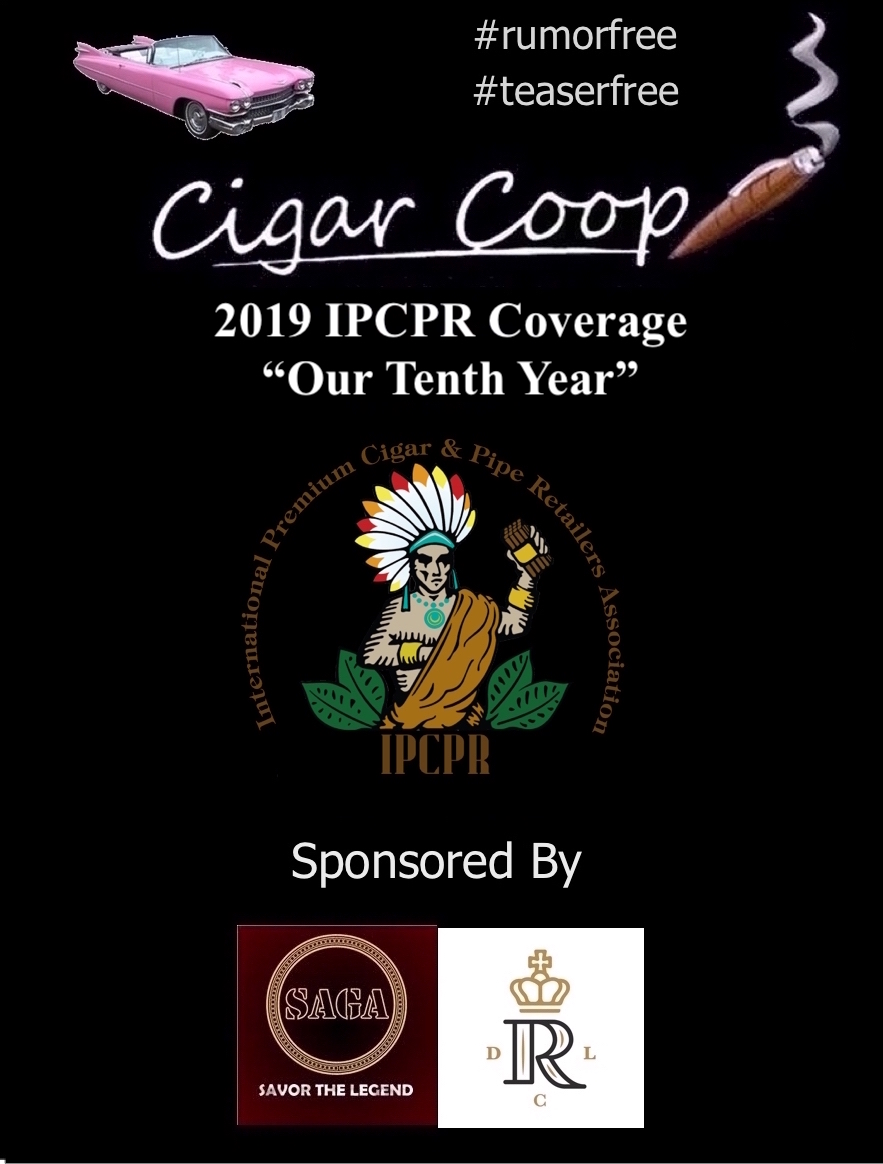 IPCPR 2019 Pre-Game – Predictions for the Five Hottest Cigars
This article is usually in the running for most controversial article of the year on Cigar Coop. Once again, for the seventh consecutive year, I make predictions of what the five hottest cigars will be at the IPCPR Trade Show.
One important point is that this list does not reflect the five cigars I want to smoke most at the show. This list does not reflect what I think the five best cigars will be. It is a set of predictions about which cigars I think will generate a high level of interest among retailers – and could even be ones that sell out quickly based on available supply. This is strictly looked upon from a business point of view.
While the predictions have had mixed results long-term over the previous six years, it has still been an interesting exercise to do. Some cigars have done well as predicted and some have not.  Some have had sustainability in the market and some have not. Time will tell how this list will do.
Criteria
There are some slight changes from previous years.
The cigar must be announced before 6am Pacific time on 6/28/19.
A formal press release is not required, but the company must acknowledge the product on its own channels (website, social media).
The cigar must not have been released. (Stealth Cigars do not count as a release). Cigars must be essentially making a public debut at IPCPR. Cigars that have been soft-launched prior to IPCPR are ineligible.
Some level of the physical packaging for the cigar must have been showcased – whether a box or band.
Here, in descending order, are Cigar Coop's predictions for the Five Hottest Cigars at IPCPR 2019:
5. ACID 20 by Drew Estate
ACID might not be a cigar you would expect to see on this list, but being infused does not exclude it.
Drew Estate sells a lot of ACID Cigars. They are usually positively received by the retailers who sell it and the customers who enjoy a cigar in that profile. ACID 20 commemorates 20 years of the ACID brand under Drew Estate – and it laid the groundwork for the foundation of what the company was built on. Most importantly, ACID cigars satisfy the consumers in the market looking for a premium infused cigar. In other words, this is a brand that sells and it's low risk for retailers.
The presentation of ACID is also key. Its new look makes it stand out as something special. This will make it attractive for retailers to position this cigar as "something new" from Drew Estate.
4. Tatuaje ME
Eight years ago a regional limited release known as the Tatuaje Mexican Experiment was released. It became one of the more sought after limited edition cigars from Pete Johnson and Tatuaje. In 2019, Johnson announced the original blend was returning under the name ME. In addition, a slightly different blend known as ME II was also being released. The ME is intended to be a limited one time offering while the ME II will be ongoing production.
We believe the more limited Tatuaje ME will have the edge here and have many retailers clamoring to get this cigar, both those who had it before – and those retailers who never had it. In the end, this should be a huge boost to Tatuaje at IPCPR.
This is the fifth year that Steve Saka's Dunbarton Tobacco & Trust has been exhibiting at the IPCPR – and it's the fifth year that his company has landed on this list.
No doubt Saka is one of the more popular cigar personalities out there. One reason for his success is that he has found a way to connect with his base, and his cigars are in demand. I think Sobremesa Brûlée represents Saka's most unique opportunity in his brand to date. Most importantly, he has also delivered an excellent track record of product over those five years.
Sobremesa Brûlée is positioned as "your grandfather's Connecticut" cigar. It's described as mild and creamy. While many of Saka's loyal cigar enthusiasts are used to smoking fuller cigars, I think initially there will be a curiosity here with this cigar. Saka's never blended a Connecticut Shade, nor a cigar like this before. It also has a chance to appeal to someone who hasn't smoked Saka's blends before – such as that Montecristo White cigar enthusiast.
The net/net, this will be a cigar that gets a lot of attention.
For many U.S. customers, Royal Agio is still a relative newcomer, however, when it comes to the European market, it is a giant in the machine-made cigar market. A few years ago, the brand entered the U.S. market. From 2014 to 2017, the line was distributed by Drew Estate, but since then the company has taken control of its own distribution and expanded its portfolio for the U.S. market. To support that expansion, last year Royal Agio Cigars launched a collaborative line under its Balmoral brand known as the Balmoral Serie Signaturas. The first was a collaboration between Royal Agio Cigars CEO Boris Wintermans and Ernesto Perez-Carrillo Jr. known as Balmoral Serie Signaturas Dueto. This year, Wintermans turned to La Flor Dominicana's Litto Gomez to collaborate on the 2019 edition of the Balmoral Serie Signaturas known as Paso Doble.
While Ernesto Perez-Carrillo Jr. and Litto Gomez are both iconic figures in their own right, there is one difference. Perez-Carrillo Jr. has been working with many companies to produce brands. As for Gomez, it's very rare he will team up with anyone. The last time might have been the Face Off project with Christian Eiroa – and that's going back to 2003. This is going to be the big selling point of this cigar.
Royal Agio also brings their best foot forward. They did an amazing job with the presentation and packaging of this cigar. Plus, the word is out on the streets that Royal Agio is making very good cigars. This is one to certainly watch.
This one is going to be "The Cigar" for the 2019 IPCPR Trade Show.
This is the company's first major rollout at IPCPR that will be available to U.S. retailers since they brought Neanderthal to the show in 2014.  Yes, there has been Wunderlust and Weaselitos, but they were for Europe – and yes there was Cigar Intemperance Whiskey Rebellion 1794  but when that was showcased at IPCPR, it was originally an exclusive for Famous Smoke Shop. (It is now national).
It's RoMa Craft Tobac's first Cameroon release and while the company hasn't disclosed the blend, seeing the wrapper is already enough to create demand for this cigar. Add in RoMa Craft Tobac's commitment to quality and consistency and that makes the case even stronger.
RoMa Craft Tobac is also going to make this an ongoing limited production. It will make available in two sizes this year, and other sizes will be introduced on a limited basis in the future. It's going to ensure demand for this cigar for many years to come.
The concept and presentation of this cigar are also excellent. This cigar has already had a lot of buzz coming into the show. Now it is going to go to the next level.