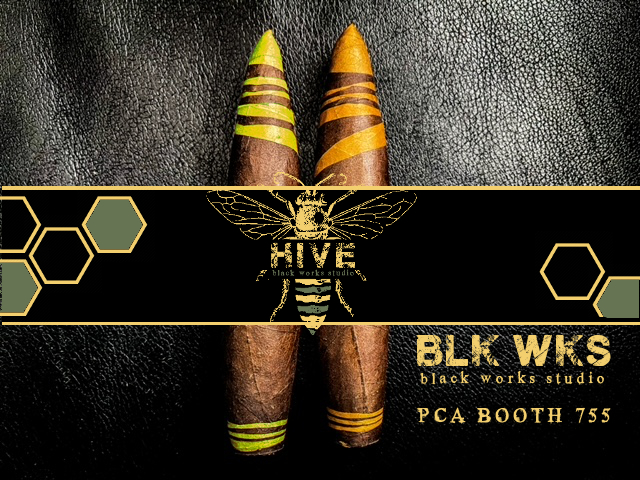 At the 2021 Premium Cigar Association Trade Show, Oveja Negra Brands will launch the Black Works Studio Hive. It's a 27-cigar collection featuring offshoots of the Black Works Studio Killer Bee and Green Hornet.
"We wanted to offer Hive for PCA attendees as a way of showing our appreciation for the retailers who come to support our brands at the show. The HIVE is an idea I've had for a few years now. The Killer Bee; Green Hornet lines are some of our most popular and over the years I've played with a lot of different ideas for both. Hive is a mix of some of my favorite Bee Hornet samples that have yet to be released. For anyone that is a fan of the Killer Bee; Green Hornet, this is a must have!" says James Brown, creator of BLTC and partner at Fabrica Oveja Negra, in a press release.
The cigars feature an assortment of Ecuadorian Maduro, Connecticut Shade, and Candela wrapper options over a Honduran Habano wrapper and Nicaragua filler. The cigars are available in 27-count boxes with each cigar having an SRP of $12.50.
According to Oveja Negra Brands, Hive is a small batch release offered on a first-come, first-served basis to Black Works Studio and Black Label Trading Company retailers attending PCA 2021. The cigars are slated to ship in the fall.
The PCA Trade Show opens July 10th, 2021, in Las Vegas, Nevada.