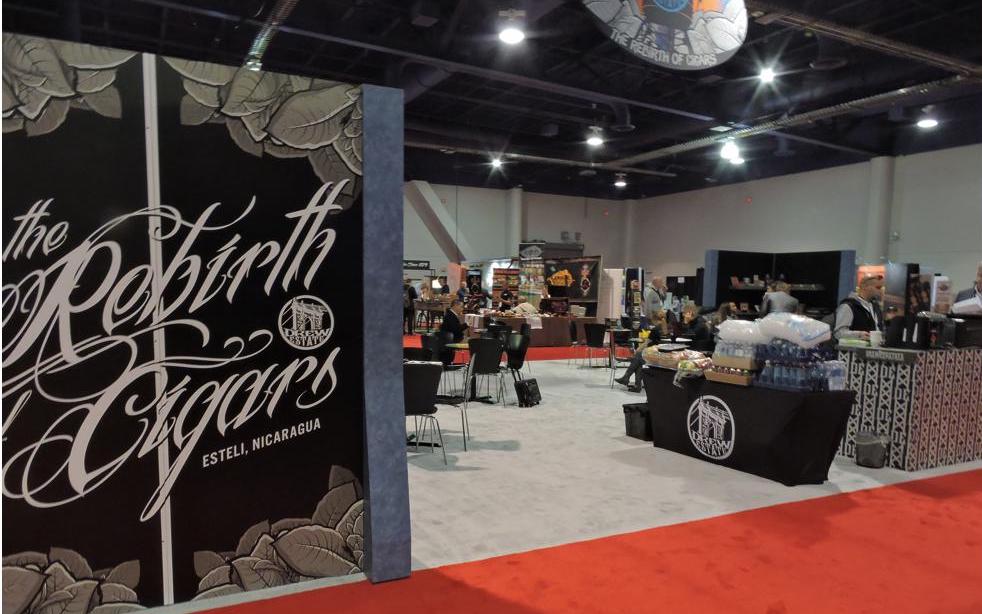 One of the companies most affected by COVID-19 has been Drew Estate. The company decided not to make a Tobacco Plus Expo (TPE) 2021 Trade Show appearance and then when a new surge of COVID-19 cases occurred over the summer the company cancelled its DE25 and Barn Smoker events. On the other hand, if there is a company that has been best prepared to deal with the fallout of COVID-19, it has been Drew Estate. The company has had a solid go-to-market strategy for several years now – and even as the world turns upside down, Drew Estate has found a way to persevere.
With Drew Estate skipping TPE 21, it meant no 2021 Trade Shows for the company. This is because in 2020, Drew Estate made the decision to pull out of the PCA Trade Show. With many retail and consumer events including DE25 and Barn Smoker being cancelled, Drew Estate would resort to its virtual strategy to unveil its products. This was highlighted by Freestyle Live, the company's period live stream broadcast. Most of the announcements were made on the May 6th Freestyle Live edition (just prior to the start of the summer). There was one announcement that was made on the Sept 16th Freestyle Live.
Undercrown
2021 marks the tenth anniversary of the Undercrown brand. To commemorate the occasion, Drew Estate released a new addition to the Undecrown lineup with the Undercrown 10. The Undercrown 10 becomes the fourth line under the Undercrown brand joining the Maduro, Shade, and Sun Grown offerings.
Undercrown 10 features what Drew Estate calls "the highest priming of Mexican San Andres dark wrapper" over a Connecticut River Valley Broadleaf binder and all-Nicaraguan fillers. The Undercrown 10 will debut in four core vitolas: Toro (6 x 52), Robusto (5 x 50), Corona (5 x 43), and Corona Doble (7 x 50), each available in 20-count boxes.
In addition to the core Undercrown 10 offerings, there are two special offerings. There will be a special  Undercrown 10 "Factory Floor Edition." The Undercrown 10 Factory Floor Edition is packaged in commemorative 20-count boxes and includes a Lonsdale size of Undercrown 10 as well as a  "tobacco leaf library." This library includes the tobaccos that make up the Undercrown 10 and will allow those who purchase it to sample those individual tobaccos.  The other special offering is an event-only cigar offering known as the  Undercrown 10 Tuani Belicoso (6 x 52). This will be exclusively available in a special two-count presentation coffin/box at Undercrown 10 events hosted by Pedro Gomez.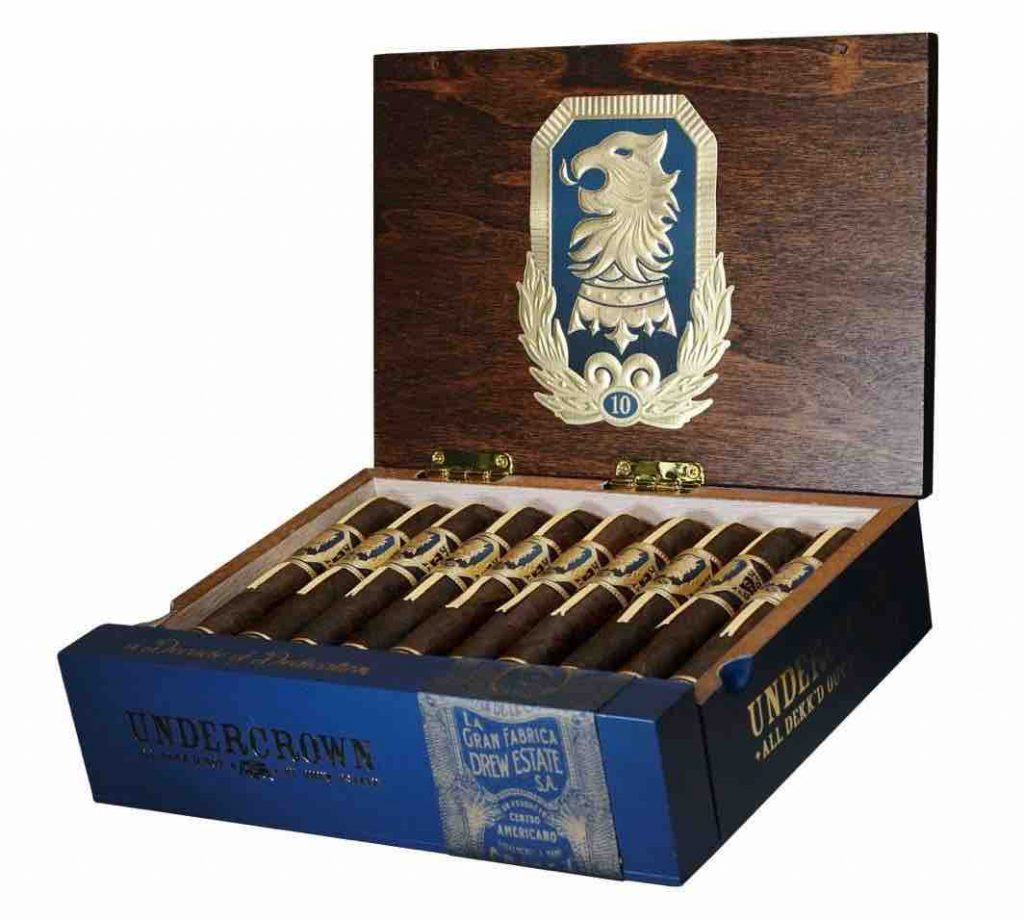 Meanwhile, the Undercrown Dojo Dogma releases will see a 2021 release. These are two box-pressed Undercrown line extensions done in collaboration with Cigar Dojo. The Undercrown Dojo Dogma Maduro was first released in 2014 as a small batch limited production sold initially through Smoke Inn. It's a 6 x 56 Box Pressed Gran Toro that features a San Andres Mexican wrapper, Connecticut Stalk Cut Habano binder, and a combination of Nicaraguan and Brazilian Mata Fina filler. For the first time, the Undercrown Dojo Maduro will be packaged in ten-count wooden boxes.
The Undercrown Dojo Dogma Sun Grown is also returning. This was first introduced in 2020. It is a 5 x 54 box-pressed robusto that features a bolder profile than the original Undercrown Sun Grown. The cigar features an Ecuadorian Sumatra Sun Grown wrapper, a Connecticut River Valley Stalk Cut/Cured Sun Grown Habano binder, and a blend of Nicaraguan fillers. Like last year, the Undercrown Dogma Sun Gown will be packaged in 24-count wooden boxes.
One interesting note is that both cigars have been given nicknames. Undercrown Dojo Dogma Maduro is being referred to as "MAD DOG" and Undercrown Dojo Dogma Sun Grown is being referred to as "SUN DOG."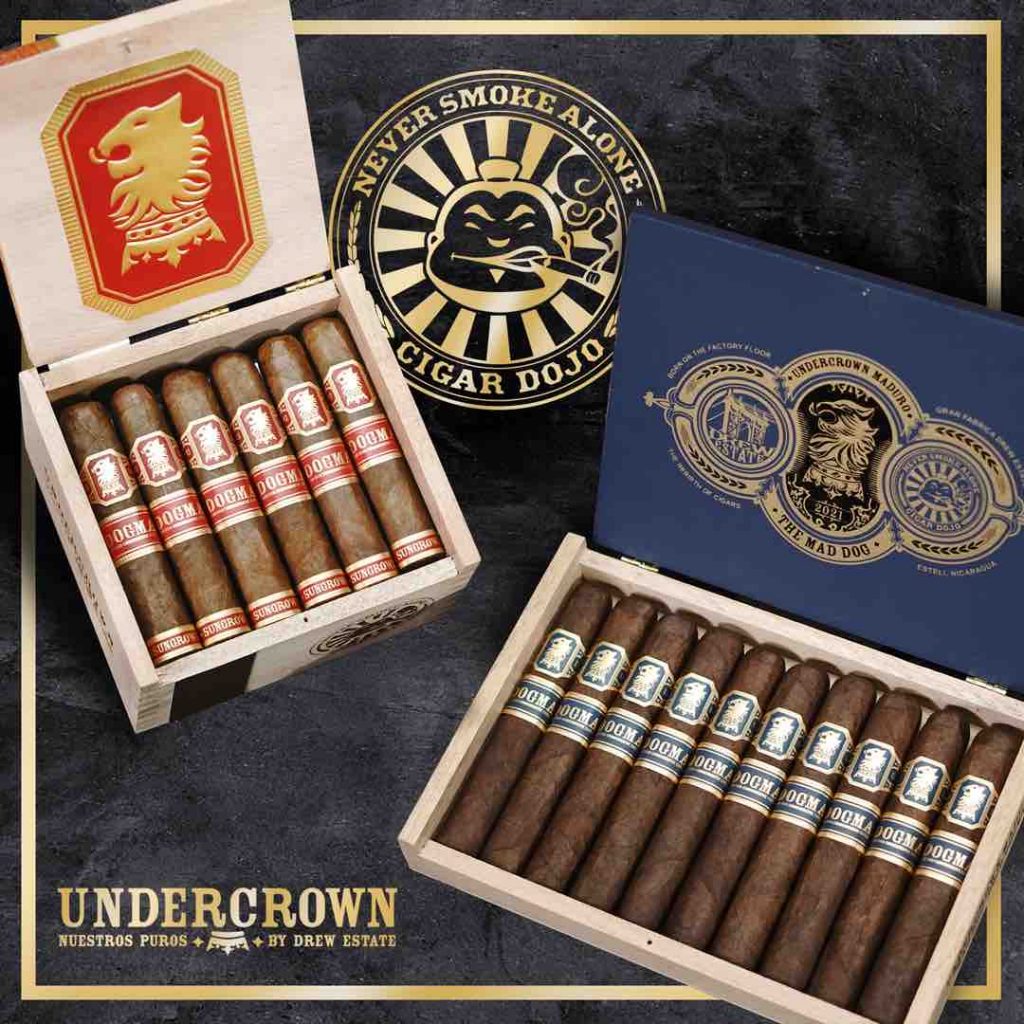 Nica Rustica
The Nica Rustica brand is undergoing a packaging overhaul. Nica Rustica's current black bundle packaging is now moving to 25-count boxes. There also is a new brand logo as well. The blend to Nica Rustica is remaining the same; featuring a Connecticut River Valley Broadleaf Medium wrapper, Mexican San Andres binder, and Nicaraguan fillers from Estelí and Jalapa. The three sizes are also remaining the same: Belly (7 1⁄2 x 54), El Brujito (6 x 52), and Short Robusto (4 1⁄2 x 50). The original Nica Rustica has now been branded to Nica Rustica Connecticut Broadleaf.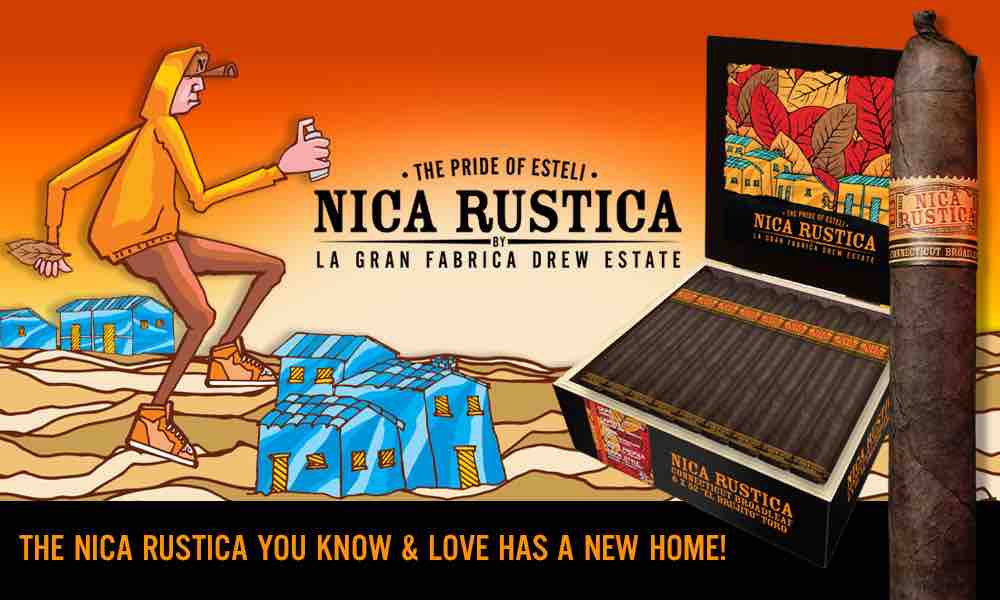 Liga Privada
The Liga Privada Unico Serie Year of the Rat is back for 2021. This year it was made as a limited edition offering to Drew Diplomat retailers. Year of the Rat was originally launched in 2016 where it was a lounge exclusive at a Drew Estate branded lounge at the BB&T Center in Sunrise, Florida, home of the Florida Panthers. Last year the Year of the Rat made a comeback as an event-only cigar. The 2021 edition features similar packaging to 2020 except for the footer band which indicates the 2021 release. Year of the Rat is a 5 1/2 x 46 Corona Gorda featuring a Connecticut Broadleaf wrapper, a Brazilian binder, and fillers from Nicaragua and Honduras.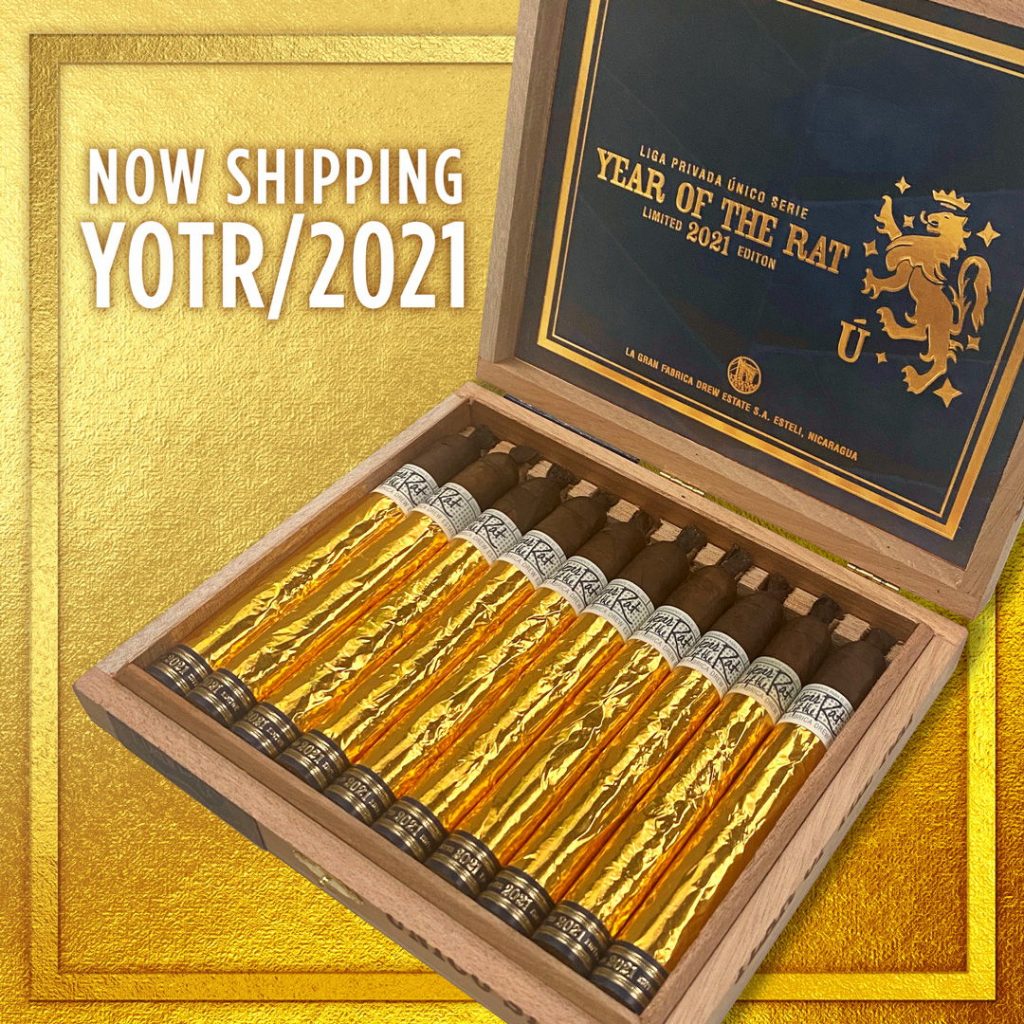 The Liga Privada Unico Serie Papas Fritas is moving from 50-count boxes to 25-count boxes. Papas Fritas is a part of the Liga Privada Unico Serie line. It is a 4 1/2 x 44 petit corona mixed-filler offering made with trimmings from the Liga Privada line.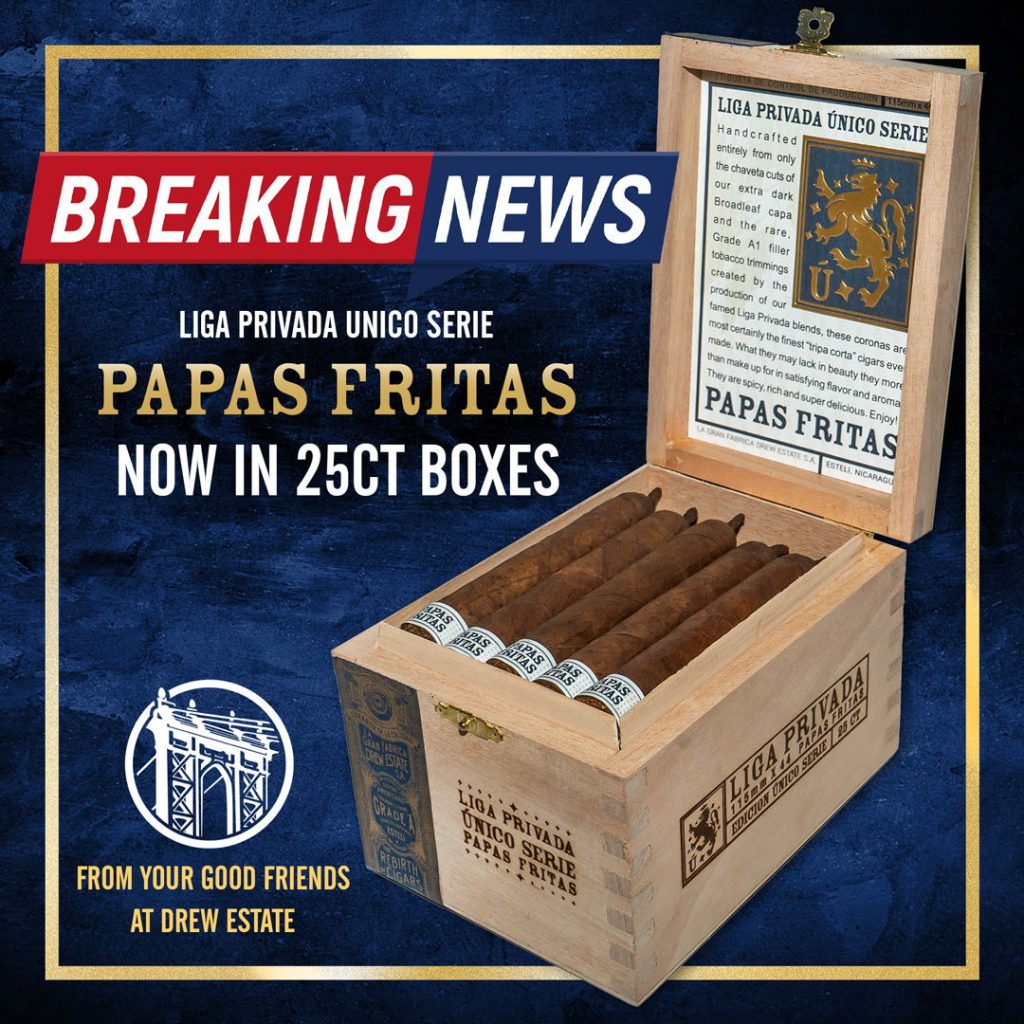 The Liga Privada Unico Serie Pancetta returns for the third year in a row. Since 2019, this has been an annual release exclusive to Wooden Indian Tobacco Shop in Havertown, PA, and Barrister Cigars in Union, NJ. Pancetta features the Connecticut Stalk Cut and Cured Habano wrapper. a Brazilian Mata Fina binder and a combination of Nicaraguan and Honduran filler. The Pancetta is available in one size – a 4 3/4 x 50 Belicoso. The cigars are presented in 24-count boxes.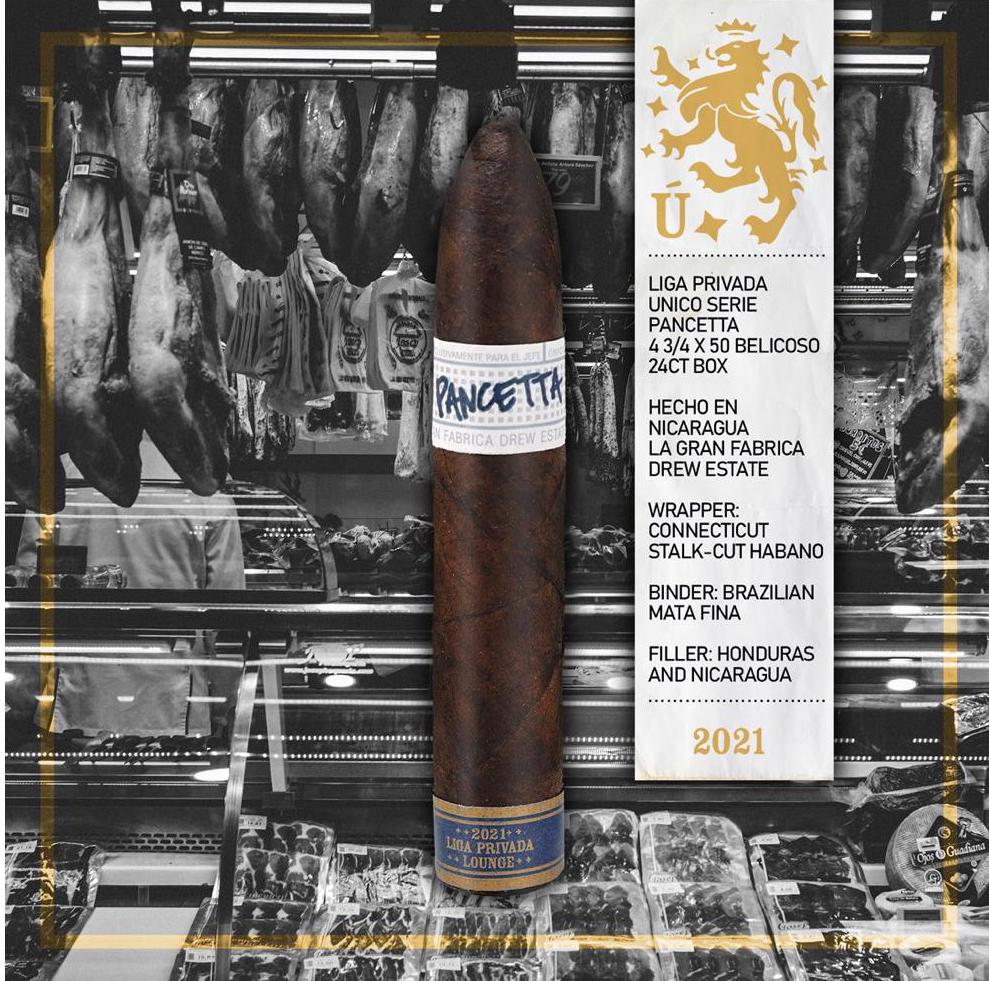 Herrera Estelí
Herrera Estelí sees two limited edition lanceros make a return: Herrera Estelí Habano Lancero, and the Herrera Estelí Connecticut Broadleaf Lancero. Both Lanceros come in a classic 7 x 38 format. The Herrera Estelí Habano Lancero made its debut in 2014 and was most recently released in 2019. Meanwhile, the Herrera Estelí Connecticut Broadleaf Lancero had its first national launch in 2020 (after being previously released as a store exclusive to Stogies World Class Cigars in Houston, Texas). The Herrera Estelí Habano Lancero features an Ecuadorian Habano wrapper, Honduran Habano binder and Nicaraguan filler. Meanwhile, the Herrera Estelí Connecticut Broadleaf Lancero is a high priming of Connecticut Broadleaf wrapper (that Drew Estate reserves throughout the year exclusively for this cigar), a Brazilian Mata Fina binder, and Nicaraguan fillers.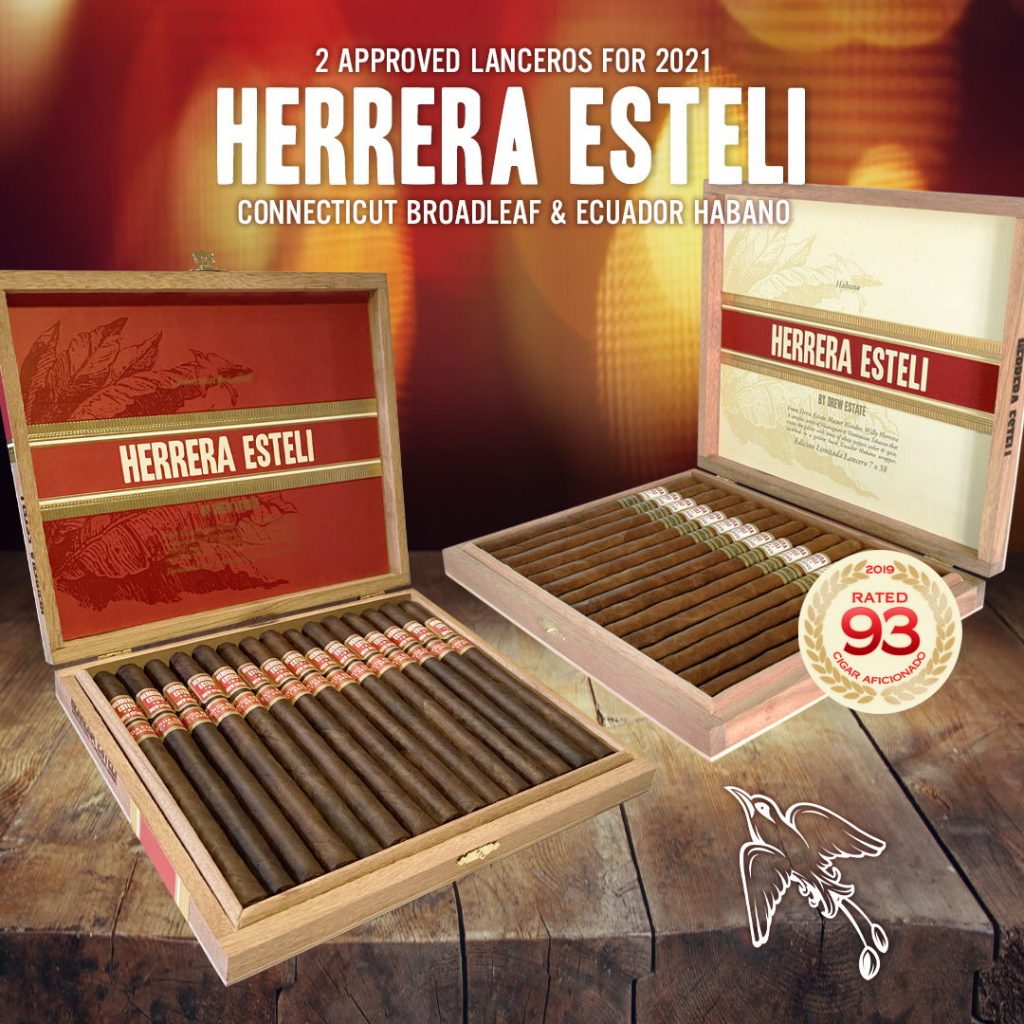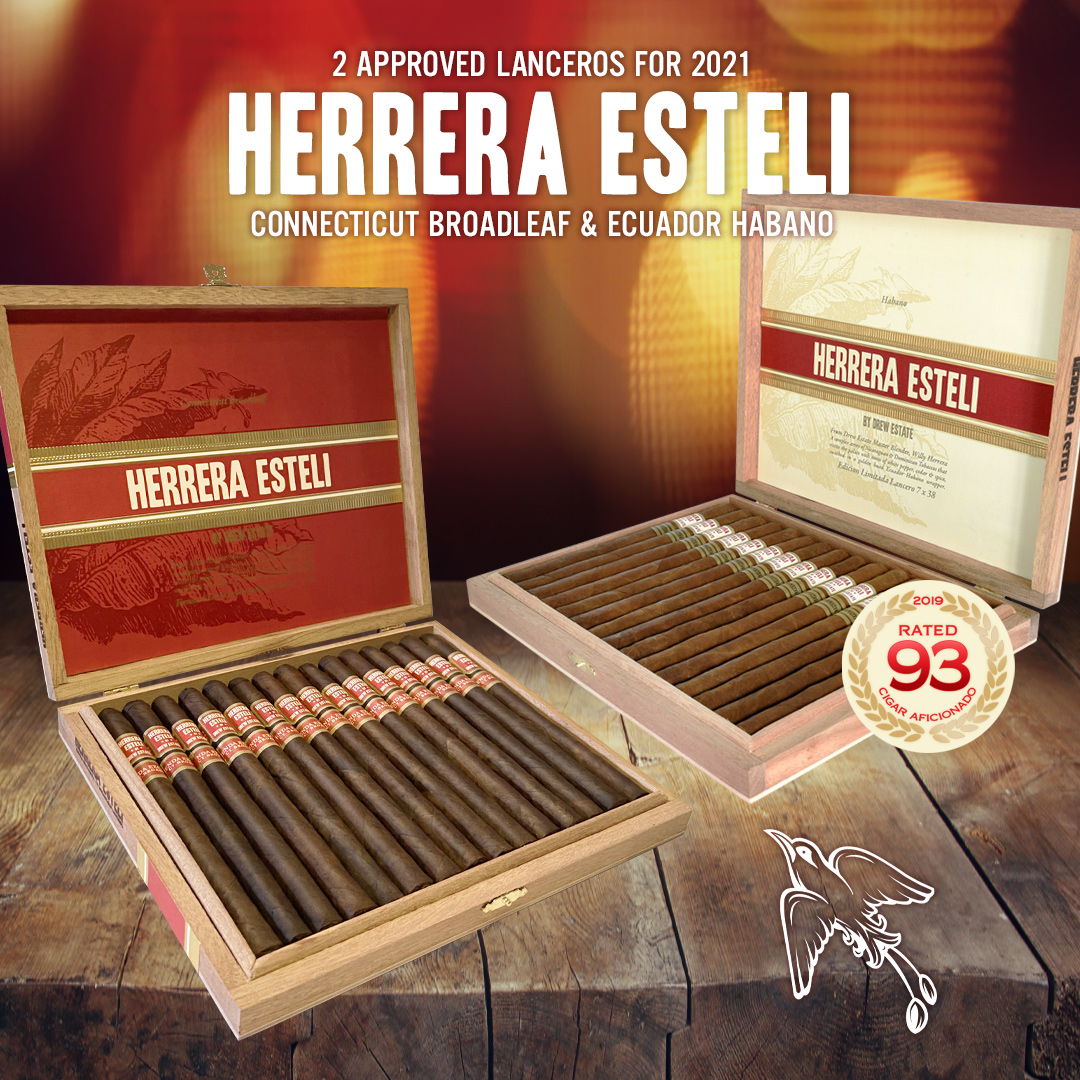 Deadwood Tobacco
On the September 16 Drew Estate Freestyle Live, a 4 x 43 Petit Corona size of the Leather Rose was announced. Leather Rose was the fourth blend of the Deadwood Tobacco Series. Leather Rose made its debut in 2020 and was launched in a 5 x 54 Torpedo. Like the Torpedo, the Leather Rose Petit Corona cigar features a maduro wrapper and, according to Drew Estate, is the spiciest of the four Deadwood Tobacco blends. Deadwood Leather Rose Petite Corona will be presented in 24-count boxes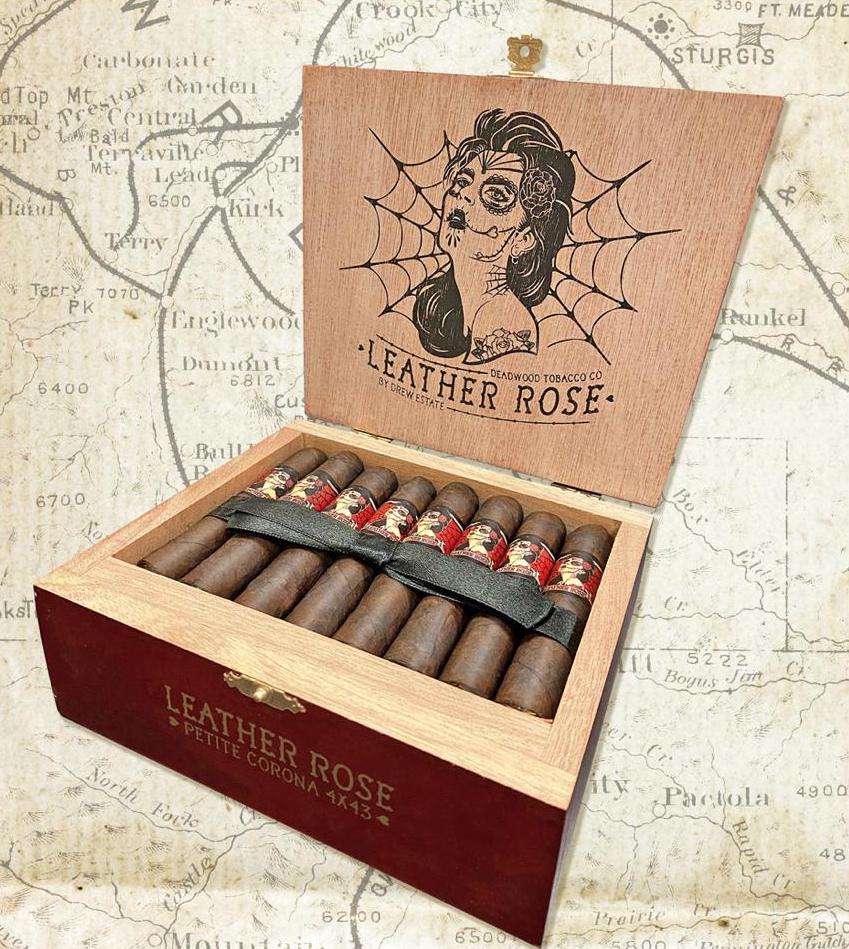 ACID
It was a quieter year for ACID, but this year Drew Estate did unveil a new exclusive Subculture Studio offering to Smoker Friendly retail stores at the Rocky Mountain Cigar Festival called The Continental. CID Subculture Continental is a 5 1/2 x 52 Robusto featuring an Indonesian wrapper and binder over Nicaraguan binder and fillers. The cigar also features a sweetened tip. It's available in 24-count boxes and 5-count packs.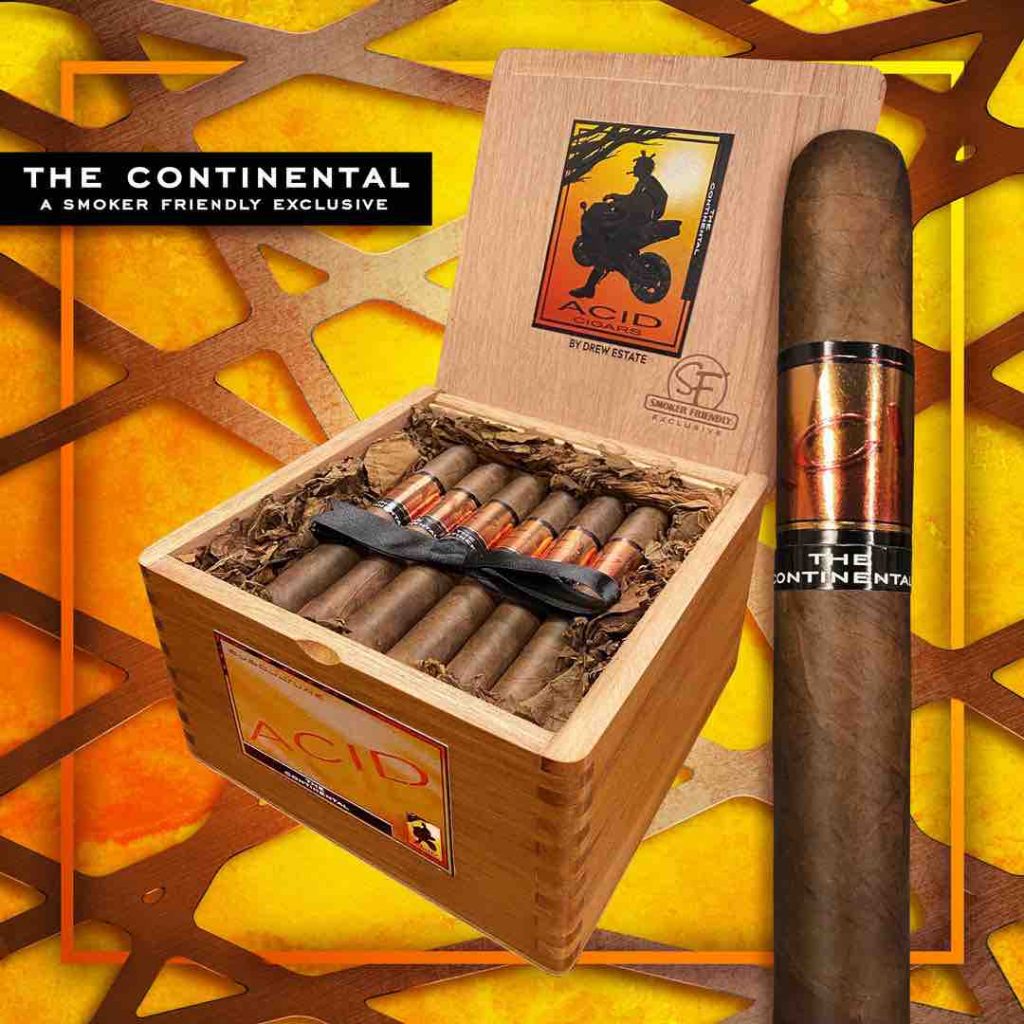 Other
Finally, there is a new Traditional Sampler Petaca. This consists of six Toro cigars, with two of each of the following in a 6 x 50 vitola: Herrera Estelí Habano, Undercrown Maduro, and Undercrown Shade.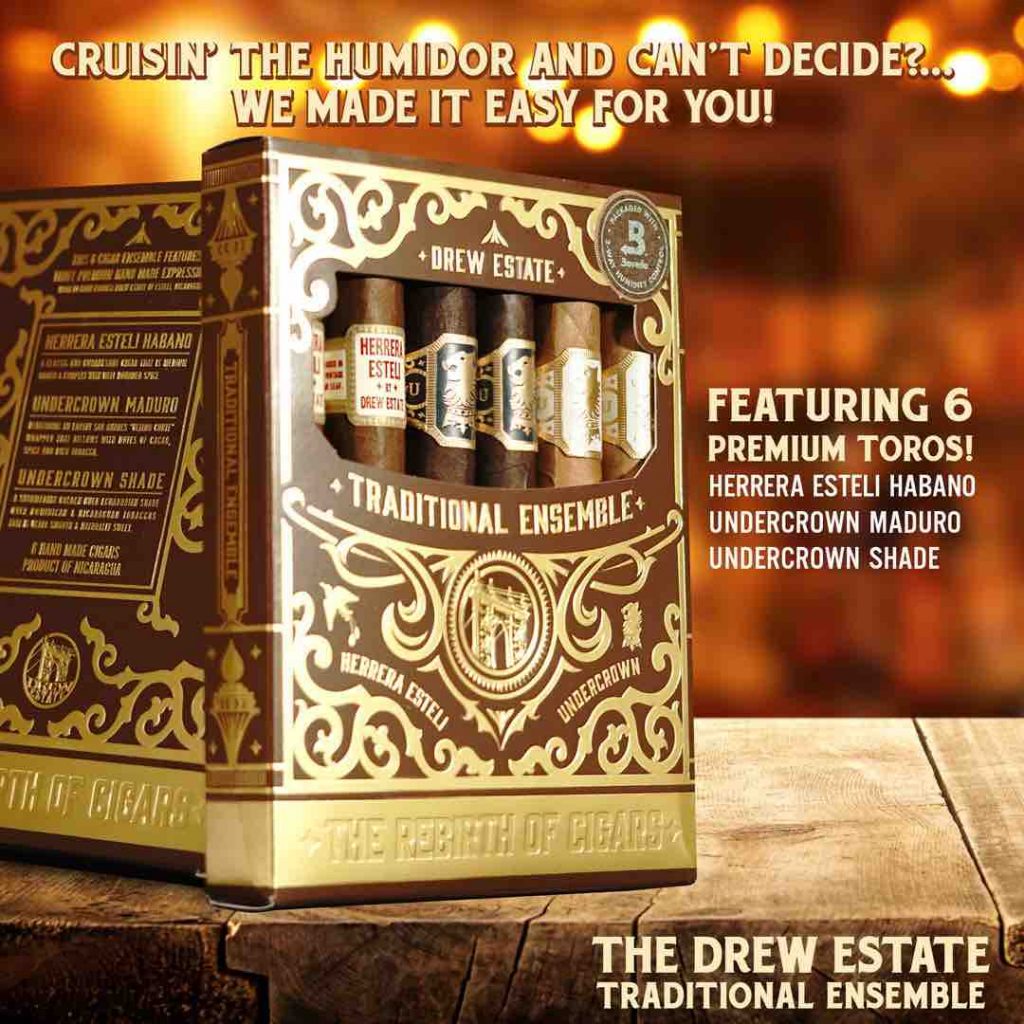 Product Reports
Photo Credits: Drew Estate